Canary Islands travel advice
Susanne Braack, from our specialists OCEANO Whale Watching, fell for La Gomera and decided to base her business there. She says:
Worth the journey
"Coming to La Gomera means a long journey, and people don't like that... That's why it's so unspoilt here. You need at least a week, if not three days more – because it's worth the journey, but it needs a bit of effort on the side of the guests as well. Don't just go there, see the dolphins, and come back. There's this beautiful forest, the landscape, the views."
Surprise guests
"The Canaries are really great because of the weather in winter. December usually has fewer cetaceans around, but we did have beaked whales that came so close to the boat. They were just curious, which is often the case with cetaceans. If you have time and their belly is full and they're not hormone-driven, then they really like to interact with human beings – if you come as a guest."
Our Canary islands Vacations
Debbie Sawyer, co-founder of our walking vacation specialists New Experience Vacations, lays out her favourite Canary Islands for hiking:
La Palma
"La Palma became a designated natural Biosphere in 1983 – and that's the whole island. Its landscapes, vegetation and wildlife are so unique. La Palma is also a UNESCO Starlight Reserve. There are 1,000km of trails with waterfalls, volcanic craters, wild coastlines and rainforests… and best of all, after-dinner stargazing."
La Gomera
"Arriving by boat, the island appears inaccessible, with cliffs and misty peaks. Walkers can enjoy hiking trails through national parks, protected abandoned villages, exceptionally rare forests of lichen covered laurel trees, peculiar rock formations and deep green ravines."
El Hierro
"El Hierro is an exciting sea journey from La Gomera. Schedules may be erratic, but this enhances the appeal of going somewhere more remote. (Not an opinion shared by islanders!) El Hierro is volcanic with activity a constant threat – lava fields and bubbling subterranean springs. This tiny island has miraculously achieved 100 percent self-sufficiency in renewable energy. Walkers love it."
Gran Canaria
"You can witness nature regenerating itself from forest fires and unexpected snowfall on Gran Canaria. Climate is another bonus, with each landscape experiencing its own micro-ecosystem – you can bask in sunshine by the sea and walk through misty forests all in the same day."
Tenerife & Lanzarote
"Restoration of an ever-increasing number of self-sufficient and historical rural properties provides visitors with unique places to stay far from high rise hotels and apartments in Tenerife. Trekking through the Timanfaya National Park in Lanzarote – a declared UNESCO Biosphere Reserve since 1993 – is a hidden secret."
Michelle Braddock, co-owner of our accommodation experts Lanzarote Retreats, says that it's time for tourists to look beyond the island's undeserved 'Lanzagrotty' reputation.
Lanzarote life
"The people in Lanzarote are very special. They're very friendly, because there are only about 140,000 people, so it's like being in a big village – it's lovely… Women travelers on their own can come and walk back from the restaurants in the dark. You're going to be fine; all you need is a torch."
Get behind the wheel
"I think it's a shame that people don't get around the island, because it's very easy to drive, there aren't that many cars, and the quality of the roads are fantastic. They don't see that there are 300 volcanoes or Cesar's amazing caves that he designed – these things are absolutely outstanding, not expensive to visit, and so unique."
Avoid all-inclusive hotels
"All-inclusives are a nightmare. You can see why, because guests are paying all the money beforehand, so it doesn't come into the country. Then, when guests do get there, their food is rubbish because the hotels are trying to cater on such a budget. So people come, and they want all-inclusive, but they say the food's rubbish. And you think, 'Well, yeah!' It's so negative to the island."
Vicky Garnett, from our small group adventure vacation specialists Explore, has some pointers on where and when to walk in the Canary Islands:
Where to go
"For volcanic scenery, walk in Teide National Park on Tenerife. If you just want volcanic landscapes then Lanzarote is your island. For forest scenery: the unique laurel forest on La Palma, which is a dense subtropical cloud forest. Walking poles are recommended, especially for the descents."
When to go
"The best months for walking are October to April, avoiding the heat of the summer – perfect conditions for exercise and earning your sangria and Canarian papas and jamon! The evenings can still be chilly and rain is possible in January and February. The Canary Gulf Stream and trade winds provide each island with its own microclimate, bringing different climatic conditions to each side of the islands."
Our top Canary islands Vacation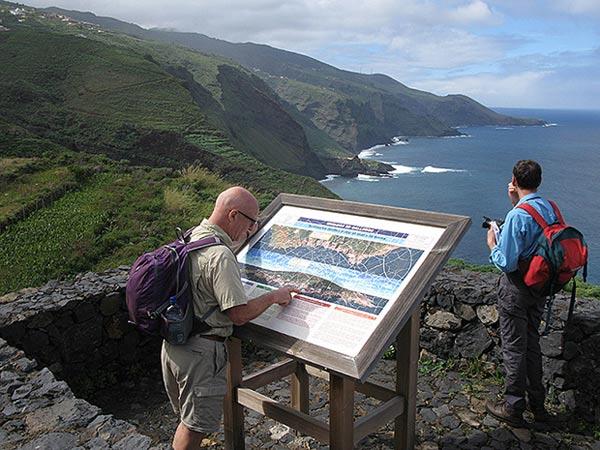 Walk a biosphere reserve that is home to over 900 endemic species
From
US $

1649

to

US $

1849
8 days
ex flights
Small group travel:
2023: 28 Sep, 12 Oct, 16 Nov, 7 Dec
2024: 4 Jan, 18 Jan, 22 Feb, 14 Mar, 26 Sep, 10 Oct, 17 Oct, 14 Nov, 5 Dec
If you'd like to chat about Canary islands or need help finding a vacation to suit you we're very happy to help.

Health & safety in the Canary Islands
HEALTH
The Canary Islands is part of Spain's top-notch healthcare system. Call 112 (pan-European) or 062 (Spanish) in an emergency. Otherwise, pharmacies offer good health advice for minor ailments.
Are you an EU resident? Apply for a European Health Insurance Card for free emergency treatment. You'll still need decent travel insurance to cover non-essential treatment, high-cost treatments, and emergency repatriation.
Make sure you're up to date with your usual vaccinations, including measles-mumps-rubella (MMR) and diphtheria-tetanus-polio.
Don't let the cooling winds in the Canary Islands trick you – they cover strong sunshine and up to 30°C temperatures. Wear high SPF sunscreen (preferably with the 'reef safe' label) and sunglasses with UV filters.
Most vacations to the Canaries include a hike or two. You're unlikely to find 9-5 shops in rural areas, so pack snacks and a two-litre refillable water bottle when walking. Tap water is usually drinkable; it'll just taste a little strange, thanks to the desalination process. Try a filtered water bottle for a better taste.
Most mountains are below the altitude sickness trigger of 2,500m – apart from Mount Teide. At 3,718m it's double the size of most Canarian mountains, so if you're heading for the peak keep an eye out for the symptoms of acute mountain sickness like dizziness, nausea, breathlessness, loss of balance, headaches and a persistent dry cough. If symptoms worsen, descend immediately. Avoiding alcohol and acclimatising are also wise; you can stay overnight at the Refugio Altavista. You'll need a permit to scale Mount Teide, too; your vacation company should be able to sort this.
SAFETY
Most trips to the Canary Islands are trouble-free, but – like several European countries – Spain is currently under a heightened threat from terrorist attacks from various groups. Recent incidents have occurred on mainland Spain only. The UK's Foreign and Commonwealth Office (FCO) is a good source for up-to-date information.
The ocean around the Canary Islands can have very strong undertows. Watch out for flags indicating water safety on the beaches and don't go swimming if a red flag is flying.
The Canary Islands have very low crime rates. The most serious tourist crime is often the pick pocketing of wallets, phones and passports in beach resorts. Keep a copy of your passport in your accommodation.
On that note, hotels are required to register your passport details when you check in. It's best to stick around until staff has taken note of your details – don't leave your passport at the hotel desk.
Forest fires are a criminal offence in Spain – even accidental ones. Don't drop cigarette butts or leave glass in the hot sun, as it can ignite tinder-dry grass and woodland. Unfortunately, the climate crisis means the increased risk of extended heat waves in the Canary Islands – which means that dry brush can have fires spreading out of control quickly.
Tips from our travelers in the Canary Islands
At Responsible Travel, we think the best people to advise our travelers are often...other travelers. They always return from our tours with packing tips, weather reports, ideas about what to do – and opinions about what not to.

We have selected some of the most useful Canary Islands travel advice that our guests have provided over the years to help you make the very most of your vacation – and the space inside your suitcase.

Drive north along the coast to the amazing coves and beaches of Caleton Blanco, which are unspoilt and beautiful.

– Jill Manwaring went on a Lanzarote beach house vacation
"If one were looking for varied, gourmet food with a vibrant nightlife the town would not provide it. This to me was an advantage but if evening socialising was sought you might be disappointed. From my point of view it was ideal." – Sarah Reeve on a Gran Canaria walking tour

"Walking is reasonably strenuous, so you need to be used to steep ups and downs. Few places take cards, so go with plenty of cash (there are ATMs). Weather conditions meant it was not possible to get to the summit peak on the allotted day, but [our guide] chose a lovely alternative walk." – Helen Jones on a Gran Canaria walking tour

"If you don't like battling strong winds, don't hire a bike!" – Sarah Slade Wilson stayed at a Lanzarote self catering cottage

"Lunches and evening meals weren't included, but the optional meals organised by the guide were good value: allow less than five euros for picnic lunches and 15 euros for three-course evening meals." – Jane Lucas on a Gran Canaria walking tour

Hire a car to explore the island, there is lots to see, from beaches to the national park, it's well worth it!

– Lila Caballero went on a Lanzarote beach house vacation
"Book your rental car early." – Nancy Carey stayed at a Lanzarote self catering cottage

"Travel light. There was no porterage on the trip (which reduced tippage) which meant you carried your luggage. This included traveling on a ferry (to and back) from Tenerife and checking in to three hotels." – Lindsay Challoner on a Canary Islands walking vacation

"Lanzarote is windy! It is also very dry and rocky, so pack sensible shoes and a hat which won't blow away. Take goggles to see the fish when swimming in the sea. Keep an eye out for wildlife – the landscape seems very barren but there are lizards and geckos and lots of birds. We even had a wading bird outside our window one day!" – Gemma Wilkins stayed at a Lanzarote seafront apartment in Punta Mujeres

"Walk around the volcanoes in a small group with an accredited guide early on during your vacation. This will change your outlook on this amazing island and its inhabitants. The unusual beauty of the island, the influence of Cesar Manrique, the sea and the weather had such an impact on us that we would love to go back." – Sophie Nelson stayed at luxury yurt accommodation in Lanzarote
More about Canary islands