Trails vary greatly, from the 10 kms Ute Trail all on the flat, perfect if you are still adjusting to the altitude to much longer, higher ones. And this really is super elevated territory, peaking at 4,500 metres. When you have adjusted to the altitude and if you are an experienced hiker, you can hit the heights on trails such as the 16 kms Hallett Peak trail or, the mother of them all, and certainly only for experts, the Longs Peak Trail. We like the national park website, which also gives daily details of
weather and trail conditions
, and also recommend this
Rocky Mountain Hiking Trails website
. The National Geographic Rocky Mountain National Park trail maps would be great to buy before you travel too, just to get you in the mood. Like all national parks in the USA, there are excellent camping facilities if you want to break up your hike en route.
• Read more about Rocky Mountains National Park and other National & State Parks in Colorado
Dawn walks are recommended in Colorado as the light on the mountains is something else. Particularly at the National Monument, where the red sandstone towers ignite one by one as the sun hits them. So many people just drive through the park and stop at lookout points. But really this is a place to get down into the canyons or up onto the plateaus and touch those magnificent, naturally eroded monuments for real. Hikes range from 1 to 20 kms, so there is something for everyone. Start early and you will watch the cactus flowers come out with the sun, the desert bighorn sheep moving their young from one cliff to another, and lizards leaping all around.
Find out more here
. Check out Independence Monument which climbers ascend each year on 4 July to put up a US flag, nearly 140 metres from the canyon floor. If you are taking a night in Colorado springs, a sunrise sojourn into the
Garden of the Gods
, a city park like no other, is also a must.
Ski resorts such as Aspen and Snowmass are famous for their winter activities, but this is hiking heaven in the summer, and no expensive lift passes either, with accommodation also better value when the snows melt. An easy yet exhilarating option is the Rio Grande Trail which connects Aspen with Glenwood Springs, passing through Woody Creek, Basalt and Carbondale along a 42-mile waymarked trail. This is a Nordic skiing track in winter too. Further out of town, but so worth the trip, are the Maroon Bells. Or Belles, as they should be called, because you don't get much more beautiful than these two iconic peaks, jutting above Maroon Lake. You can take an easy hike around the lake or head off on one of many hikes into the hills of the Snowmass-Maroon Bells Wilderness Area. Check out the excellent
interactive map
of hikes in the Aspen and Snowmass region, otherwise known as Pitkin County. Or head to the US Forest Service office in Aspen for free hiking maps. Aspen also has an excellent, and reasonable
guiding service
, with local experts who will cater for your hiking needs and energy levels.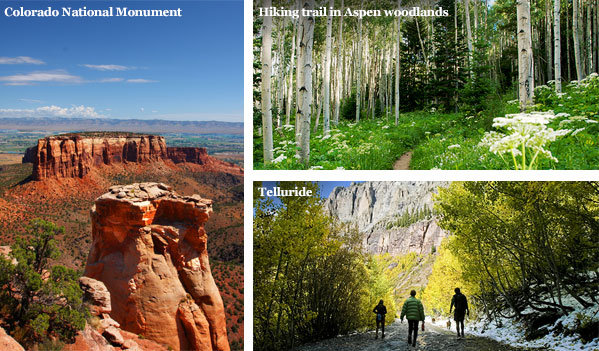 In Telluride, another popular skiing resort, you can take the free, solar powered cable car, known as the Gondola, up into the mountains and then choose from a number of hikes to come back down. Or indeed, across. Such as the Prospect Trail, the longest up here in the ski area at 16 kms, traversing the ridges across many of the ski trails through dense forest and then descending back to the Station Village lift. There is a
wonderful map here
, which will inspire you to get up and at it.
• Read more about Winter sports & skiing in Colorado
For even more serious 'ups', you can join the experts and climb one of the state's many 'fourteeners', or mountains over 14000 ft (4267 metres) which make up this San Juan range. One of the most popular trails is the 6 kms round trip hike up to Bridal Veil falls, which cuts through the town like a sliver of silver. And on the subject of silver, it used to be mined in this area, along with gold and many other minerals. It is worth taking the Alta Lakes hike up to the old 'ghost village' of Alta to see some of the remnants of this time, such as the aerial tramway that used to move the ore down the mountain from mine to mill. For more information on this and all of Telluride's other hiking opportunities, and there are many,
see here
.
Sometimes the national forests are forgotten when it comes to trail ideas, but these take up vast swathes of land in Colorado and offer excellent resources to hikers. Their websites aren't quite as informative as the national parks, but with San Juan National Forest taking up 1.8 million acres, they are not to be overlooked. There are also three designated wildernesses here: the Weminuche Wilderness, The Lizard Head Wilderness and the South San Juan Wilderness. There are, literally, hundreds of hiking trails in the San Juan National Forest, with trailheads near popular visitor towns of Durango, Silverton, and Pagosa Springs. For details of all the hikes, see the
San Juan National Forest website
and take your pick of plenty. Be sure to click on 'More information' for a map and access details.
The Colorado Trail
is an impressive long distance trail. Stretching 800 kms from Denver to Durango, and covering eight mountain ranges. The Colorado Trail was built and is managed entirely by local volunteers, so you are walking on ground that has been protected with a passion. You can support the organisation by helping with one of their work days, or just
donate
if you walked and shared the passion that they have poured into it over the years.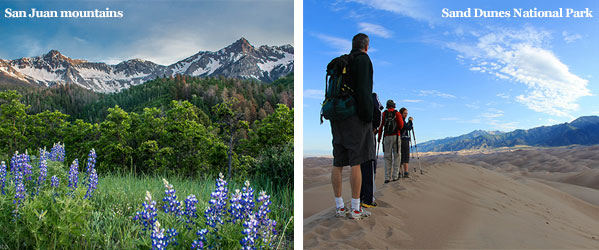 It is a strange thing in US national parks that so many people just seem to drive through, get their '
Park Passports
' stamped and then go back home again. The Mesa Verde National Park is no exception, and yet you can stay at the Far View Lodge for a bargain price, eat fine, locally sourced food at their restaurant, and then spend a few days hiking around this UNESCO World Heritage Site. Although it is one of the US's most popular national parks, famous for its 600 cliff dwellings that the ancient Puebloan people created here, you could go for ages and not meet a soul on one of their walking trails. Such as the Petroglyph Point Trail which is only 4 kms round trip, but takes you under the edge of a plateau to view petroglyph panel, or wall of ancient rock carvings, and then back up to the mesa, or plateau, providing views over the Spruce and Navajo Canyons. You can find out more about the trails on the
Mesa Verde National Park website
.
• Read more about Mesa Verde National Park in Colorado
Last but not least, is the extraordinary
Sand Dunes National Park
. And I do recommend saving this until the end of a trip, as it is something very special. It has to be seen to be believed really, with no one believing you are in Colorado when you show them the pics. As you drive across the prairies that approach them, the giant sand dunes start to emerge, the highest in North America, standing at 230 metres high and, indeed, sandwiched between peaks of the Sangre de Cristo Range. Far from the sea, this sand was picked up thousands of years ago from the Rio Grande River. In summer months, plan to hike the dunes in morning or evening to avoid sand temperatures reaching up to 60 degrees Celsius. There are 50 km 2 of dunes to explore and, as they change all the time, there are no fixed trails. It's just a magical mystery tour really.
• Read more about Colorado activities: winter sports & skiing, water based activities , horse riding and cycling