Namib & Kalahari Desert vacations

"My personal favourite viewpoint is Deadvlei in the Sossusvlei region of Namibia, because it is basically a very ancient lakebed which is full of trees that have dried up and died. It is surrounded by these massive red dunes, and it really is a very beautiful scene. A lot of photographers love to go there, and as it is a desert, the weather stays the same all year round, so it is perfect all the time."

- Cronje Rademan, tour leader for our supplier Sunway Safaris on their Namibia and Botswana safaris
The Namib is one of Earth's oldest deserts, running down the Atlantic coasts of Namibia, Angola and South Africa. This landscape is so dry and unforgiving that today it is almost entirely uninhabited, bar a few small communities that manage to cope with the onerous conditions. Much of the desert is taken up by the Namib-Naukluft National Park, the fourth largest protected area in all of Africa. At its southern tip the Namib meets the Kalahari, a desert as barren and dry as the its name, meaning 'the great thirst', suggests. This is the land of the San Bushmen, who traditionally lived and hunted in the desert, and communicate in Khoisan, a language which uses click consonants.
Our Desert & dunes Vacations
What do Namib & Kalahari Desert vacations entail?
Tours of the Namib and Kalahari Deserts are usually tied in with longer Africa vacations as part of a small group. These will typically also take in safaris in Namibia's Etosha National Park, and the lush Okavango Delta in Botswana, the stark desert landscapes making for a memorable contrast.

Travel in this part of the world can be arduous, but it is worthwhile. You should expect long drives over poor roads, and you will often be moving pretty fast – this is a big region with a lot to fit into a trip. Overland safari trucks are as comfortable as possible, but a neck pillow is recommended. One thing is for sure – you will be glued to the scenery at all times.

Your time in the desert itself is likely to be fairly limited but it's a rare itinerary that doesn't feature the monumental sand dunes of Sossusvlei, or the opportunity to meet with the San Bushmen of the Kalahari.
Our top Desert & dunes Vacation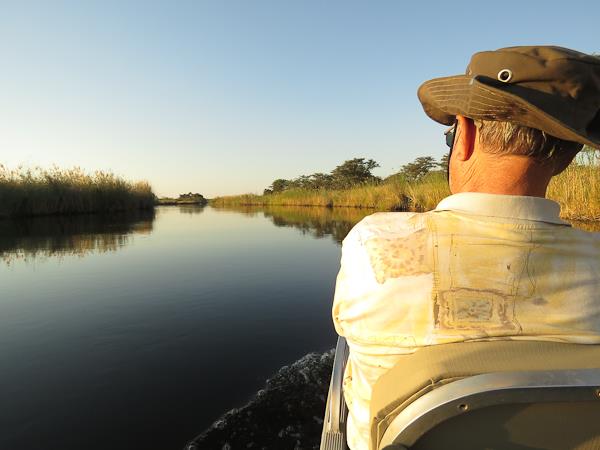 Namibia & Botswana lodge safari Caprivi Etosha Okavango
From
US $

3845

to

US $

4140
21 days
ex flights
Small group travel:
2019: 15 Dec, 29 Dec
2020: 5 Jan, 9 Feb, 15 Mar, 12 Apr, 17 May, 31 May, 21 Jun, 28 Jun, 5 Jul, 12 Jul, 19 Jul, 26 Jul, 2 Aug, 16 Aug, 23 Aug, 6 Sep, 13 Sep, 27 Sep, 18 Oct, 25 Oct, 8 Nov, 15 Nov, 13 Dec, 27 Dec
If you'd like to chat about Desert & dunes or need help finding a vacation to suit you we're very happy to help.
When to go to the Namib and Kalahari Deserts
Organised tours that spend time in the Namib and Kalahari Deserts operate all year-round. These regions are almost constantly dry, but there are big fluctuations in temperature between the summer and winter seasons. From June to September, the daytime is a pleasant 20°C to 25°C, but it's important to pack warm clothing as after sunset it can quickly drop, even below freezing.

From October onwards the weather gets progressively warmer. Between December and March it's often scorching, sometimes topping 50°C in the day, when you'll be glad if your accommodation has a swimming pool – it's easy to appreciate why the wildlife always loves a waterhole. The best time to visit the Namib and Kalahari Deserts, then, is from May to October.

Swakopmund, on the coast, is typically significantly cooler, often hovering in the mid teens. There is frequently fog in the mornings, which rolls off across the dunes. Between December and April there may be some rainfall, enough to fill marshes such as Sossusvlei and provide sustenance for vegetation, but compared to other parts of Namibia the desert sees very little rain. Incredibly, most of the moisture that sustains the life here actually comes from the fog.
Namib and Kalahari Desert highlights
Sossusvlei
Sossusvlei is a series of tall, orange-red sand dunes. And when we say tall, we really do mean tall. These are among the highest in the world, many reaching over 200m and some, such as the aptly named Big Daddy, measuring 300m from their base – that's the same height as the Eiffel Tower. The petrified camelthorn trees in Deadvlei, a stark white clay pan tucked between the dunes, give it a haunting atmosphere. Hiking and 4WD tours around Sossusvlei are best at sunrise, taking advantage of the soft light and shadows, and avoiding the midday heat.

"The Namib dunes were another spectacular day – climbing Big Daddy was fantastic… took longer than Dune 45 but not really any harder so if in doubt - go for it!" – Rachel Guinee on a Namibia and Botswana safari vacation
Sesriem Canyon
The gateway to Sossuslevi is a natural river gorge that has been carved over millions of years. It's one of the few places in this region where any water can be found all year round – you can sometimes swim with the fish in the deeper pools. The deep canyon's layered rock walls are especially picturesque at sunrise and sunset.
Swakopmund
This coastal town is considered Namibia's 'adventure capital' – sky diving, sea kayaking and sand boarding are all popular activities here. Not everyone is looking for an adrenaline rush though, and Swakopmund has much more to offer, from its handsome German colonial architecture to its seafood, especially oysters. And on the outskirts, lunar-like terrain leads into the towering Namib dunes.
Walking with San Bushmen
Visiting with the San Bushmen of the Kalahari, even staying in one of their lodges, helps them to preserve their ancient traditions. And in return, you'll have the opportunity to walk with them in the desert, learning how they survive and thrive in this harsh climate by finding edible plants and hunting with poisoned arrows. You may even pick up a little of their 'click' language.
More about Desert & dunes
Back to the top
Convert currencies