Things to see & do in the Sahara Desert
There are few places on Earth that convey a sense of the infinite so well as the Sahara Desert. When youíre stood atop a giant sand dune, and in every direction are other giant sand dunes as far as the eye can see, itís easy to feel a bit insignificant. That feeling goes double as night falls. In the desert, where the only light pollution for miles around is a few lanterns and the campfire where your meal is cooking, the sky is a velvet shawl studded with diamonds. Itís as though you can see to the other end of the galaxy. Well, perhaps weíre getting a little melodramatic here but the point is, if you crave mystery, romance and adventure, in the Sahara these are embedded in every grain of sand.
Our Desert & dunes Vacations
What do Sahara Desert vacations entail?
A journey into the Moroccan Sahara will typically form part of a longer tour of the country. A few nights ensconced in the folds of the desert will be bookended by days in the High Atlas Mountains, on the coast, or in cities such as Fez, Marrakech and Casablanca. It may seem difficult to pinpoint a highlight in an itinerary like that, but for many people it is their time in the desert that stands out most clearly.

Groups will often enter the Sahara by descending from the mountains through Ouarzazate, the 'Door of the Desert'. The ancient village of Ait Benhaddou stands nearby, then you will head along the fertile Draa Valley, known as Morocco's date basket for its copious terraces of fruit trees, and deep into the desert. You will stop at wells that have proved essential to survival for centuries, palm-fringed oases, and Bedouin tented encampments where the hospitality is based on centuries of tradition.

A Sahara Desert vacation can be a small group tour, with numbers up to around 16, or a tailor made trip allowing you to choose aspects such as your travel dates and standard of accommodation, as well as the itinerary itself. Long drives are involved at times as you cover vast distances; you may be surprised how far into the desert some of these trips get.
Our top Desert & dunes Vacation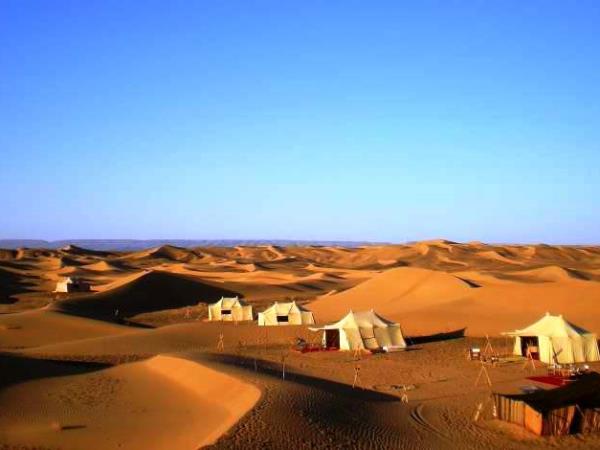 Marrakech and Sahara - stay in a Riad, sleep under the stars
From
£

625

to

£

695
7 days
ex flights
Tailor made:
This trip can be tailor made throughout the year to suit your requirements
If you'd like to chat about Desert & dunes or need help finding a vacation to suit you we're very happy to help.
When to go to the Sahara Desert
Every season has its own charms in Morocco, but as far as exploring the Moroccan Sahara goes, summer is the one to avoid. Between June and September the sun is simply too hot, and the insects too numerous, for it to be enjoyable. Winter is manageable if you wrap up warm; however, the best time to visit the Sahara Desert is definitely in spring or autumn.

By October the searing heat of summer has faded away but it's still pleasant after dark. Similar temperatures are to be found in spring, but between February and April sandstorms are more common. Caused by strong gusts of wind lifting up the top layer of sand, sandstorms are usually harmless and over in a matter of minutes but they can still be an unnerving experience – sunglasses and scarves are essential wear.

As unlikely as it may seem, the Sahara Desert can get very cold. At night, especially in December and January, the temperature drops precipitously and if you're staying at a Berber camp amid the dunes, you will be glad to have brought along an extra fleece or a sleeping bag with a down lining.
Ait Benhaddou
Perched on the edge of the Sahara just outside Ouarzazate, Ait Benhaddou seems frozen in time since the 11th century. It was once an ancient staging post for caravans of traders, who would arrive with their camels laden with salt. The Kasbahs and clay houses baked beneath the unrelenting sun are now a UNESCO World Heritage Site, one with such character that it has been used in countless films and TV shows.
Camel rides
The loping, swaying stride of a camel can take a little getting used to, but itís an integral part of the Sahara experience. In fact some parts of the desert are so remote that they can only be reached either by camel or an air-conditioned 4x4. Most camel rides last around an hour which many people would feel is more than enough, but bouncing along through the sand is undeniably evocative.
Erg Chebbi
An erg is a broad sea of sand, shaped by the wind into undulating crests and valleys. The best-known in the Moroccan Sahara is Erg Chebbi, a very popular location for overnight camping, and also viewed by some people as a cure for rheumatism if you bury yourself in the dunes up to your neck. More remote and rustic is Erg Chigaga, where the dunes are not as large but you get a greater sense of wilderness.
Stay in a Berber camp
Perhaps the quintessential Sahara activity is to stay overnight in a tented Berber camp, sleeping under the stars. Accommodation ranges from the luxurious to the simple but comfortable, which perhaps feels a little more authentic. Blankets are provided but you can bring your own sleeping bag too. Your stay will often be accompanied by a meal with mint tea, and traditional music and dancing.

"As sunset approached, our small group climbed to the top of a sand dune which was situated behind our camp in the desert. Everything was perfect, including the light. There was virtually no sound, and as our group began to take in the absurdity of just how far into the Sahara we were, we all got the serious giggles. Once we'd got over being in the middle of nowhere we settled down for our excellent evening meal by the fire. Although it got quite cold during the night there was ample bedding available, and the warmth from the fire and the food was more than adequate to keep comfortable." – Roddy MacLeod in a review of his Sahara vacation

"We loved the three day desert tour. Trekking through the oasis on the slightly comical, docile camels was really good, with the wonderful backdrop of the mud-walled kasbah village and the date palm trees. Once we arrived at our "glamping" site we were treated to delicious freshly-cooked tagine and then left to relax under the stars. The next day we moved on to the proper desert for off-road driving across the dunes and another night in a camp. Watching the sunrise from the top of the golden sand dunes was as atmospheric as we hoped." – Theresa Hall in a review of her Morocco vacation
More about Desert & dunes
Back to the top
Convert currencies