Desert & dunes map & highlights
Life in the desert isn't all tented camps, dust blown villages, and sand as far as the eye can see. There are great cities such as Jodphur, seaside towns such as Swakopmund, idyllic oases and lagoons, ancient Kasbahs, lush green valleys and incredible wildlife from flamingos to rhinos. Nor does isolation mean that desert communities are bereft of culture. Far from it, in fact. Our trips celebrate the vibrancy of life in the desert, through encounters with the people who live them day in, day out. It may be that what you're most looking forward to is a sunset camel safari, or the thrill of riding in a 4x4 over the dunes, but what you're likely to find is that the memories that stay with you longest will be something as simple as sharing a meal with a local family, or indulging in the charm and hospitality of a starlit Bedouin camp.
Our Desert & dunes Vacations
1. Arabian Desert
2. Atacama Desert
3. Gobi Desert
4. Kalahari & Namib Deserts
5. Sahara Desert
6. Thar Desert

1. Arabian Desert
The largest desert in Asia spans much of the Middle East. In Jordan, Wadi Rum was once a familiar hideout for T.E. Lawrence and known as the 'Valley of the Moon' for its otherworldly environment. Oman is two-thirds desert, the shifting contours and colours of the dunes here have a mesmerising effect. Groups spend Arabian nights in Bedouin camps, sleeping beneath the stars, and swim in gorgeous desert oases.
2. Atacama Desert
Chile's Atacama Desert is the driest in the world, an arid region of many bizarre and beautiful landscapes. Groups drive across vast salt plains glittering in the sunlight, past geothermal geysers and lagoons where flamingos gather, and through the Valley of the Moon where the terrain is so lunar-like that the ESA chose it to test their Mars Rover. Light pollution here is nonexistent; the night skies so captivating you don't want to go to bed.
3. Gobi Desert
Once part of the Mongol empire, the steppe of the Gobi Desert is often explored from Ulaanbaatar in Mongolia, traveling by train, private vehicle and even on horseback. You'll pass spectacular limestone and granite rock formations, and stay overnight in gers, often with the families of your guides, as you get to know tight-knit desert communities and discover their ways of life.
4. Kalahari & Namib Deserts
The rust-red dunes of Sossusvlei in Namib Naukluft National Park are some of the highest in the world, topping 300m. Climbing to the top is a real workout. To the north the desert city of Swakopmund borders the Atlantic, ocean fog elegantly unfurling over the dunes to provide much-needed moisture. In the Kalahari, San Bushmen accompany you on walks, imparting fascinating knowledge on how to survive in this harsh environment.
5. Sahara Desert
Separated from the coast by the Atlas Mountains, the usual route into the Moroccan Sahara is via Ouarzazate, 'Doorway to the Desert', over the Draa Valley with its millions of palm trees. Unmissable sights include the UNESCO-listed Kasbahs of Ait Benhaddou, and the spectacular Todra Gorge, dotted with mudbrick houses. Erg Chebbi is popular for camel riding and as a rheumatism cure by Moroccans, who bury themselves neck-deep in its dunes.
6. Thar Desert
Nearly half the population of Rajasthan make their lives in the desert, either in great cities such as Jodhpur and Jaipur, or in rural, often nomadic communities. Camels of course are an intrinsic part of life here. As well as camel safaris from Jaisalmer, which once sat on an ancient trade route, you might also tie in your trip with the November Pushkar Camel Fair, a lively cultural affair as well as livestock trading event.
Our top Desert & dunes Vacation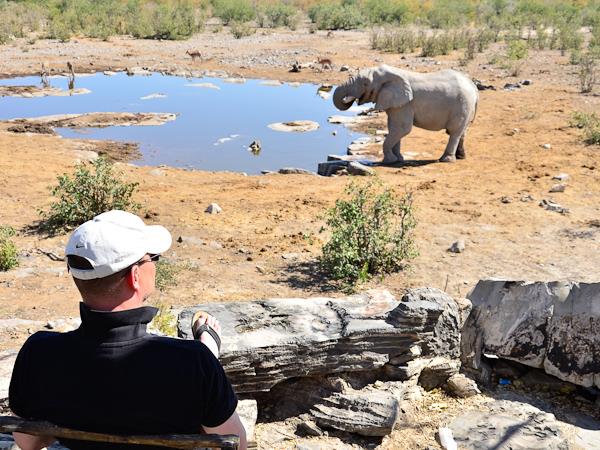 Namibia & Botswana lodge safari Caprivi Etosha Okavango
From
US $

3845

to

US $

4140
21 days
ex flights
Small group travel:
2019: 10 Nov, 15 Dec, 29 Dec
2020: 5 Jan, 9 Feb, 15 Mar, 12 Apr, 17 May, 31 May, 21 Jun, 28 Jun, 5 Jul, 12 Jul, 19 Jul, 26 Jul, 2 Aug, 16 Aug, 23 Aug, 6 Sep, 13 Sep, 27 Sep, 18 Oct, 25 Oct, 8 Nov, 15 Nov, 13 Dec, 27 Dec
If you'd like to chat about Desert & dunes or need help finding a vacation to suit you we're very happy to help.
Desert & dunes travel advice
Oman, it's hot
Liz Pepperell, from our supplier Odyssey World:
"From October through until March, the temperature in Oman is perfect and it is not too hot for things like camel rides in the desert, or walking in the mountains. It is an all year round destination, but when it is really hot, you just don't go outside between 11 and 2. You can go out to the souks in the evening because they all stay open late. If traveling into the interior take a smaller overnight soft bag and leave your main luggage at the hotel concierge. Cover the bags in plastic to keep out the sand and dust. Always have plenty of water and wet wipes and tissue."
Draa Valley drama
Rachel Blech from our supplier SheherazadVentures, shares her tips on traveling in Morocco's Draa Valley:
"The beauty of the southern Draa Valley is quite staggering; lives are very tough. You'll see old agricultural methods using mules and manual labour, crumbling kasbahs, lush oases and gardens, mountains and rocks, dramatic gorges and valleys… Visit the Draa Valley in October or November during date harvest time, and head to the Sahara during this time too."
Wide open spaces
Cronje Rademan, from our supplier Sunway Safaris, is a tour leader on Namibia and Botswana safaris:
"There are a few misconceptions around the traveling distances that we have to do on this trip, which can be quite far. Especially in Namibia, the little towns and villages are very far apart. In Europe they are quite close together and you won't usually drive for more than half an hour before you get to the next town or the next stop. But in Namibia, you may be eight hours on the road before you see another car. So the vastness and distance can get people a little bit." Read our full interview with Cronje
here
.
Desert & dunes tips from our vacation reviews
At Responsible Travel, we think the best people to advise our travelers are often... other travelers. They always return from our tours with packing tips, weather reports, ideas about what to do - and opinions about what not to.

We have selected some of the most useful desert and dunes vacation advice that our guests have provided over the years to help you make the very most of your vacation - and the space inside your suitcase.

I shall never forget the time, when after having climbed to the top of the sand-dunes to watch the sun-rise, we were too exhausted to climb cautiously back down, thus proceeding to just swim-slide ourselves down the sandy dunes.

– Lorraine Lui in Moroccan
"It was my first time to be in any desert, not to say actually riding a camel into it and camping under the moonlight. The camel-riding bit was fun, and I like to believe I developed a special bond with the young camel whose back I rode on twice. The camping was a once-in-a-lifetime experience, and made more enjoyable with the local Berber guides' delicious chicken dish as well as the songs and drums. The exploration of the desert was also unforgettable - I shall never forget the time, when after having climbed to the top of the sand-dunes to watch the sun-rise, we were too exhausted to climb cautiously back down, thus proceeding to just swim-slide ourselves down the sandy dunes." – Lorraine Lui in Moroccan

"In hindsight, early September is probably unwise for a Sahara trip in terms of the climate – our local guide thought we were mad to want to have lunch out in the dunes rather than at a comfy hotel, and although it was a thirsty, sweaty two hours we had no regrets - all part of the Bedouin experience! Our main (and seemingly obvious) tip for the desert trip is to stock up on about five times as much water as you think you will need."– Theresa Hall in Morocco

"Take warm clothes for the desert and the mountains. It gets VERY cold at night." – Sally Frohlich in Oman

Traveling through and swimming in the wadis and canyons would be the top highlight.

"Just about everything was memorable. But traveling through and swimming in the wadis and canyons would be the top highlight. If you would like to try something different from a normal vacation then this is perfect." – Oliver Grumitt in Oman

"If you travel at the same time of year that we did (July), remember that it is not only the dry season, but also winter in that part of the world. So although the days are warm, dry and sunny, the nights and early mornings can be very cold. At those times it is important to wear several layers of clothing, including a fleece (or two). A woolly hat and gloves are also useful." – Richard Humphrys in Namibia and Botswana

"Stay in the desert if you can - a bucket list must - wash facilities are basic but there were camp showers (rough and ready with cold showers and water buckets to flush loos). Camp beds with clean sheets and were well fed with freshly cooked local food. We felt safe (as a couple) and were well looked after. Unable to charge things but used the 4x4 to charge the phone - perhaps would take a solar charger next time." – Gill Rawlinson in Morocco
More about Desert & dunes
Back to the top
Convert currencies