Where to go on family vacations with teenagers
---
MAP & HIGHLIGHTS
Teenage vacations don't have to be complex. Being able to strip off that cotton wool many of us have been guilty of wrapping them in for many years and just go explore something a bit daring and different makes these great vacation years. Who doesn't want to get their teenagers away from screens? White water rafting in Croatia will do that. Who doesn't want to share a few more adventures with their kids before they fly the nest? Hello Vietnam or India. And who wants to combine adventure with a bit of vital chill out time? Sea kayaking in Turkey for a week followed up with a week of sleep and more sleep is just what the doctor ordered. Just don't pack the cotton wool.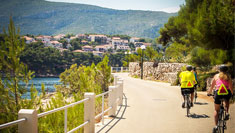 Croatia
Croatia is the perfect young adult destination. There are blissful islands to hang out on, giving plenty of room for independence but also opportunities for adventures together en famille. Brac is one such beauty, where you can climb the Adriatic's highest peak, go sea kayaking or mountain biking. Inland Croatia is a revelation when it comes to teen vacations; the Cetina River a white water rafting and canyoning haven.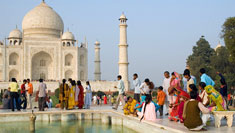 India
Some families resist India for fear of tummy bugs, logistical difficulties etc. Don't. Just leave it in the hands of family travel experts who will guide you, in a small group of other likeminded families, around the country's highlights. From the Taj Mahal to tigers, Delhi to the desert; this is one of those trips where even teenagers who aren't crazy about vacationing with parents will still jump at. Eat, play, love.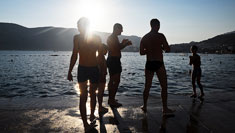 Montenegro
There are many wonderful things about Montenegro for vacations with teenagers. First, it is very much off the beaten track; ergo kudos factors. Second, it is very small but packs a mighty punch in terms of activities, so you can kayak across stunning Lake Skadar in the morning and white water raft down the Tara River Canyon in the afternoon. Third, our Montenegro family vacation companies are second to none.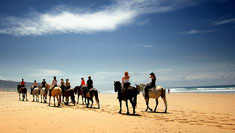 Spain
There are certain areas of Spain that always tick the teen cool box and Catalonia is one. It is activity central, where the mountain biking is favoured by pros, horse riding vacations are a family treat and independent cycling vacations take you from volcanic terrain to the likes of beautiful Banyoles Lake. The Picos de Europa are also superb for hiking together and, for learning Spanish, Granada is too cool for school.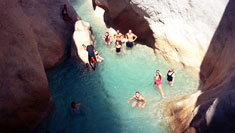 Turkey
Turkey is not only an adventurous place to travel with teenagers, but also educational, eye opening and super chilled. Try sea kayaking in Asikoy Bay, canyoning in Topariar Canyon, dipping into the natural hot springs at Koycegiz Lake and turtle watching at Iztuzu. These are also great trips in the May and October half terms, as the weather is still glorious.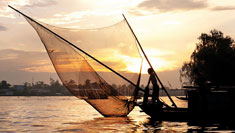 Vietnam
Vietnam is extraordinary for families wanting to immerse themselves in very different cultures and really do something different. Opt for a tailor made trip to suit your interests and ages, although Vietnam is definitely better for YA age groups. Enjoy iconic cities like Ho Chi Minh, take a boat around Mekong floating markets, snorkel off Mun Island or paddle a river basket. And don't even get us started on the food.


Family with teenagers vacations travel advice
---
TIPS FROM OUR FAMILY FRIENDLY FOLK
Vedat Vural, owner of Alternatif Outdoor, our super cool for teens in Turkey vacation provider:
"I call our trips 'mind relaxing'. Because the conditions are so ideal, you are able to discharge all your negative energy in our beautiful turquoise waters. Even when we are in the middle of the sea, I encourage guests to jump out of their kayaks and into the sea, to refresh and reawaken. Not many guides do this, but families love this and it gives them a good chance to practice their personal skills."
Emma Heywood founded Undiscovered Montenegro with her husband Ben, and with three young children, they give top tips on traveling in Montenegro with teenagers:
"My top tip is just go! Montenegro is a fantastic country for families, especially active ones who don't just want to sit on the beach. There's lots to keep the kids interested – wild swimming, kayaking, hiking, honey tasting trips and not to forget wild tortoises! Montenegrins are mad about kids, so it's a great place to visit as you'll get lots of attention and offers of help."
Vo Thi Bich Ha, from our supplier Haivenu, is Vietnamese and has travelled in the country with her two children: "Kids from eight upwards who like to explore will love Vietnam. They can ride a pony in Sapa, go rafting down the river, paddle a large basket boat, make decorative lanterns from silk in Hoi An. You can also learn to make spring rolls, salads, noodles... you'll go out to the markets with a guide to get the ingredients and come back to cook and eat them."

Colette Dubois co-founder at our supplier, St. Hilda Sea Adventures in Scotland:
"I think it is perfect for families, because there is a lot to do on the boat. When we dock the boat, put a dingy in to go and visit little beaches, go fishing or go and see the seals. But do remember to bring waterproofs. Sometimes, families bring a few waterproofs to share, and don't have enough for everyone. And so there is always somebody who is stuck without them!"
Family with teenagers vacations travel advice
---
TIPS FROM OUR TRAVELLERS
At Responsible Travel, we think the best people to advise our travelers are often... other travelers. They always return from our tours with packing tips, weather reports, ideas about what to do - and opinions about what not to.

We have selected some of the most useful family vacations with teenagers advice that our guests have provided over the years to help you make the very most of your vacation – and the space inside your suitcase.
"The most memorable part? I think for the adults it was definitely the canyoning! For the children I think the white water rafting was a hit especially as all the kids were in the same boat! The swing rope was also mentioned a lot -this was found by chance on the other side of the river by the hotel!!! Water shoes are a must. Don't bring too many clothes with you!! You are in swimmers for most of the vacation!!" – Catherine Raja on our Croatia family vacation

"Check the weather, it's cold overnight and early starts mean you need warm clothing as well as lighter cottons for the day time. My granddaughter had a problem with spicy food and though breakfast was okay other meals were difficult." – Kathryn Park on our family vacation to India

"Preferably have a car, though owners are helpful in proving lifts. Take day trips early morning or late afternoon as it can get quite hot. Be prepared… plenty of flies and mosquitoes in summer months!!" – Caroline O on our Catalan horse riding vacation.

"We spread out the standard activity week (5 activity days with one rest day) over 2 weeks - and did 6 activities over 13 days, which worked well for us... We all enjoyed having more rest days in which to explore the area - and there's loads to see nearby....They say the activities are 4-6 hours activity per day - but I'd say these were full day activities, starting at 9ish and we were never back before 6pm – which was great: full on, full days of fun." – Lisa Williams on our family activity vacation in Turkey.

"Take a GoPro or something like that to record what's happening on the activities – brilliant fun and great memories… And for those that are nervous of joining a group vacation where you know no one, we can only say that the Keith, Kate, Finn, Jacob and Danny, the other family in our group, were brilliant fun, very easy going, adventurous, great to talk to and contributed massively to making this such a brilliant week." – Doug Grimwade, on a family activity vacation in Turkey

"Our 11 year old son and 13 year old daughter benefited from the experience, not only because of enjoying and feeling challenged by the activities but also because of the place itself being so easy to navigate. They could enjoy a bit of vacation freedom without worry or feeling overly supervised by us, the parents. The sea swimming, basically anywhere you wanted, was exquisite. Simply stunning." – Jeneva Patterson on a Croatia family adventure vacations

"The white water rafting was favoured by all four of us in terms of pure fun closely followed by the cycling day. That said every day was terrific but the most memorable aspect is probably the great group of people we shared our experience with. All I can say is our boys feel it was the best vacation they've been on and we concur. In the literature we were given at the start it said that on average you laugh 13 times a day but on this vacation you laugh 53 times – actally we laughed a lot lot more!" – Sandra Oxton on a activity vacation for families with teenagers in Croatia