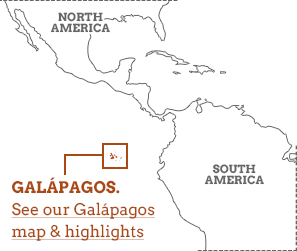 Visiting the Galápagos is like stepping into the storybooks of childhood, where animals and humans live harmoniously side by side. Nowhere else is the wildlife as fearless and friendly, and that is what lures people to this isolated archipelago, nearly 1,000km out into the Pacific. This extreme isolation has erased ancient memories of fear while shaping the beaks, shells and wings of these unique species in a living exhibit of evolution.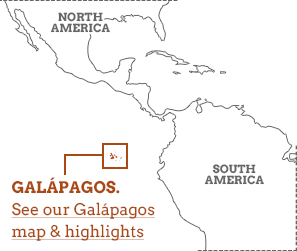 The experience of swimming with sea lions, walking with tortoises and strolling past salt-snorting marine iguanas in the Galápagos is indescribably wonderful.

What's even more phenomenal is that these species have survived and evolved in one of the world's harshest environments – a jumble of lava fields and still-smoking volcanoes, which continue to mould the islands today. The Galápagos' past has been shaped by travelers – including Charles Darwin and fugitive pirates – and modern-day visitors must be mindful that its future, too, is now dependent on them. The evolution of vacations here will be the next big milestone in the islands' unique story.

Find out more in our Galápagos travel guide.
Galápagos is...
the birth place of Darwin's theory of Evolution.
Galápagos isn't...
a petting zoo. Keep your distance from the wildlife!
What we rate & what we don't
Española and Genovesa
The more remote the island, the higher the level of endemism – meaning that these two often overlooked islas boast species even more curious than the rest of the Galápagos Islands. Tiny Genovesa is formed by the lip of a submerged caldera, and hosts the world's only nocturnal gull species. Española's marine iguanas change colours in different seasons, and its steep cliffs are perfect departure points for the enormous waved albatross.
Northern islands
Remote and rarely visited, the islands of Wolf and Darwin are a scuba diver's dream. Given the distance and the lack of infrastructure, once here, diving tours are based off the boat, making for an entirely marine experience. 28 shark species live here, including hammerhead and whale sharks, while barracuda, yellowfin tuna and seahorses are common.
Human history
The archipelago has been inhabited over the centuries by maltreated prisoners, pirates in hiding and a flamboyant fake Baroness, while there have been mysterious murders and disappearances which remain unsolved to this day. The Wall of Tears is a reminder of the islands' brutal past, while the Post Office Barrel symbolises the kindnesses that have occurred – visitors can sort through the letters left here to deliver by hand once they return home.
Lava landscapes
The Galápagos' strange and still-active geology has created semi-submerged calderas, lava fields and tubes, black sand beaches and puffing volcanic peaks, while its rich volcanic soil feeds weird and wonderful flora. Its 560 endemic species include unique fruits, "daisy trees" and lava cacti, along with exotic orchids and mosses clinging to twisted tree limbs.
Giant tortoises
"Galápago" means "giant tortoise" in Spanish, and it's clear why these characteristic creatures, up to 1.6m long – were the ones to give the archipelago its name. It's likely that the islands' 15,000 tortoises – in 14 "races" – all descend from a single individual who washed up here thousands of years ago, and it's possible that some of the hatchlings seen by Darwin may even be alive today.
Volcano hikes
The Galápagos Islands' tame wildlife is not their only astonishing sight. The 9km-wide, 91 metre-deep crater atop Volcán Sierra Negra is the second largest active caldera on earth, and hiking around the rim offers spectacular views of the surrounding volcanoes and ocean. You can continue on to the bizarre, smoking lava landscape of Volcán Chico, which last erupted in 2005.
Tranquil beaches
Mainland Ecuador's beaches are generally pretty underwhelming – so this is the place to kick back for some beach time. Staying at Puerto Ayora gives access to some excellent little bays during your Galápagos getaway, which will be all yours (save the sea lions!) once the cruise ships leave town. Others are reached along forest trials or by hiking through atmospheric mangroves.
Snorkelling
Island life is only one part of the story – what inhabits the waters surrounding the Galápagos Islands is a very different one. Nowhere else in the world can you splash about in lava tubes, while green turtles paddle nearby and sea lion pups swim up and look you in the eye. Marine iguanas are on the prowl, Galápagos penguins dive in, and hammerhead and white-tipped sharks lurk in the depths.
Two-week cruises
A Galápagos jaunt is fascinating, but the tortoises all begin to look the same after a few days and only the most obsessive biologists are going to enjoy more than ten days here. Additionally, cruising leaves little space for independent exploration. If you do want to stay longer, consider spending additional onshore days near a beach once your tour has finished.
Oversized ships
The assumption is that the hugest vessels – carrying up to 100 passengers – must be the best equipped and the most stable. However, larger ships cannot dock at all the islands. Boarding and departing can involve long queues too, and you'll be paying a premium for a slightly more spacious cabin which, in reality, you'll be doing little more than sleeping in during your Galápagos adventure.
Charles Darwin Research Station
The station does impressive work, and has been vital for the reintroduction of some incredibly endangered species. But it is first and foremost a research center, and visitors can leave distinctly underwhelmed by the dry, non-interactive exhibits and wildlife in concrete enclosures. Visit at the beginning of your vacation to build up to the wild creatures.
Getting touchy
The reason that Galápagos animals are so wonderfully unafraid of humans is that they are treated with respect. Enjoy the sensation of having sea lions swim alongside you, or a curious penguin posing for a photo within arm's reach, but never try and touch them. This rule, along with sticking to marked trails is also important for biosecurity, helping prevent invasive species and unknown illnesses reaching the islands.
Our top Galapagos Vacation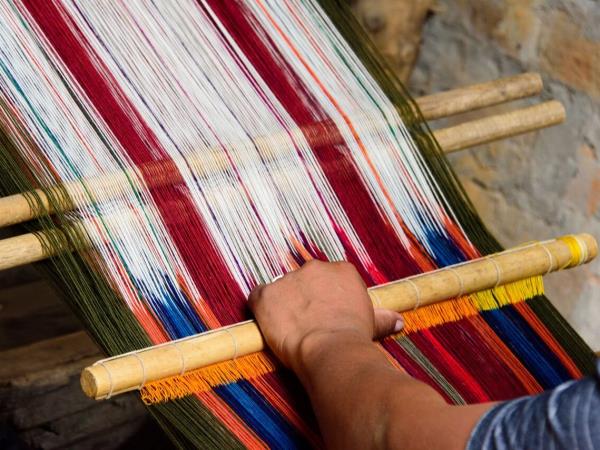 Private in-depth tour of Ecuador and The Galapagos
From
£

6800

to

£

7900
22 days
ex flights
Tailor made:
This trip can be tailor made throughout the year to suit your requirements
If you'd like to chat about Galapagos or need help finding a vacation to suit you we're very happy to help.

Eating & drinking in the Galápagos
As most of the Galápagos' population are recent immigrants and most ingredients are imported, there are few typical local dishes, though the seafood is exceptional. Always try to find fish and seafood that has been caught small-scale, by local fishermen.

Look out for ceviche, which is different to the Peruvian version. It often contains shellfish marinaded in lime, and is served with popcorn.

Lobster is a local delicacy. Fishing is usually permitted from September-December, but do check if it was harvested sustainably.

Sea cucumber is a highly prized delicacy – as the Japanese believe it is a powerful aphrodisiac. Harvesting it contributes considerably to the local economy.

People & culture in Galápagos
The Galápagos is perhaps surprisingly diverse culturally, as people from the Amazon, Andes and coast of Ecuador have migrated here; as well as a small community of researchers and scientists. Spanish is the universal language among the islands' 27,000 inhabitants, and most people are employed in tourism or fishing.

People from the Galápagos are known as Galapagueños (male) and Galapagueñas (female).

Only four of the islands are populated: Santa Cruz, Isabela, Floreana and San Cristobal.
Gifts & shopping in Galápagos
The Galápagos is not the best place to purchase South American souvenirs, but beyond the overpriced "I Love Boobies" t-shirts there are a number of craft stalls and high-end jewellers along the waterfront in Puerto Ayora who are making their name on the island.

Avoid any items made with black coral and turtle or tortoise shell. These are threatened species, and the products are illegal.

All profits from the Research Centre gift shop are returned to its projects, so buy your books here rather than off Amazon when you return home!

The Galápagos Marine Reserve, at 130,000km
2
, is the second largest marine protected area in the world after Australia's Great Barrier Reef.

How much does it cost?
Carved wooden figures: £5

Souvenir T-shirts: £21

Bottle of Chilean wine: £4.25

Reduce the cost of your beer – return your bottle to claim your deposit and reduce waste
A brief history of the Galapágos
For centuries, these inhospitable, lava-encrusted islands were viewed as having little value, other than as a place for pirates to hideout after looting expeditions across South America. The giant tortoises were also valued for their meat, as they could be kept alive on ships during epic journeys, and it is believed that hundreds of thousands may have been removed from the islands. Goats and dogs which were introduced during this period continue to cause some of the most serious environmental damage today.
Read more