Galapagos multi activity vacations travel guide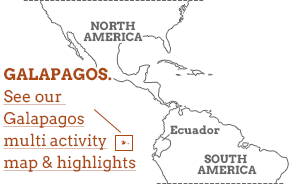 The Galapagos Islands are renowned for their remarkable wildlife, and for being the place where much of Darwin's theory of evolution was formed, but what's not as well known is that trips to the islands can be enhanced with a host of thrilling activities, from kayaking and snorkelling to mountain biking.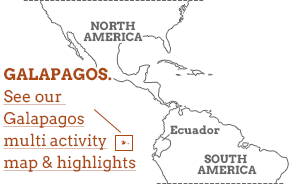 Galapagos multi activity vacations are more relaxing and affordable than cruise vacations, more to do with fun than fitness, and much more immersive than your average guided tour.

There are actually some 30,000 Galapagueños, and land based tours put money directly into their pockets as well as introducing you to their unique culture. True, with a cruise ship you can head to more remote parts of the archipelago, but if you stay on land, you can keep exploring long after the ships have anchored up for the night.
Find out more in our Galapagos multi activity vacations guide.
Our Galapagos multi activity Vacations
What does a Galapagos multi activity vacation entail?
Snorkelling with green turtles and hammerhead sharks; trekking high pastures to find giant tortoises, and kayaking alongside colonies of marine iguanas and sea lions – a Galapagos multi activity vacation brings you up closer with the wildlife than you might ever expect. These are not adrenaline packed, challenging activities, rather they require a reasonable level of fitness while setting a pleasantly easygoing pace, accompanied by an adventure guide. You are in a vital conservation area though, so keep in mind that itineraries may need to be tweaked from time to time in accordance with changes in national park rules or fluctuations in the weather.
You'll stay on land rather than at sea, sometimes on a handful of islands, and consequently be able to reach parts of the Galapagos that most cruise vacations skip. Land based trips are generally much more affordable than cruising, and can follow a more relaxed schedule. Trips last between one and two weeks, depending on whether you're also seeing Ecuador or other parts of South America.
As with any trip here, you'll be accompanied by naturalist guides throughout, usually local and always vast founts of knowledge. They'll introduce you to cute Galapagos penguins, Darwin's finches, blue footed boobies with their curious mating dances, sea lions, iguanas and of course the islands' most famous residents: the giant tortoises.
Small group or tailormade tour?
Galapagos multi activity vacations are either small group or tailormade tours. Both tend to offer a similar range of activities and destinations, but with a tailormade option you have greater flexibility in your travel dates and the arrangement of your itinerary. Small group trips are very sociable affairs, during which you'll bond quickly with the rest of your party whether hiking, snorkelling or kayaking. Whichever type of trip works best for you, you'll be accompanied at all times by informative naturalist guides.
Accommodation
Multi activity vacations in the Galapagos Islands are usually based on land rather than boats. Depending on the tour you choose you might be staying in locally owned hotels or guesthouses, or stylish eco lodges with infinity pools and hot tubs. You'll spend time on two or three of the main islands: San Cristóbal, Santa Cruz and Isabela, with day trips to small, uninhabited islands. You can pick up snacks from the markets, and dine on fresh island cuisine in cafes and restaurants where informal dress is the norm – remember that those restaurants set back from the waterfront tend to offer the best value.

Laurenne Mansbridge from our supplier Pioneer Expeditions on the advantages of land based Galapagos tours: "People have traditionally visited the islands on a cruise. The reason behind this goes back to the late 1970s when the islands were practically uninhabited and basic utilities such as electricity and running water were scarce. Today however, land-based programs are increasingly popular, as they provide you with plenty of options from hotels to activities. Depending on your itinerary, you'll stay in two or three hotels during your trip, each on a different island. These hotels serve as your base for day trips. You'll come back to a comfortable room and a delicious meal, and optimise your time by doing more activities and taking shorter trips from place to place. It basically offers you a truly authentic experience. We make an effort to bring you close to local families, to learn their stories, walk through farms, visit artisans, chocolate makers, coffee growers, and enjoy foodie experiences like local feral pig and fresh ceviche Galapagos-style."
Families
This kind of vacation is ideal for families. As opposed to cruise trips, you're not cooped up on a boat and you won't need to keep a close eye on the kids to make sure they don't fall in the water. Instead, they can run around freely in a safe environment. Because you're based on land already, you also don't have the tight itineraries, or the late nights and early starts, that are characteristic of Galapagos cruises. Plus, no risk of sea sickness, either.
There are Galapagos tours specifically designed for families, which are aimed at children aged five to 12, but activities on any trip can usually be adapted to younger kids, and even children as young as four will love being able to get close to the animals (all of which are harmless!). A tailor made vacation will offer you the maximum flexibility, so you can choose activities that will suit your kids and their abilities and interests. Multi activity Galapagos vacations offer something fun every day, the scope to make new friends, and plenty of downtime too, so they're very relaxing. Note however that between June and November the seas can be rougher, making inter island boat transfers less comfortable.
Willem Felix from our supplier Rebecca Adventure Travel on why kids love activity vacations in the Galapagos Islands: "Children from about 4 years old enjoy their stay on the Galapagos Islands especially because they can get so close to the animals. And what's more exciting than walking around Santa Cruz, Isabela or Cristóbal in the evening where the seals are also sleeping right in front of the boulevard. A cruise is also exciting, but I would not advise it for young children. They need a little more room to move."
What you'll be doing
Multi activity trips in the Galapagos Islands allow for deeper immersion into the archipelago's incredible landscapes and wildlife, an exciting alternative to standard guided tours. You can expect to be doing something different every day and much of the action takes place on land. From hiking the wetlands of Isabela to see pink flamingos, the caldera of Sierra Negra and the coast of Floreana in search of iguanas, to mountain biking along white sand beaches and through mangrove forests to the Wall of Tears, constructed by prisoners when Isabela was a prison colony.

Then there are boat trips between islands, where you might stop off for snorkelling with shoals of brightly coloured tropical fish, sea lions off Isla Lobos, manta rays and green sea turtles. You may even bump into some (harmless) sharks. Sea kayaking is another common feature on itineraries, taking you close to rocky cliffs where crabs and birds bask in the sun. And of course there is time set aside just for swimming in picturesque inlets, watching the horizon in beach bars or simply gazing dreamily at sunbathing iguanas.


Laurenne Mansbridge from our supplier Pioneer Expeditions on what to expect from guides and itineraries on the Galapagos Islands: "Our guides are university-educated Galapagos nationals, approved after rigorous training and examinations by the national park. Besides their qualifications they have exceptional experience, warmness and a great ability to get on with all types of people including kids. Depending on the program the guide will accompany the guest throughout the itinerary or they could have different guides on every island. We have different programs for every physical level of the guests. For our multisports trip a reasonable level of fitness is required but nothing major. This trip suits multigenerational families with kids from eight to grandparents in their 70s."
Our top Galapagos multi activity Vacation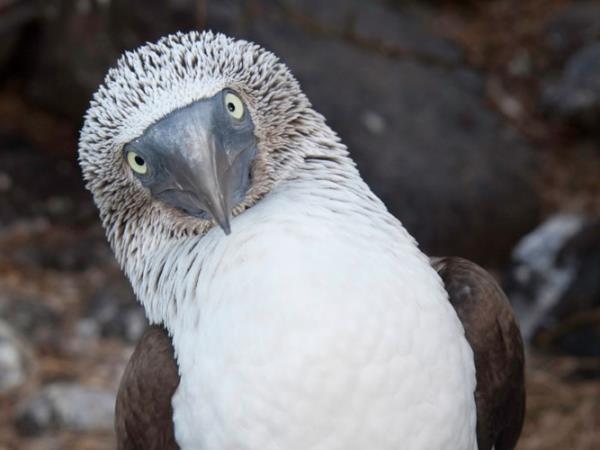 An amazing adventure Galapagos Multi-sports
From
US $

3250
7 days
ex flights
Tailor made:
This trip can be tailor made throughout the year to suit your requirements
If you'd like to chat about Galapagos multi activity or need help finding a vacation to suit you we're very happy to help.

Best time to go on a Galapagos multi activity vacation
As most of the wildlife is non migratory, you can visit the Gapalagos Islands at any point in the year. The warm season between December and June however is generally thought of as the best time for multi activity vacations, as the conditions are excellent for swimming, snorkelling and diving. January and February it can be drizzly, and later in the season heavy showers are possible in the afternoons, but the risk is more than offset by blue skies and sunshine the rest of the time. Plus, the sea is normally quite smooth, allowing for more pleasant boat crossings between islands.

From March through to May you're going to see the marvelous scenery of the islands really enhanced by blossoming flowers, and April is the best time to see baby giant tortoises, and both marine iguana and sea turtle eggs are beginning to hatch as well.

Temperatures can reach 31°C in April, and fall away from July onwards but remain warm at around 15-22°C. September is generally the quietest month of the year, a great time to visit if you want to have more space to yourself, and wildlife, particularly sea lions and birds, tend to be active around now. August sees quite choppy seas, making inter island boat transfers a little uncomfortable, but the waves are smaller from October and November onwards.
More about Galapagos multi activity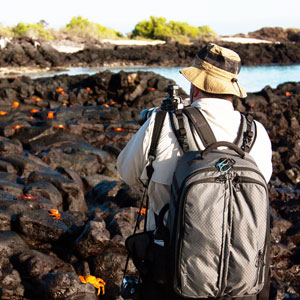 Our Galapagos multi activity vacations map & highlights page is your indispensable guide to the must-see locations around the Galapagos Islands, as well as what you can expect to do on each.