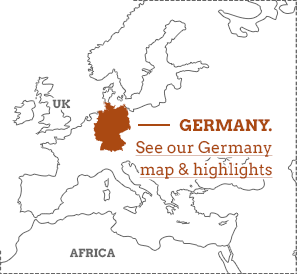 You know when you spontaneously walk into a church in a foreign land and not know what to expect… then suddenly you hear an organ strike up and a choir burst into ethereal song, and you start to tingle all over? Well, that is what Germany is like. You could easily walk past, assume it might be lacking in 'fun', and overlook the beauty that lies within.

A good starting point is to just simply remember the composers that came out of Germany, and you'll realise it's worth opening that door. Bach's romantic, baroque beauties evoke images of castles and palaces that are omnipresent. Robert Schumann's song cycles, who came from the stunning Thuringian Forest region in Saxony, are famously inspired by nature. And Richard Strauss' dramatic, romantic yet independent streak must have been inspired by his Bavarian background.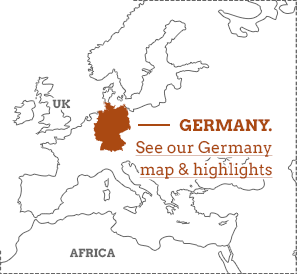 To think that Germany is all about lederhosen and Bierfests is like saying India is just curries and Bollywood. Packed with a 2000 year history, phenomenal national parks, the Alps, the Rhine and a lot of wine, get over your stereotypes and just get over there.

This Germany travel guide aims to show you that this country is, surprisingly and delightfully, not only music to your ears but a veritable symphony of surprises.
Germany is...
where the words wanderlust and rucksack came from, and where Meindl hiking boots are made. Go figure.
Germany isn't...
just Berlin and city breaks. Hike in nearby national parks, cycle along river valleys just a train ride away or go bird watching on the coast.
What we rate & what we don't
The Coast
Yes it has a coastline, and it isn't just the port of Hamburg either. The Baltic Islands are another world of sand dunes, traditional resort architecture and cycling trails, Rügen being the largest, with 10km of chalky cliffs and ancient beech forests just part of the beauty of Jasmund NP. Or the Wadden Sea World Heritage Site, where floating sea grasses, dunes and wetlands are bursting with birdlife.
National parks
They don't roll off the tongue, but there are some truly great ones here, all with superb infrastructures to hike, cycle, horse ride, swim, sail… you name it, Germans love the outdoors, so you got it. Bavarian Forest NP boasts bison and wild horses. Eifel NP is pure volcanic virtuosity. Lower Saxon Wadden Sea NP on the North Sea is a wetland and bird watching wonder of coastal wilderness.
Barrier free tourism
Way ahead in terms of catering for travelers with special needs, Germany is breaking barriers. The
German Tourist Board website
has 'Barrier Free Tourism' on the homepage, and many regions are becoming specialists in catering for all needs. Deutsche Bahn, the national rail network, has a dedicated mobility hotline, and activities from hiking to biking, kayaking to ziplining are adapting and connecting.
Family travel
Not top of the list for family vacations? Think again. Trains are great value, with children under 15 often traveling for free. Family friendly cycling routes abound, such as round the castles of Muensterland or Lake Constance, as do accommodation and companies to transport bags. The food is superb, forest vacations are the business, and being outdoorsy as a family is second nature here. It's just like joining a lovely club.
Waymarked ways
Yes, they have a reputation for being organised. But this is to the hiker's benefit on the country's superb network of waymarked ways. From the ancient and iconic Rennsteig, the towering Rheinsteig that follows the Rhine from an exquisitely elevated position, to the 120km King Ludwig Trail in Bavaria. The term 'wanderlust' comes from Germany. In terms of waymarked ways, you gotta lust it.
Bavarian Alps
So often overlooked by peak seekers or piste posers, the Bavarian Alps are independent, inviting and innovative in terms of small, rural ecotourism. This is hikers' heaven in spring, summer and autumn, and cross country skiing or snowshoeing sublimity in winter. Throw in a romantic Christmas market for festive perfection.
Lake Constance
It's chocolate box, it's cheesy, it's charming and it's circumnavigable by bike. In the foothills of the Alps, this turquoise treat of a lake is blissfully beautiful. Discover the main town of Konstanz , swimming beaches, Seewein (Lake Wine) vineyards, or architectural delights like Meersburg Castle. Indulge in obligatory 'kaffee und kuchen' and then do it all again the next day. One of the world's most sublime circuits.
Winter
Already the most famous of European Christmas markets, which are indeed glorious, don't forget that Germany is also gorgeous in the snow. Go snowshoeing along 24,000km of trails in the Black Forest or many more in the Bavarian Alps. Or come in January or February to enjoy winter walking along the Rennsteig Trail or in the Bavarian Forest National Park, far from the madding ski crowds of other countries.
Stereotypes
Germany is about so much more than lederhosen and beer festivals, Christmas markets and city breaks. And Germans are also so much more than their serious stereotypes. Wanderlust is in the genes, green and sustainable development is too. They care about their landscapes, culture and communities – and it shows. In their well managed national trails, local markets and low carbon transport systems.
Narrow view of history
'Don't mention the war' is not only an insensitive cliché, it is shortsighted. Apart from the fact that Roman, medieval, Prussian and many other historical influences can be seen throughout Germany, so can its steps towards truth and reconciliation. Camps such as Bergen Belsen and Dachau are open to the public. And Berlin's Jewish Museum is painfully poignant, as is its Memorial to the Murdered Jews of Europe.
Beer over wine
Beer is everywhere but with 13 wine regions, six of them in Rhineland-Palatinate, fine wines are omnipresent and there's nearly always a vineyard nearby with a vintner's history to be told. Ahr Valley, Baden, Franconia and the Saxonian wineyards, as well as just about everywhere along the Rhine or the Mosel, are a sommelier's seventh heaven. Seek out wine trails to hike or bike along, or just enjoy raising a glass.
Flying & driving
German trains and the network are just superb. The national rail company Deutsche Bahn is second to none, and really good value. Regional networks offer great deals such as the Konus Card giving free travel to visitors on Black Forest vacations. Or the Rhineland-Palatinate ticket, just €24 per day for unlimited travel, but up to four other people traveling with you only pay €5 and children under 15 go free.
Our top Germany Vacation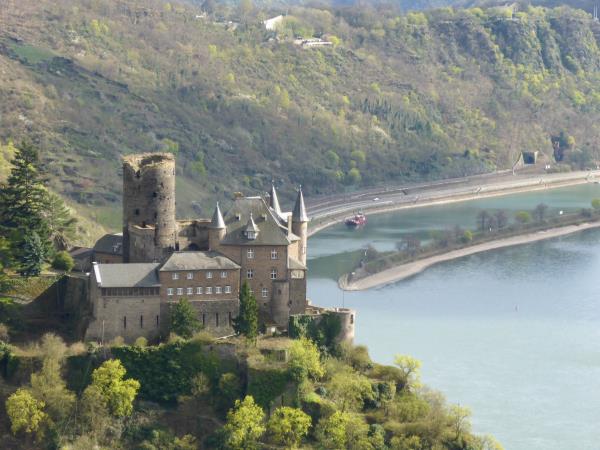 Walk the Rhine Trail and discover Germany on foot
From
US $

1150

to

US $

1280
8 days
ex flights
Small group travel:
2023: 4 Jun, 5 Jun, 6 Jun, 7 Jun, 8 Jun, 9 Jun, 10 Jun, 11 Jun, 12 Jun, 13 Jun, 14 Jun, 15 Jun, 16 Jun, 17 Jun, 18 Jun, 19 Jun, 20 Jun, 21 Jun, 22 Jun, 23 Jun, 24 Jun, 25 Jun, 26 Jun, 27 Jun, 28 Jun, 29 Jun, 30 Jun, 1 Jul, 2 Jul, 3 Jul, 4 Jul, 5 Jul, 6 Jul, 7 Jul, 8 Jul, 9 Jul, 10 Jul, 11 Jul, 12 Jul, 13 Jul, 14 Jul, 15 Jul, 16 Jul, 17 Jul, 18 Jul, 19 Jul, 20 Jul, 21 Jul, 22 Jul, 23 Jul, 24 Jul, 25 Jul, 26 Jul, 27 Jul, 28 Jul ...
If you'd like to chat about Germany or need help finding a vacation to suit you we're very happy to help.

Eating & drinking in Germay
In the Black Forest, don't just have your cake and eat it. Smoked ham, trout and mushrooms are also local specialities.

Saarland is dairy central and, therefore, one big wine and cheese party.

Franconia not only pumps out plenty of artisan beer, but also superb local sausages.

In the northern coastal areas of Lower Saxony and Schleswig-Holstein area, smoked eel, pickled herring and Schiller-Locken (a smoked fish fillet) are menu favourites.

There is a saying in Germany that you should breakfast like an emperor, lunch like a King and dine like a pauper. Not sure where Kaffee und Kuchen fit in, but we like it.

People & culture
Anyone who has downed a litre of beer with them has seen their "over earnest" stereotype instantly subside. Germans speak good English and consider it polite to respond in English even if you try to speak German. But will also admire it if you give German a go. Expect tricky dialects in Bavaria, Saxony and Baden. In Saxony and Brandenburg you may also meet people of Slavic origin, who speak Sorb. Frisian people on the west coast speak 'North Frisian' particularly on some islands.

Hallo – Hello (Grüss Gott in Bavaria)
Danke schön – Thank you
Bitte schön – You're welcome
Bitte – Please
Tschüss (pronounced chooss) – Bye
Gifts & shopping
Glass has been handblown in Bavaria since the 15th century. Bodenmais is its heart of glass.

Hohner has been making accordions and harmonicas since the 1850's. Still classics.

Wooden, handmade toys are very traditional in Germany. Check they are Forest Stewardship Council (FSC) certified.

There are mineral and thermal springs all over the country. Many have their own range of products, from body creams to bath salts.

There's always room in a checked in bag for a bottle of Riesling, Weissburgunder or Gewürztraminer.

Germans used to be very formal, with everyone using 'Herr' and 'Frau'. It is more laid back these days, and the use of 'Fraulein' (Miss) has been officially banned since the 1970s.

How much does it cost?
Loaf of rye bread (Roggenbrot): £2-3

Fresh fish roll on Rügen Island: £2.20

Hiring a bike: £8/day Electric bikes: £20/day

Half litre of local beer: £1.50-2.50

Konus travel Card in Black Forest: Free

Train Frankfurt to Berlin: From £15 one way
A brief history of Germany
We could have brushed over the history section of this Germany Travel Guide, buying into that 'don't mention the war' mentality, but that would not only be naïve, but also irresponsible. From Romans to Prussians, Napoleon to Hitler, Germany's history not only stretches way back before the twentieth century, but is also fascinating in terms of its impact on culture and tourism. So do please read more here.
Read more

Responsible Travel would like to thank the German National Tourist Board for their sponsorship of this guide.