Things to see & do in Bavaria
The official name for Germany's southernmost region is Freistaat Bayern, or Free State of Bavaria, and there is no doubt of the sense of freedom you get here. It is Germany's largest state, dominated by the Bavarian Alps, which form a natural border with Austria. These mountains are also home to Zugspitze, Germany's highest peak at 2,962m and for those who don't want to tackle it on foot, there is a cable car. Further east, fans of the Sound of Music get all goosebumpy at the sight and sound of Maria doing her twirl of freedom, which was shot on top of Mehlweg near the village of Marktschellenberg close to the Austrian border. Beware though: the exact spot is private land. However, this is one of the few spots in Bavaria that doesn't adhere to Freistaat wanderlust, and with national parks, vast nature reserves, forests, lakes and mountain magnificence, Bavaria is not short of twirling space. Here are a few of our favourite things.

Bavaria is a place where, literally, boots are made for walking. The iconic Meindl hiking boots have been made here since 1683, and some of the landscapes feel as if they have been untouched by man since then too.

Zugspitze & the Bavarian Alps
The most famous mountains in Bavaria are, of course, the Alps. There are various sub ranges, such as the Wetterstein group where the mother of all mountains is Zugspitze, Germany's highest peak. Take in the range's myriad mountain highlights along the Via Alpina long distance walking trail, with mountain huts and hostels along the way. The gateway town to Zugspitze is Garmisch-Partenkirchen and walking vacations here often take you across the border into Austria. The first Alpine skiing competition was held in Garmisch during the infamous 1936 Winter Olympics, which were opened by Adolf Hitler. The ski stadium here is still a popular place to visit though.

Another natural highlight of Garmisch-Partenkirchen is the Partnach Gorge. At 800m long and 80m deep, it is superb for hiking in summer with two paths that allow you to visit its array of waterfalls, rapids and wild swimming pools.
The Allgäu Alps
These border with Austria and proffer not just a chocolate box backdrop but a chocolatier's convention. Their highest peak is Hochfrottspitze at 2,649m and the nearest base for hiking and biking here is Oberstdorf, Germany's most southerly village. There are approximately 200km of hiking trails around the village alone, and in winter these are cleared for walking and cross country skiing tracks or 'loipes'.
Ammergau Alps
The Ammergau Alps' outstanding natural feature is Kruezspitze at 2,185m which towers over stunning valleys linking ancient villages and towns such as Oberammergau, Unterammergau, Ettal and Schloss Linderhof. The valleys are known for their cross country skiing tracks, and in February the famous King Ludwig Race takes place there. The Via Alpina trail also traverses the Ammergau Alps while vast swathes of the terrain are protected by Ammergau Alps Nature Reserve, which offers nearly 300km2 of walking trails and wild places.

The outstanding cultural feature here has to be Oberammergau, celebrated for its Passion Play production that takes place every decade, on the '0' year. You don't have to wait for a year zero to enjoy all that this very pretty village has to offer, however. The real drama is happening 24/7, 365 days a year, as Oberammergau is a hub for anyone with a passion for hiking, biking and horse riding.
Franconian Jura
Franconia sounds like it should be in France, but it is in fact an upland utopia in northern Bavaria, a region that was for many years home to the indigenous Franks people. Culturally and politically separated for years, Franconia was added to Bavaria by Napoleon. These uplands are some of the state's most underrated landscapes, with peaks as high as 600m, and much of it protected by the Altmühl Valley Nature Park that follows the twists and turns of the eponymous river.
Bavarian Lakes
As you can imagine, there are many mountain lakes in Bavaria. Most famous to Germans but less well known to international tourists is Lake Chiemsee, also known as the Bavarian Sea as it is tidal, and pretty massive at 80km2.

Lake Chiemsee is just over an hour from Munich, the capital of Bavaria, and so very popular as a weekend getaway. Just to add to its beauty, it has three islands accessible by ferry from Prien and Chiemsee or Gstad am Chiemsee.

The two inhabited islands are called, rather charmingly, Fraueninsel (Women's Island) and Herreninsel (Men's Island), the men having claimed ownership to the one boasting Bavaria's largest castle. This was built to emulate Versailles by King Ludwig II, who must have had a severe case of castle envy. The women got a Benedictine convent on their Fraueninsel, but it's not to be sniffed at, as this is a beautiful, budget and quintessentially Bavarian place to stay. It serves fabulous food too, those nuns having had plenty of time to practise their cooking skills, with hospitality dating back to the 8th century. The ladies also bagged one of Bavaria's most stunning Christmas markets, the only one in the country held on an island. The third island, Krautinsel is uninhabited but used as pasture for residents of the other islands and the lakeside, who bring their livestock back by boat in winter.

Chiemsee is only one sparkling sapphire in a whole crown of Bavarian lakes, however. Head further north to the Franconia Lake District for another well kept secret: the lakes of Altmühlsee, Großer and Kleiner Brombachsee, Igelsbachsee, Rothsee, Hahnenkammsee and Dennenloher have sandy beaches, sailing, swimming and stand up paddleboarding until sunset.
Our top Germany Vacation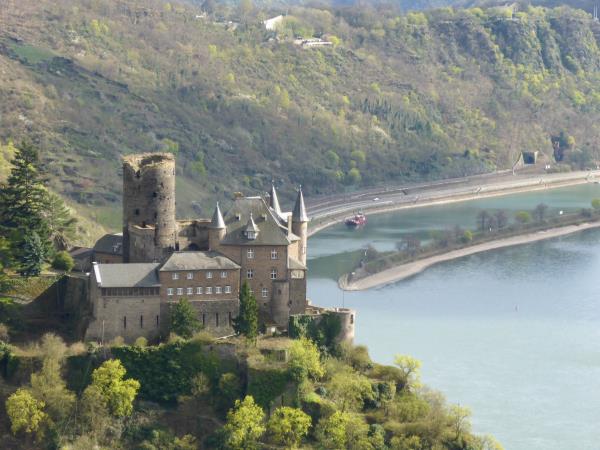 Walk the Rhine Trail and discover Germany on foot
From
US $

1150

to

US $

1280
8 days
ex flights
Small group travel:
2023: 3 Jun, 4 Jun, 5 Jun, 6 Jun, 7 Jun, 8 Jun, 9 Jun, 10 Jun, 11 Jun, 12 Jun, 13 Jun, 14 Jun, 15 Jun, 16 Jun, 17 Jun, 18 Jun, 19 Jun, 20 Jun, 21 Jun, 22 Jun, 23 Jun, 24 Jun, 25 Jun, 26 Jun, 27 Jun, 28 Jun, 29 Jun, 30 Jun, 1 Jul, 2 Jul, 3 Jul, 4 Jul, 5 Jul, 6 Jul, 7 Jul, 8 Jul, 9 Jul, 10 Jul, 11 Jul, 12 Jul, 13 Jul, 14 Jul, 15 Jul, 16 Jul, 17 Jul, 18 Jul, 19 Jul, 20 Jul, 21 Jul, 22 Jul, 23 Jul, 24 Jul, 25 Jul, 26 Jul, 27 Jul, 28 Jul ...
If you'd like to chat about Germany or need help finding a vacation to suit you we're very happy to help.

Bavarian Forests
So, pub quiz question: In which German state is the famous Black Forest, also known as Schwarzwald? Bavaria? Wrong. It is actually in neighbouring Baden-Württemberg. Less well known to international tourists, although hard to understand why except that it doesn't have a cake named after it, is Bavarian Forest National Park. This vast forest is not only a place where bison and wild horses roam, but one of those pristine wild places where you are really able to get in touch with that free state feeling that Bavaria does so beautifully. Up on the Bavarian-Czech border this is a transnational tour de force. The national park is shared with Czech Bohemian Forest National Park, making this Europe's largest protected forest.

You can hike up to summits as high as 1,453m, and cross country ski or snow shoe in winter. Better still, you can access so much of it by public transport, as sustainability is at Bavarian Forest's core. And when we say all, we mean all, because inclusive tourism is important here, with many accessible trails for children, people with mobility issues or special sensory needs. The national park's Baumwipfelpfad treetop walk is the longest treetop walk in the world and is also fully accessible.
Bavarian Castles
Bavarians must be sick of Chitty Chitty Bang Bang references, but who can ever forget the scenes with the mad king and queen, holed up in that castle, having kidnapped all the local children? I don't think they would get away with that script nowadays, somehow… What you can experience today, however, is a visit to one of Bavaria's finest locations, the Disney-esque Neuschwanstein Castle in southwest Bavaria. Quite a spectacle, and probably one of Germany's most famous castles, it was actually the creation of a theatre set designer rather than an architect for King Ludwig II of Bavaria who didn't live long enough to enjoy it. Tourists have been revelling in its camp and circumstance ever since, however, and it does get pretty crowded in peak season.

Ludwig II definitely had a bit of a castle thing going on though, his influences scattered all over the state. As well as his Herrenchiemsee Castle on Herreninsel, Linderhof Palace was his vacation villa and royal hunting ground and definitely one for horticultural fans, with the most splendid park and gardens. Hohenschwangau Castle was Ludwig II's father's domain, however, rebuilt from ruins in a style that some might describe as Gothic, others gaudy. Not one of Ludwig's, but working hard to upstage it, you almost have to travel into Austria to take in Burghausen Castle in all its panoramic prettiness, as it is the longest castle in the world.

These are just a few of the many magnificent castles to be found in Bavaria. It is hard to choose, though, as these architectural masterpieces are definitely some of Bavaria's favourite things.