Cultural tips
Adam Jarvis from our supplier, Headwater Vacations:
"Don't be afraid to ask for help or directions or even suggestions about what to do. Most Germans are pretty clued up, friendly, and will – more often than not – speak English. They're generally polite and very well-behaved, and tradition is still something which plays a part in everyday life. They are also often quite proud of their village/town/country and will most likely know where the best points of interest are."

Heather Godbert also from our supplier Headwater Vacations:
"Germans by reputation are thought to be quite cold but I have found the reverse to be true, with the locals keen for you to experience the best in German hospitality. That's not to say that they aren't direct: German is a very direct language. 'Would you mind passing me the salt please' in English would always be 'Pass the salt' when directly translated from the German! If you chat to them, you may even be surprised to find that many have quite an ironic sense of humour."

Martin Holborow and Margaret Leach from our supplier Bavarian Forest Vacations:
"For cultural events, I recommend Dragon Fest in Furth in Wald, the mediaeval event in Regen which also has a town wide music festival. "
Food tips
Adam Jarvis from our supplier Headwater Vacations:
"If you find yourself in a beerhalle (the traditional German beer hall to be found at most breweries) or festival, go for the schweinshaxe. It's a piece of slow roasted pork that would make any Teutonic knight proud; vegetarians need not apply!"
Martin Holborow and Margaret Leach from our supplier Bavarian Forest Vacations:
"Try a recommended local restaurant early in your stay as you may not then wish to cook for the rest of the trip."
Weather tips
Martin Holborow and Margaret Leach from our supplier Bavarian Forest Vacations:
"Be wary of biking in the snow. And also for spectacular thunderstorms some evenings in the mountains – stay indoors but watch the light shows."
Itinerary tips
Heather Godbert from our supplier, Headwater Vacations:
"As a hiking enthusiast, Bavaria ticks all the boxes for me – it's home to masses of hiking trails to suit all abilities – and they are all waymarked so it's impossible to get lost."

Adam Jarvis also from Headwater Vacations:
"Favourite activities of my own would have to be either walking or cycling. In the North, along the coast (as well as on some of the larger southern lakes like the Bodensee, Starnberger See or Chiemsee), kayaking and other water sports are great activities to engage in, and in the Central and South you'll find a number of natural hot-springs to relax in. If the town has Bad in the title that's normally a hint, for example: Bad Dürrheim, Bad Bevensen and Bad Elster. Just be aware that most saunas operate a "no clothes, no problem" policy and there are certain things you can't un-see!"
Our top Germany Vacation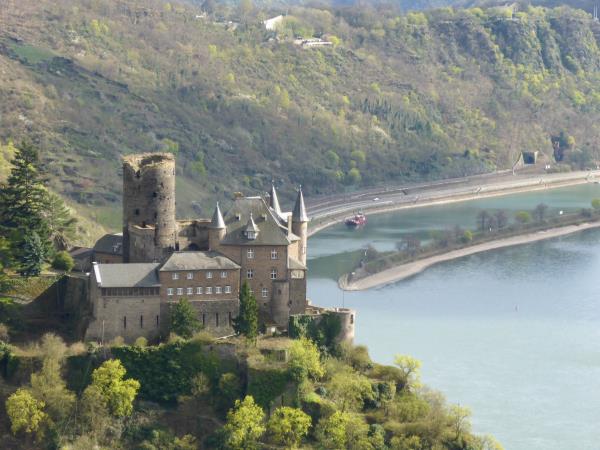 Walk the Rhine Trail and discover Germany on foot
From
US $

1150

to

US $

1280
8 days
ex flights
Small group travel:
2023: 4 Jun, 5 Jun, 6 Jun, 7 Jun, 8 Jun, 9 Jun, 10 Jun, 11 Jun, 12 Jun, 13 Jun, 14 Jun, 15 Jun, 16 Jun, 17 Jun, 18 Jun, 19 Jun, 20 Jun, 21 Jun, 22 Jun, 23 Jun, 24 Jun, 25 Jun, 26 Jun, 27 Jun, 28 Jun, 29 Jun, 30 Jun, 1 Jul, 2 Jul, 3 Jul, 4 Jul, 5 Jul, 6 Jul, 7 Jul, 8 Jul, 9 Jul, 10 Jul, 11 Jul, 12 Jul, 13 Jul, 14 Jul, 15 Jul, 16 Jul, 17 Jul, 18 Jul, 19 Jul, 20 Jul, 21 Jul, 22 Jul, 23 Jul, 24 Jul, 25 Jul, 26 Jul, 27 Jul, 28 Jul ...
If you'd like to chat about Germany or need help finding a vacation to suit you we're very happy to help.

HEALTH
Generally, Germany is a picture of health: the tap water is safe to drink, and there are no nasty diseases lurking about. You don't need vaccinations, although the WHO does recommend that all travelers to every destination be covered for diphtheria, tetanus, measles, mumps, rubella and polio.
Pharmacies are called "Apotheke" and are marked by a big, red "A" symbol. As medicine is often expensive, ask the pharmacist for "Generika" (generic drugs), brand free and a lot cheaper.
Always wear sun cream when cycling and hiking. Even when there is cloud cover.
Take plenty of water with you when hiking. And don't mix rambling or bike riding with Riesling. Never a happy marriage. Thirsty bikers can always order a "Radler" – or cyclist's beer – which is a shandy.
For European citizens, holding a European Health Insurance Card (EHIC) will ensure reduced-cost state-provided healthcare cover for any medical treatment that you may need in Germany, but each family member will need a separate card. UK residents can download an application form here. But it is always advisable to get comprehensive travel insurance to cover medical problems as well.
Be wary of ticks when hiking as they carry Lyme disease. Make sure you carry tweezers so that you can remove them and inspect your body carefully at the end of the day. Always apply a deterrent (a good natural one is lemon eucalyptus) and then sun cream.
SAFETY
No matter how tempting all those beer gardens and wineries are, in Germany the European blood alcohol limit of 0.5 mg per ml stands, unless you are involved in an accident, in which case it drops to 0.3mg. Be wary on one way streets as cyclists are often allowed to go both ways. So look both ways. Take care driving on the motorways, as Germans do like to put the foot down, and flash their lights if you are not going fast enough. Just stay calm and put your right indicator on to show them that you will pull in when it is safe to do so. While hiking on the Rheinsteig, there are some seriously steep bits, and ropes or barriers have been put in place to make them safe and support hikers. Use these properly and don't use them to stand on and pose for photos (yep, plenty of accidents have happened this way). They are for safety, not Snapchat. Several parts of the Eifel National Park are completely closed due to WW2 minefields. Always obey the signs to stay away. Barefoot hikes across the mud and tidal flats of the Wadden Sea are wonderful experiences. But best done with expert local guidance, as tides influence everything here and safety is key.

Responsible Travel would like to thank the German National Tourist Board for their sponsorship of this guide.