FAMILY ACTIVITY HOLIDAYS IN GREECE
Finding your feet as a family in Greece doesn't require the wings of Eros, although you may well you fall head over heels for the charms of the Peloponnese and Rhodes. Family activity vacations in Greece tend to be in groups of three to five families (with a minimum age of seven) so you can share the experience as well as enjoying free time alone, to explore or relax as the mood dictates. Water based activities are ideal for cooling off in the heat of the summer vacations whilst land based activities offer more rugged adventures, alongside ancient enlightenment, helping you to explore Greece from an entirely unexpected perspective..
Our Greece family Vacations
THINGS TO DO ON A FAMILY ACTIVITY HOLIDAY IN GREECE
Water based activities
Sea kayaking allows you to glide effortlessly around shorelines as you seek out echoing caves and sections of coast that are cut off to landlubbers. It's fairly easy to get the hang of with tandem kayaks allowing adults to kick back if kids want to put paddles through their paces.
If you can swim, then you can snorkel. Practise breathing through a snorkel close to the shore, work out your own underwater sign language, and away you go. The joy of snorkelling as a family in Greece is that you share an experience that's appreciated, on the same level, by kids and adults alike. The water is still warm, even in November, and it's clear too, with lots of fish, crabs and urchins all waiting to be observed hardly right off the beach.
Head inland in the Peloponnese, and the water sports don't dry up. White water rafting down the Lousios River is fantastic fun for families with children aged eight and up. Buoyancy aids, helmets and safety gear are included as well as expert instruction by experienced local guides. From floating gently over crystal clear, and cold, water surrounded by greenery, to splashing and bouncing on the backs of wild white horses – listen to instructions, hold on tight and enjoy the ride.
Take off to the island of Rhodes and you'll find opportunities to learn the basics of knot tying and sail handling as you board a crewed sailing boat and live life on the ocean waves for a day with an experienced skipper. There's a water park on Rhodes, too – the biggest in Greece – that's always a hit with those looking for lazy rivers and wave pools. Closer to the coast, Kiotari beach has a water sports center whilst St Paul's bay in Lindos is your best bet for introductory scuba diving tours for families looking to take the plunge prior to a barbecue on the beach.
Our top Greece family Vacation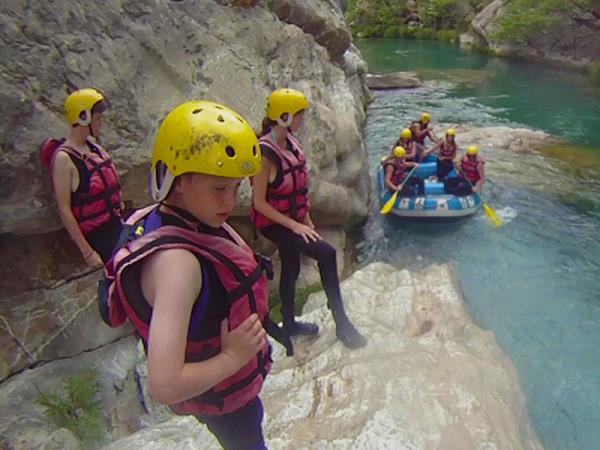 Ultimate family multi activity vacation in Greece
From
€

890

to

€

970
8 days
ex flights
Small group travel:
2023: 10 Jun, 17 Jun, 24 Jun, 1 Jul, 3 Jul, 8 Jul, 15 Jul, 22 Jul, 29 Jul, 3 Aug, 5 Aug, 12 Aug, 19 Aug, 26 Aug, 2 Sep, 3 Sep, 9 Sep, 16 Sep, 23 Sep, 30 Sep, 3 Oct, 7 Oct, 14 Oct, 21 Oct, 28 Oct
If you'd like to chat about Greece family or need help finding a vacation to suit you we're very happy to help.

Land based activity
Greece has far more to offer than just great beaches. Head inland and you'll find oak forests, river valleys and rugged mountain tracks from where family adventures leap into life against a beautiful backdrop of blue skies and ocean views. Hiking in the Lousios Gorge, high in the mountains of the Peloponnese, is one such activity to truly inspire and challenge stereotypical notions of Greek scenery. Rock built monasteries, crumbling ancient ruins and scuttling lizards will all turn a three-hour family hike into a really memorable experience with a picnic by a rushing river, the perfect pause for reflection, and freshly packed cheese and honey pastries.
Mountain biking is another great way for families to explore in regions unbeknown to beach bums. The area of Arcadia, especially, offers an excellent 20km route that's really easy going. Not only will you all get a little bit of exercise over the course of a couple of hours but you'll also encounter the ruined temple of Alea Athena which was once the centerpiece in the ancient city of Tegea. The archaeological museum, in modern day Alea, explains more as well as providing a place to cool off after all that pedalling.
If you want to delve deeper into the world of the ancient Greeks then the archaeological sites of Olympia, Mycenae, Epidaurus, Nemea and Sparta are all easily accessible from the towns of Nafplio, Kalamata and Tripoli. Worth a thought for KS2 and more advanced Classics students looking for an interactive learning experience without the Greek tragedy.
Horse riding is another hit for families, especially on Rhodes. There's a great equestrian center in Kiotari where you can learn how to horse ride safely before embarking on an hour's ride which culminates with a trot through the surf before spending the rest of the afternoon at the beach.
WHY GREECE IS GORGEOUS FOR ACTIVE FAMILIES
Chris Owen, travel guide writer at Responsible Travel, has fond memories of his family vacation in Greece – as do his kids: "Greece works for families on so many levels. The Greeks love children, for a start. My kids were invited to give the cashier at the local supermarket a kiss on the cheek – you just don't get that at Tesco. When you eat out you instantly become the best pal of the waiter, and the kitchen staff. My daughter drew a picture of the restaurant while we waited for our evening meal, then presented it to the waiter. He looked so happy and impressed that he immediately called other members of staff over before taking it into the kitchen where they stuck it, pride of place, above the grill. My daughter was absolutely made up. She'll remember that forever."
Greece's sunshine, the sand – in places, stony in others - and the sea – which is seriously clear, by the way – are always attractive and great for families who like to lounge or get stuck into swimming, snorkelling and sandcastle making. Further inland you'll find mountain tracks leading through forests and past tiered olive groves. The Peloponnese, especially, has a great variety of scenery from where to experience outdoor adventures. Islands, like Rhodes, offer up water parks, beach time, and all manner of water sports. An organised family activity vacation will allow you free time to do your own thing as well as providing a readymade group of people to socialise with, and a variety of activities to keep everyone happy and engaged.
GREEK FAMILY ACTIVITY TIPS FROM OUR HOLIDAY REVIEWS
"We loved every hour and every day of our vacation but my daughter loved rafting and my son loved sea kayaking while I loved the mountain hike. Nafplio was an amazing way to end the vacation. This city is a gem. This is one of the best vacations we have ever been on. It suited everyone in our group: 2 kids (12 and 10), my friend (51) and myself (41). We wanted a vacation that combined sports and cultural/historical visits and this provided the perfect mix. Every day was perfectly planned and suited everyone." – Morgane Danielou

"Every day was great! The kids would probably opt for the white water rafting. It mixed fun with some beautiful scenery. I loved the peaceful walk between the monasteries nestled in the mountains." – Jennifer Jones
"My two boys (aged 10 and 12) really enjoyed this trip, with a new activity every day from rafting and sea kayaking, to cycling and hiking in the beautiful Greek countryside. Our guides were warm, friendly, knowledgeable and competent. They really brought the group together and we all had a fantastic time." – Rebecca Sutherland

"We had a fantastic "Multi Activity" vacation, with white water rafting, sea kayaking, trekking and cycling. The locations of Tripoli & Nafplio were wonderful and the hotels were excellent. We can't thank them enough for all the effort they made to ensure we had a great trip." – Ollie Peacock
"The most memorable part of all is the friendliness and warmth of all of the people associated with the tour company and the excellent, skilled and professional rafting instructors. We really enjoyed this vacation, we met lots of nice local people and were lucky to be in a small group with another family that were great fun to be with. We can't stress enough how special it felt to have this very personal and flexible approach to our vacation and be 'befriended' by our guides. It was like going on vacation to a friend's house who takes you to all the best places in the area." – Tony Mcleod
More about Greece family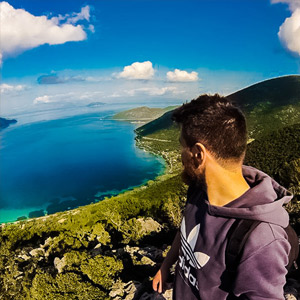 If you're bored of beach breaks or tired of island isolation then why not discover where to go on a family vacation in Greece that will let you explore and have fun from a whole new angle.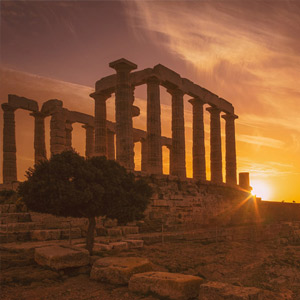 If you're bored of just beaches and would prefer to combine culture and coastline with family-friendly fun and outdoor activities, our Greece family vacations guide can help you do just that.