WHERE TO GO ON A FAMILY HOLIDAY IN GREECE
A self catering villa on the island of Ithaca to the west of the mainland is ideal for families looking for a little bit of luxury – plus the 45 minute ride on a small fishing boat from Kefalonia always makes for an exciting entrance. The Peloponnese is like an adventure playground, perfect for outdoor activities, and includes untold ancient sites to enthral adolescent archaeologists. Overland transfers for small groups are included from Kalamata (or Athens with an additional fee). Meanwhile, in the southeast Aegean, getting around the island of Rhodes is easy with an initial transfer from the airport to the old town to help you find your feet, before an hour long drive to Pefkos, via the largest water park in Greece, midway your vacation.
1. Archaeological sites
Olympia, Mycenae, Epidaurus, Sparta and Athens allow students of Classics and Ancient History to expand understanding through interactive experiences. Several cities, such as Kalamata, have excellent archaeology museums with information in English and Greek. Rhodes, also, has much to get your mind into with a medieval old town and the ancient city of Kameiros certain to bring sandals, sickles and togas to life.
2. Ithaca
Open your senses to a Greek Odyssey on the Ionian island of Ithaca as your family become enveloped in organic olives, wild herbs and a saltwater infinity swimming pool. Luxury self catering villas, just a ten minute stroll from the beach. There are infinite opportunities for families to relax, with hidden hammocks, massage pavilions, freshly made coffee and waffles, and local tavernas.
3. Nafplio
Although this seaside town has expanded it still retains an air of authenticity especially in the old town that extends into the Argolic Gulf. Nafplio is also a great base for families looking for water sports at Karathona beach. At night Nafplio promises a palm tree promenade and pedestrianised piazzas to allow families to enjoy evening strolls as well as time in traditional tavernas and open air cafes.
4. Rhodes
Windsurfing, snorkelling and splashing about at a water park really ramp up the island of Rhodes, especially for families looking for an activity vacation away from the hordes. From water sports and horse riding around Kiotari beach in Pefkos to skippered sailing, Jeep safaris and mountain biking from the medieval fortifications of Rhodes old town, this is one Greek island adventure that always features fun in the sun.
5. Tripoli
Thanks to Tripoli's location, slap bang in the center of the Peloponnese, families will find a fabulous range of things to do including river rafting down the Lousios Gorge and cycling to the ancient temples and amphitheatres of Tegea. Kalamata, on the coast, is just an hour away from Tripoli, and well worth checking out for sea kayaking, archaeological exhibits, views from the castle, and access to the nearby site of Messini.
If you'd like to chat about Greece family or need help finding a vacation to suit you we're very happy to help.

GREECE FAMILY HOLIDAYS ADVICE
Inspirational Ithaca
Marilyn Raftopulos from our Ithaca supplier Levendis Estates believes providing for both parents and kids is the key to happy families in Greece: "Children are excited to feed the farm animals each morning or go exploring in the estate's forest. With four houses scattered around the grounds – though each house is very private – children often form strong vacation friendships. This means parents can relax into enjoying the activities provided for them. So they might welcome the morning with a yoga or Pilates class, meditation or massage, or taking a run before joining their children at the coffee shop for mid-morning snacks. The afternoon could be beach, boating, kayaking or sea excursions to nearby islands – and always with a late afternoon stop-off at the village café on the way 'home' for a long cool drink in the shade. Families return for years on end – one 12-year-old boy has come to Levendis for nine years!"
Pure Peloponnese
Christos Panagiotopoulos, General Director at our Greek family vacations supplier Arcas Travel, presents the case for the Peloponnese:"Although Greece is popular mainly for the sea, it also offers a diverse mix of mountains, river valleys and archaeological sites. This makes places like the Peloponnese perfect for outdoor activities. Mountain activities like rafting, cycling or hiking are a 'must' as they take place in some truly unforgettable locations. We have had guests who have done rafting in several parts of the world all agree that the rafting in Lousios Gorge is the best they ever did. Away from mass tourism, the Peloponnese is a great place for families as it holds all the beauty of the mainland together with the beautiful coastline and picturesque towns like Nafplio and Astros."
Sunshine socialising
"Small group tours are a great opportunity for families to meet others and also let the kids make new friends and socialise. The small group retains the personal treatment by us and the high quality personal services that we offer. But at the same time, getting to know other likeminded people is great. We have many occasions where families meet during the tours and then they keep in touch and keep going for vacations together in the next years."
Food for thought
"The Mediterranean diet is very popular worldwide and is based on vegetables and olive oil - very healthy and very tasty. Food is one aspect that you will really enjoy, especially the kids. Traditional dishes like moussaka, souvlaki, tzatziki, fresh fish, and sweet dishes like galaktompoureko and mpaklava are not to be missed. As the diet is based on vegetables there is also a huge variety for vegetarians: stuffed tomatoes (with rice), zucchini balls, beans, salads and so much more, all using local goods as Greece is a mainly agricultural country."
Ancient education
"In our tours we combine the fun of the activities with an introduction and sometimes deeper knowledge of the ancient Greek history and culture. Our aim is to provide the knowledge of Greece in depth so the children will get an important history lesson about the foundations of Western civilisation. Our guides narrate stories to the children and explain historical facts. Most of the time, we offer a combination of days to relax by the beach on your own and days to explore with the group or go island hopping by sailing boat. All these are types of things that we can offer and we are glad to discuss with our guests."
GREECE FAMILY HOLIDAY ADVICE FROM OUR TRAVELLERS
At Responsible Travel, we think the best people to advise our travelers are often... other travelers. They always return from our tours with packing tips, weather reports, ideas about what to do – and opinions about what not to.

We have selected some of the most useful Greece family vacation tips that our guests have provided over the years to help you make the very most of your vacation – and the space inside your suitcase.

My two boys (aged 10 and 12) really enjoyed this trip, with a new activity every day from rafting and sea kayaking, to cycling and hiking in the beautiful Greek countryside.

"This is one of the best vacations we have ever been on. It suited everyone in our group: 2 kids (12 and 10), my friend (51) and myself (41). We wanted a vacation that combined sports and cultural/historical visits and this provided the perfect mix. Every day was perfectly planned and suited everyone." - Morgane Danielou in the Peloponnese

"Every day was great! The kids would probably opt for the white water rafting. It mixed fun with some beautiful scenery. I loved the peaceful walk between the monasteries nestled in the mountains." - Jennifer Jones in the Peloponnese

"My two boys (aged 10 and 12) really enjoyed this trip, with a new activity every day from rafting and sea kayaking, to cycling and hiking in the beautiful Greek countryside. Our guides were warm, friendly, knowledgeable and competent. They really brought the group together and we all had a fantastic time." - Rebecca Sutherland in the Peloponnese

"We really enjoyed this vacation, we met lots of nice local people and were lucky to be in a small group with another family that were great fun to be with. We can't stress enough how special it felt to have this very personal and flexible approach to our vacation and be 'befriended' by our guides. It was like going on vacation to a friend's house who takes you to all the best places in the area. Luckily for us, English is spoken widely in Greece and our guides Dimitris and Michalis (as well as Christos) spoke it perfectly." - Tony Mcleod in the Peloponnese



We ate really well, including ordering in from the menu one night, which was the best meal we had

"There were a lot of memorable things: from the beautiful scenery to the walk up to Odysseus palace, from Jamie's marine biology trip to Mal's morning waffles, from Katrina's morning Pilates by the pool to the lovely ice-cream in Frikes. But having asked all the family members, the most exciting thing was hiring a boat and exploring and discovering deserted coves in this beautiful, unspoilt island. Initially I was concerned that my 13 and 11 years old children would complain about being bored but they didn't once. We found the perfect balance of activities and relaxation, so the vacation was a great success for all the family. The estate is absolutely beautiful and we really did feel at home." - Francesca Gill on the island of Ithaca

"With 2 young active boys we were slightly worried there might not be enough for them to do, however within a couple of days we slipped in to a relaxed routine of coffee, waffles and Mal's biscuits at the coffee shop every morning with Mal and Spiro helping to organise our day, then short drives to the beach for snorkelling and back to the estate for afternoons by the pool. We ate really well, including ordering in from the menu one night, which was the best meal we had, it also meant we were able to stay down at the pool until 7ish wandered up to the cottage and have a full evening meal delivered to our terrace, which with 2 young children it was great not having to get everyone dressed and ready to go out. This was also the night we saw a total of 5 shooting stars. The night skies are incredible here." - Anne Williams on the island of Ithaca

"We booked this vacation desperate for a restorative break after a year of huge upheaval and change (new house, new jobs, and becoming parents to twins). Our high hopes were more than exceeded and we enjoyed one of our best trips ever! It is the perfect place to vacation with babies - all the baby kit (cots, high chairs, strollers, car seats) can be provided, along with special requests for food and (very reasonably priced) childcare. We also found the rest of the island very baby-friendly with the twins warmly welcomed in restaurants. We are already planning to return - the accommodation, and the welcome you receive there, is the most perfect tonic for the stresses of modern life." - Katie Smith on the island of Ithaca

"We took our 15 month old son and it was our first family vacation and it could not have been better. I would completely recommend going if you have a baby or toddler. The transfers to the estate from when we arrived on Kefalonia were seamless and stress free and we arrived feeling relaxed, which we really did not expect! We were able to enjoy being in our garden, at the barbeque or the swimming pool whilst Ben slept, if he wanted to, as it is totally safe. Every morning we met Spero to feed the two sheep and I think this may have been the highlight of Ben's vacation along with throwing pebbles into the sea! - Tanya Hughes on the island of Ithaca


More Greece family articles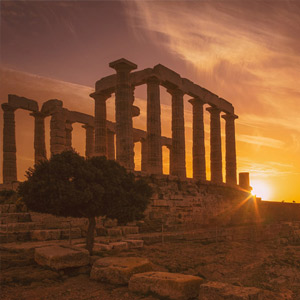 Combine culture and coastline with family-friendly fun and outdoor activities in Greece, a playground for all ages.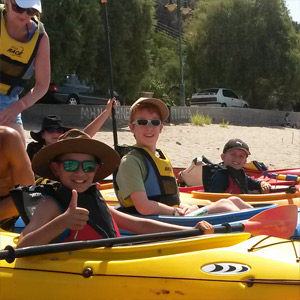 Make a splash, have fun in the sun, and make a few new friends along the way.