West coast Iceland cruise
To the surprise of absolutely no one, the west coast of Iceland has inspired some of the country's most epic sagas. A small ship cruise here leapfrogs around a cloven coastline of cracked peninsulas, dormant (and not-so-dormant) volcanoes and strange islets clinging on by a mere sliver of land. It really is all high drama here.

These are storytelling vistas. Centuries ago, the Vikings couldn't resist creating extraordinary yarns about the hardy west coast communities; your guide will lay on anecdotes starring backflipping whales and elf dwellings.

Small ship cruises to the west coast take full advantage of the fact that most tourists tread the well-worn route between Reykjavik, the Golden Circle, Blue Lagoon and Akureyri. You'll swing by the echoingly empty Westfjords instead, with its snapped-off cliffs and hollering humpbacks. Down south, the Westman Islands (Vestmannaeyjar) were born out of underwater volcanic eruptions. And you've got tongue-twisters like Snaefellsnes in-between, where puffin cliffs and black beaches dot-and-dash the south coast, while volcanoes and waterfalls spring from the north.
The perks of traveling Iceland's west coast by small ship are many. These trips sit at the opposite end of the spectrum to the all-inclusive giants. The boat could be stocked with kayaks for exploring fjords, Icelandic strawberries warmed in geothermal hot houses, and a library of Icelandic sagas. It won't be a cross-world voyage, either. Your cruise will be a week of really getting to know – and investing in – the communities that hunker down in Iceland's wild west.
Our Iceland cruising Vacations
Where do west coast Iceland
cruises stop?
You won't be all at sea when sailing the west coast of Iceland, instead spending your days getting up close and personal with the towns, mountains, glaciers, black-sand beaches and waterfalls of the weather-beaten coastline. You'll have time to learn why eating minke whale and puffin is a
bad idea
, and get perusing a handwritten fish menu in Snaefellsnes or down a hot dog (practically the national dish) in Reykjavik instead.
Breidafjordur
You'll sail across Breidafjordur on your way between Snaefellsnes and the Westfjords. This wide bay is as tidal as Iceland gets, making it a hit with birds after a changeable intertidal buffet. It also sprinkles out over 2,000 islands – perfect perches for the thousands of migratory birds heading north-west to Greenland. Watch out for white-tailed eagles diving for herring, tuxedoed guillemots balancing on rock shelves, and extra-large northern fulmars.
Reykjavik
Yes, Reykjavik is one of the famous faces of overtourism. But it's still a city that packs in the charm when you approach it from the right angle. The iceberg-shaped church, Hallgrimskirkja, is a corker, offering bird's-eye views from the clock tower. The old port hides away fish restaurants where the herring is still practically flipping, while independent shops stocked with Björk-born Bad Taste records and lovingly woven lopapeysa jumpers still outnumber chain stores.
Snaefellsnes Peninsula
Snaefellsnes Peninsula is end-of-the-world territory, offering a little bit of everything that makes Iceland Iceland. So expect unexpectedly sandy beaches, volcanic puffin cliffs, forlorn tar-black churches and peaks like canines. Snaefellsnes is also the setting for Jules Verne's Journey to the Centre of the Earth. Many vacations will match you up with a guide who'll take you on a snowcat over the glacier-topped dormant volcano that stars in the book.
Westfjords
The Westfjords claw out of the northwest coast in a series of fjords (surprise, surprise), smooth beaches and flat-capped mountains that swoop down to the North Atlantic. Raudasandur Beach lays out bright gold sand, while curious puffins stack the Latrabjarg cliffs. Pingeyri is a pocket-sized Viking village that crouches in the Westfjord Alps. Best of all, it's far out of reach of Reykjavik day-trippers, so the views are mostly yours – bar a few gate-crashing humpback whales.
Westman Islands (Vestmannaeyjar)
The Westman Islands lie in the deep southwest of Iceland. You'll sail in past jagged cliffs and through waters that reel in humpback, fin and minke whales. Surtsey is thought to be the youngest island in the world, emerging from the sea like a leviathan after an underwater eruption in 1963. Make sure to pop your head into the Eldheimar Museum in Heimaey, which covers the eruptions that smothered the town in the seventies.
Our top Iceland cruising Vacation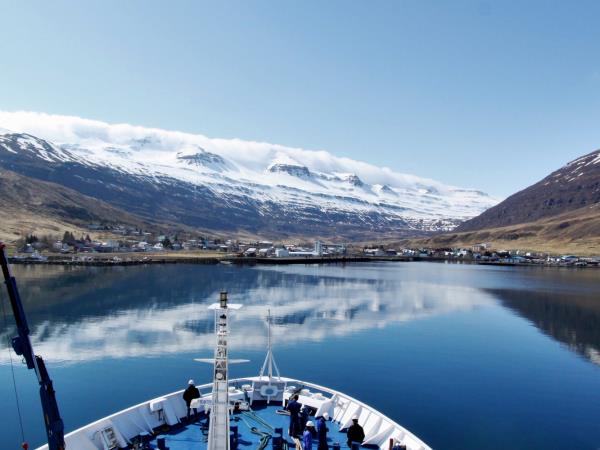 An unforgettable journey around the island of fire and ice
From
£

4795
10 days
ex flights
Small group travel:
2024: 1 Jun, 9 Jun, 17 Jun, 25 Jun, 3 Jul, 11 Jul, 15 Aug
If you'd like to chat about Iceland cruising or need help finding a vacation to suit you we're very happy to help.

Most cruises spend eight days or so dipping in and out of the fjords of the west coast. Alternatively, you could explore the west as part of a longer voyage that circumnavigates the whole of Iceland or moves on to Greenland, or the Faroe Islands. Small ship cruises mean you'll be with a group of 30-60 passengers. These are not one of the floating hotels that have contributed to Iceland's overtourism woes, but yachts and small expedition vessels. Boats differ from cruise to cruise, but you usually get a cabin with an en suite bathroom. Breakfast and dinner are usually included, too. Most cruises to the west coast run in July and August, when you get surprisingly decent weather, long days and calmer oceans. Saying that, Iceland prides itself on its unpredictable weather, so pack warm gear and waterproofs too. Just when you think you're in the middle of nowhere, you'll see rising steam – and then a perfectly formed thermal pool in the middle of a mountain-ringed meadow. Moral of the story: always keep your swimming gear with you...and test the water temperature before you slide in. Day trips are often optional – and Iceland isn't cheap – so do check with the tour operator regarding what's included and what's not.
More about Iceland cruising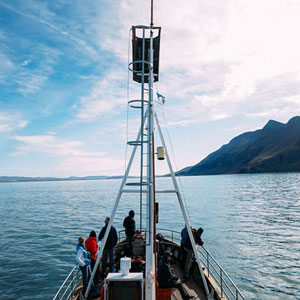 Highlights of a small ship cruise include remote peninsulas, volcanic islands, tranquil glaciers and lagoons. Plus whales, and lots of silence...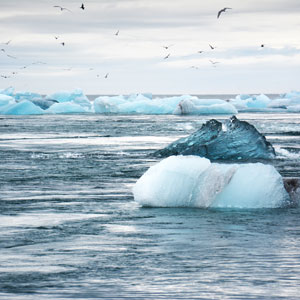 Exploring Iceland from the sea is a way to admire its geological wonders and be immersed in nature, while avoiding overtourism hotspots...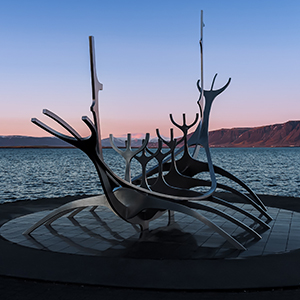 Iceland circumnavigation expeditions make getting to extraordinary places extraordinarily easy.