Iceland circumnavigation expeditions
Braced on Grímsey Island, one of the northernmost points of Iceland, it's easy to feel like you're at the edge of the world. After all, you've voyaged over 40km across the Greenland Sea to get here, to a volcanic island of sheer cliffs and wave-swept beaches.
But, in typically hardy Icelandic fashion, little 5km-by-5km Grímsey has been filled with life since its Viking days.
Around 70 people live here year-round, there's a fishing and ferry port on the west coast, a village with a restaurant and gallery-café, and a library with a mini chess collection (the islanders really love chess). Coastal footpaths lead past puffin, tern, guillemot, razorbill and kittiwake colonies – numbers bolstered as people become less reliant on hunting birds and collecting eggs for food.
Tourists aren't the only wanderers on Grímsey, either. The Arctic Circle crosses the island, moving north by about 14m every year, thanks to the Earth's ever-changing axial tilt. You've got until about 2050 to see it on Grímsey – and the boulder-like sculpture that rolls with its position – before it sidles off into the sea.
Crossing the Arctic Circle is one of the highlights of our
Iceland circumnavigation cruises
. These are round-island voyages that make exploring Iceland's lesser-visited islands, bird colonies, fjords and fishing ports easy – and getting away from the crowds of Reykjavik and the Golden Circle even easier.
Iceland circumnavigation map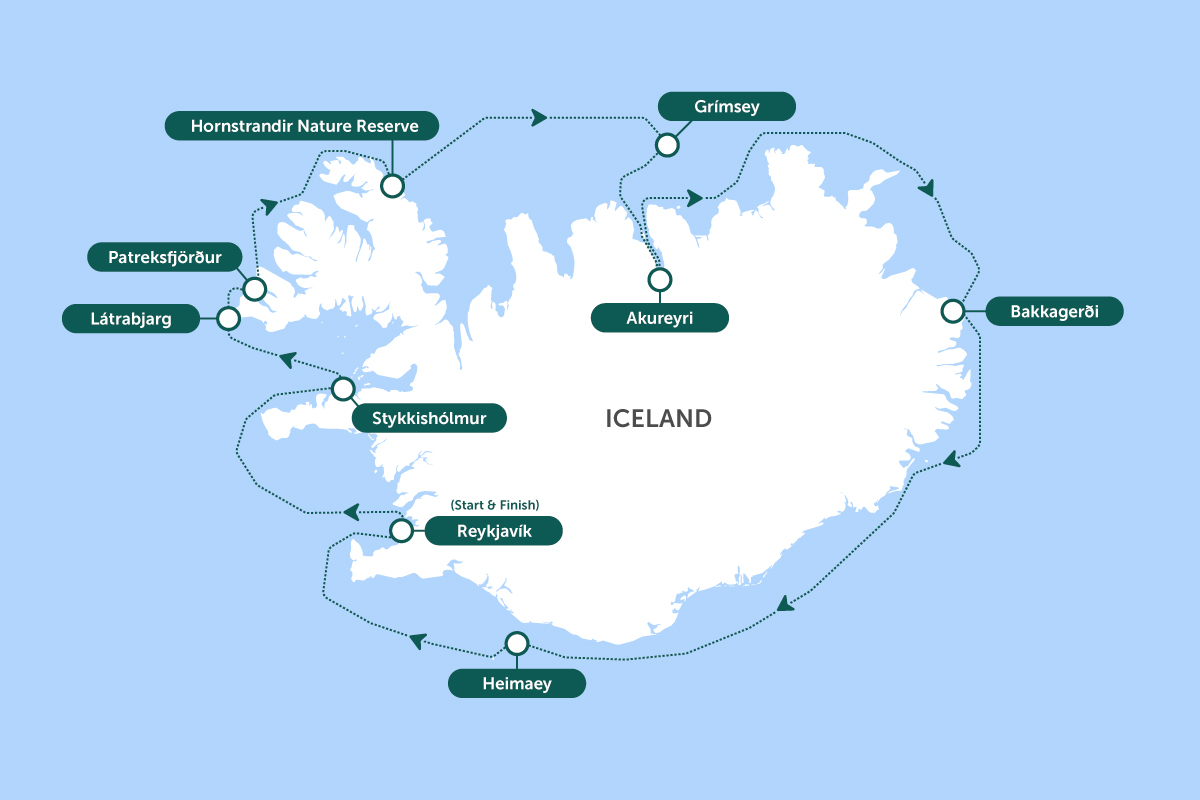 An Iceland cruise… but not as you know it
Swapping the Golden Circle for a full circle
Circumnavigations of Iceland start and end in the capital city of Reykjavik, giving you the chance to see what the spectacular (and, often, spectacularly busy) Golden Circle tourist route is all about.

And then they're off – dipping into the glacier-topped Sagalands of Snæfellsnes and the wild Westfjords, where only around a tenth of tourists venture each year. Many cruises then stop in Akureyri – the capital of the north and a popular launch pad for whale watching tours – before changing tack, detouring to the Arctic Circle and the remote outpost of Grímsey Island. They then head back south to peruse the peaceful east coast, before sweeping around to the jagged volcanic islands of the Westman Islands in the south. From here, it's a relative hop, skip and jump back to Reykjavik.

These vessels are a far cry from the 3,000-passenger cruise ships that usually loom over Iceland's ports.

The whole trip is stretched across at least nine days – about twice the length of the average UK visitor's trip to Iceland – so there's time to delve deeper into Iceland's landscapes, cuisine, history and storytelling traditions.

That means more time in port to sample fresh fish chowder and geyser-steamed rye bread, or to go on a hike with a local historian who can reveal all about the bubbly lava fields beneath your boots. Or you could travel inland to glaciers and waterfalls, take a dip in hot springs, go bird watching, or visit fish factories and museums that paint a picture of the highs and lows of an industry that Iceland has relied on since the 9th century.
Easy expeditions
Iceland circumnavigations are excellent cruising expeditions for first-timers, families and those who just want to get on board and get exploring. Unlike the classic expedition haunts of Svalbard, Spitsbergen and Antarctica, ship captains rarely need to work around shifting ice conditions – a full circumnavigation is practically guaranteed in the milder subpolar climes of Iceland. There are also few worries about extreme weather, undulating ground or water landings – or the ever-present Arctic expedition peril: the curious polar bear. These are expeditions made easy.
Small polar ships
Our Iceland expeditions are cruises but not cruises. Run by members of the Association of Arctic Expedition Cruise Operators (AECO), they stick to strict guidelines that help protect the fragile environment, communities and wildlife of Iceland.

Vessels are a far cry from the 3,000-passenger cruise ships that usually loom over Iceland's cruise ports, too – these polar expedition ships welcome no more than 200 passengers on board. They could pack in another 100 or so people, but they choose not to, avoiding overwhelming the ports they visit and giving passengers room to breathe.

This route stars one of the first polar ships to use hybrid power.

Whale watching & workshops
Forget poolside pianists and acrobats in the atrium. On these cruises, the observation deck and panoramic restaurant windows are the main sources of entertainment – where whales and an array of windsurfing seabirds might be glimpsed. Meanwhile, the on-board science center hosts lectures and workshops in specialist subjects like photography, biology and geology. The histories of the old whaling stations you pass are revealed – along with the saga of Iceland's current will-they-won't-they crawl towards phasing out commercial whale hunting.
Sailing towards emission-free expeditions
This route features one of the first polar ships to use hybrid power – a mix of electric power from batteries, liquefied natural gas and liquefied biogas, a renewable fuel whipped up, in this case, from organic waste from fisheries. It's all done in a bid to avoid using the polluting heavy fuels that most cruise ships favour and to cut the amount of planet-warming carbon entering the atmosphere.
That said, biogas is not
without its critics
. This is still a fuel that's extracted from the planet, whose production can have negative health effects on surrounding communities if managed poorly, and which produces methane and carbon dioxide when used.
While reducing carbon is good, emission-free cruises are the dream – and not just a pipe dream. Some determined cruise lines are on a mission to 
decarbonise their entire fleet
by investing in developing zero-emission ships. By 2030, the hybrid boats could be upgraded to ships powered by a combination of wind sails, solar sails and battery banks.
Watch this space.
If you'd like to chat about Iceland cruising or need help finding a vacation to suit you we're very happy to help.

More Iceland cruising articles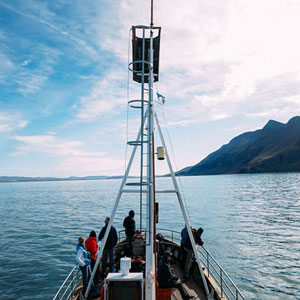 Remote peninsulas, volcanic islands and tranquil glaciers, plus whales, and lots of silence...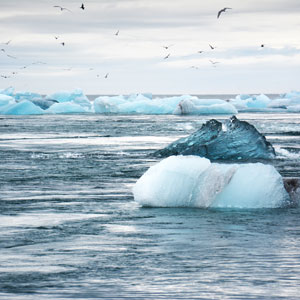 Exploring Iceland from the sea is a way to be immersed in its glorious nature.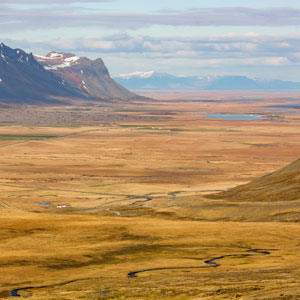 It's like the beautiful fjords you find on the quiet west coast of Iceland were carved especially for small ship cruises.