India cultural tips from our experts
Where to go
Jonny Bealby, founder of our supplier Wild Frontiers, is an expert in rural India:
"In Kashmir, the lakes around Srinagar, both Dal and Nagin, are just so serene and beautiful and the waterways in between – that take you through the Old Town – offer up a wonderful glimpse behind the scenes of life in this ancient world. Kashmir is popular with Indian tourists so if you want a quieter time pick a houseboat away from the main group at Lal Ghat or take a houseboat on Nagin Lake. It's very quiet and beautiful."
Bikash Sharma, the Punjab expert at Intrepid Travel:
"The Golden Temple in Amritsar is one of the biggest holy places for Sikhs. It is the most beautiful place and cleanest temple. You get to see the world biggest kitchen where they offer free food to anyone who visits the temple. The meal is completely vegetarian. The religion believes in helping everyone so the first reaction from people is 'Wow!'"
Food tips
Rajat Kumar, Managing Director of our supplier ExplorIndya: "Don't underestimate the importance of food as part of the Indian experience. The best thing you can ask an Indian is 'what do you eat as a family?' – you will be surprised how much of his cuisine he hides from visitors. But actually, we love to talk about food, and to share it - just like Italians."
Shanane Davis, Director of our supplier, True Luxury Tours:
"Muhgai cuisine is wonderful and can be found in Old Delhi. It was developed under Islamic rule. The Mughals adopted a lot of Persian and local Rajput royal families' etiquettes and became very cultured over the next few generations. It is very different from what people expect of Indian cuisine which is spicier and comes from Gujarat or Punjab. But these cuisines that were in the different courts over time are very sophisticated and very different."
Diana Syrett, Managing Director of one of our top suppliers, Kerala Connections:
"My husband and I are both vegetarian and it is one of the reasons we love south India so much, as the food it is the easiest place on the planet to be vegetarian. You can get meat though, and there is a lot of fish eaten. Interestingly, beef is eaten in Kerala; it is only one of two states in India that is licensed to eat it."
Vishal Koshy, general manager of our supplier Kalypso Adventures:

"One of the specialties from the backwaters, especially in an area called Kuttandad, where farming happens below sea level, is duck roast, prepared with local spices of. This is a must."
Our India culture Vacations
Local etiquette
Rajat Kumar, Managing Director of our supplier ExplorIndya, shares his top conversational tip:
"Every tourist knows how to say namaste as a greeting. It has become such a cliché from tourists that it is now almost an empty greeting. When you extend your vocabulary to ask 'aap keise hain?' or 'how are you?' an Indian person knows that you are genuinely inviting a conversation."
Liv Bohn, from our India cultural vacation expert, Intrepid Travel:
"Dressing modestly is a must! Not only to be respectful and minimise unwanted attention, but also to protect you from the heat and sun. Be sure to pack loose fitting clothes that cover your arms and trousers or skirts that fall below the knee. A lightweight scarf is perfect for putting over your shoulders or wrapping around yourself when visiting religious temples too."
Shopping tips
Shanane Davis, director of our supplier, True Luxury Tours:
"There are two worlds for shopping in India. Most people just see the low quality handicrafts made for tourists. But there are also the places where Indians like to shop, which sell things handmade in India but very high quality… perfumes, handmade silks and delicate decorative arts such as the traditional and indigenous lacquer work. For high quality, genuine handicrafts in Delhi, go to the state emporium called Baba Kharak Singh Marg in Connaught Place, New Delhi."
Golden Triangle tips
Shanane Davis, Director of our supplier, True Luxury Tours:
"My family has been in conservation patronage for four generations, and I would say that of course the Taj Mahal is wonderful but there are other buildings which are architectural masterpieces at a finer level. Do not miss Fatehpur Sikri nearby because architecturally it is a perfect mix of European, Jain, Rajput and Islamic influences. And although Agra is quite a difficult city, and not a very good representation of India, these buildings are definitely worth honouring."
"The Royal Art Collections in Rajasthan are something not something many tourists know about, but they are in most of the provinces and open to the public to go as museums. These are in extraordinary palaces still owned by the erstwhile royal families, but they are open to the public. Seeing them with a guide who really has in depth knowledge is a wonderful experience and not usually on traditional tourist itineraries."
Our top India culture Vacation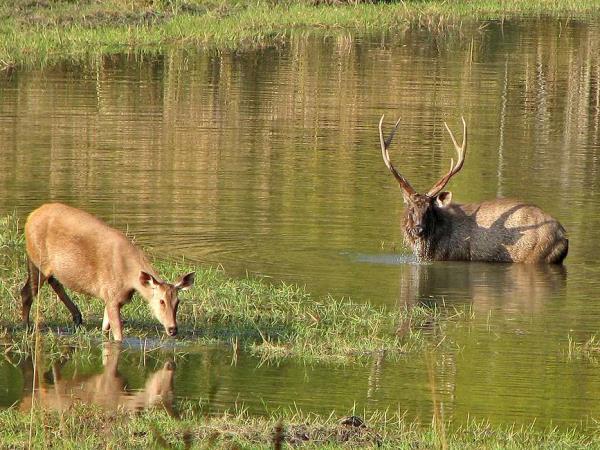 Brilliant experiences including Tigers and Temples
From
£

1199

to

£

1299
11 days
ex flights
Tailor made:
This trip can be tailor made throughout the year to suit your requirements
If you'd like to chat about India culture or need help finding a vacation to suit you we're very happy to help.

At Responsible Travel, we think the best people to advise our travelers are often... other travelers. They always return from our tours with packing tips, weather reports, ideas about what to do - and opinions about what not to.
We have selected some of the most useful India cultural travel advice that our guests have provided over the years to help you make the very most of your vacation.

The most memorable part? Indian train travel. Sumptuous hotels. Beautiful new Delhi. But end of May in India is probably too hot.

"We were really cautioned against using any form of elephant transport, because of the conditions that they are allegedly kept in. The tour leader was very geared up towards that."
– Anne Steyn.
Read a
full interview with Anne about her Golden Triangle vacation
.
"The guide took all the hassle out of it. He gave us guidelines on costs, he showed us the best value for money places to eat in the location and doing activities as a group meant not only was it sociable, but we got good deals. We travelled at the end of the monsoon season so sometimes it was very wet and overcast, but the plus was that there were fewer tourists. You can opt out of activities so there was nothing I didn't enjoy."
– Hazel Durbridge
, in the Golden Triangle.
"Take a universal sink plug – they were a rarity. Take travel wash, because although washing services are universal and cheap, one is rarely in one place long enough to employ them, and we were reliably informed that in any case the dhobi wallah will smash your buttons on the rock!"
– Kate & Adrian Parker
"Pack your suitcase with old clothes that can be donated to charity at the end of the trip"
– R and K Mackenzie
on our Rajasthan tours, India vacation

Take the chance with smaller hotels and homestays. It means you get to see more of everyday Kerala. Also make sure you experience Ayurvedic massage.

– Samantha Smithin Kerala.
"Don't expect to race from sight to sight over the course of each day. The pace is more gracious, focusing on experiencing important sights deeply rather than cramming in every possible experience. This is not a cookie-cutter tour that larger agencies will arrange for you, but rather a personalised experience" - Robert Macauley on our Rajasthan art history and architecture tour

"I really enjoyed the overnight train rides to and from Varanassi. It was great to take part in something that it so inherent to Indian life, we met some great people on the train and it was an excellent way to see the countryside." – Jerrine Barnett
"Plenty of warm clothes for the top of the mountains. A torch - and maybe a few games/cards, etc., When the sun sets and you are on top of a mountain, staying on a rice boat, or simply at a camp site/homestay with no entertainment, you need to make your own." – Janice Eastmanin Southern India
"Read !! Read !!! Read !!! If you go without reading first you will be blind. Nothing will make sense. Good books on India are out there. Travel guides need to be digested before leaving." – Joel Montague