Meeting Iranians
Mike Pullman, from our supplier Wild Frontiers, on meeting young people when he was in the university city of Shiraz: "Young Iranians will just come up to you and start talking and practising their English. They're very outgoing, more the women than the men. The women seem to have brilliant English, and the men will just manage to ask you what football team you support. Iran has one of the highest rates of females in university education in the world, which is surprising.
But their English is excellent, so you get lots of 19, 20, 21-year-old women coming up to you and speaking to you. They all want to take photos of you and they'll ask you questions like – "what do you think of the BBC's coverage of the Middle East?" and "what do British people think of Iran and Iranians?" They're really interested in that. They've been quite hurt by the fact they were cast as one of the 'Axis of Evil' by George Bush. Iran has had some quite difficult regimes, but the people have never been like that. They're all very keen to say – please don't judge us on our regime. And we're keen to say the same to them!"
Foodie advice
Marianne Grimshaw, from our supplier Wild Frontiers, shares her Iran travel advice:
"Iranian food is generally very good – though I'm vegetarian and in the smaller places it's always a bit of an issue. Sometimes we were on the road and we'd stop at little truckers' cafes and I'd just eat rice and salad. In the towns and cities they are big on rice dishes and there are lots of aubergine and vegetable stews, chickpeas… there are a lot of kebabs. There are some nice delicate flavours using the spices. They're big on their saffron as well. There are 5* hotels that have loads of different options, and even in the restaurants they'll still have pasta and so on available."
Tips for dressing respectfully
Linda Maguire, from our supplier Undiscovered Destinations:
"It is surprisingly easy going. Female visitors in particular must adhere to the dress code but at no time was the atmosphere oppressive or threatening and I was thanked on occasion for respecting the local traditions. The people are very warm and welcoming and seemed genuinely pleased to see visitors in their country. As tourists we were not aware of any political tensions or anti-Western sentiment."
SPENDING TIME IN THE COUNTRYSIDE
Mike Pullman, from our supplier Wild Frontiers, urges travelers to spend some time away from the cities: "The Bavanat Valley and the Dena Mountains are two spots where we get away from the cities and do walks. It's kind of Alpine scenery with streams and high mountains and clear air. When you're visiting the cities you can really feel that Iran is a country on the cusp of change because the women are all pushing the dress code as far as they can get away with, with scarves perched back on their heads and held in place with sunglasses and wearing skinny jeans – not displaying flesh, but wearing pretty Western-looking clothes. And then you go to the countryside and it's much more traditional, so you see people in the black chadors. It's good to go to a country and experience both of those sides to get a much more realistic view of what the country's like."
Tea gardens, rose gardens…
Marianne Grimshaw: "The Iranians are big on their gardens, and in some of the older hotels you can sit out in the gardens and have tea in the courtyards. The Abbasi is the most famous hotel in Iran, and the most sought after. It has a beautiful courtyard with a teashop in it. They're famous for gardens in Shiraz, and there's a lovely one in Kashan – but there are gardens all over Iran, even in the desert cities. There are lovely flowers, they are all very well looked after – it's a nation of people who like poetry and roses, really."
HEALTH
Be sure to take out comprehensive travel insurance before departure, including emergency evacuation and repatriation.
The emergency medical number in Iran is 115.
Visit your doctor 6-8 weeks before travel to ensure you are up to date with any necessary vaccinations. There is a risk of malaria in the far southeast of Iran, although tourists are unlikely to be visiting this region.
Larger cities tend to have very good hospital facilities and many doctors will speak English. Medical access is more limited in rural areas.
The main health threat in Iran is the extreme heat If traveling in summer – especially as visitors are required to cover up. Be sure to drink plenty of water and rest if you start to overheat. If you know that you have trouble dealing with hot weather, it's advisable to book at a cooler time of year.
Tap water is safe to drink in many cities; check with your tour leader just to be sure.
Bring all prescription medication as well as some basic over the counter medicines. Tampons are not widely available so pack accordingly.
SAFETY
Most of Iran is safe to travel in – but the FCO advises against all travel along the border with Iraq, as well in the far east of the country, close to Afghanistan and Pakistan. For up to date travel warnings, see the FCO website.
While the average Iranian citizen is welcoming to foreign visitors, the government can still be overly suspicious. Traveling with an experienced operator will minimise any risks, but do keep a low profile and follow the rules. Be careful of whom and what you photograph, don't discuss politics – and certainly don't say or do anything that could be perceived as insulting to Islam. Avoid political demonstrations and rallies.
The usual precautions apply – don't carry large amounts of cash or flash your valuables, and backpacks or crossover bags are less likely to be easily swiped. There have been incidents of thieves posing as policemen – although again, traveling with a tour leader should avoid any uncomfortable situations.
Alcohol is illegal in Iran. Although it is still brewed and smuggled in, do not be tempted to drink it as punishment is severe. It is also forbidden to eat, drink and smoke in public during Ramadan – dates vary each year, so check online or ask your vacation company.
Driving is pretty dangerous in Iran; always take care when crossing roads and avoid traveling after dark if possible.
For Iranians, intercourse between unmarried or homosexual couples is forbidden. This law does not apply to tourists, although public displays of affection are not advised for couples of any orientation or marital status.
Don't give anyone the thumbs up signal either – it's the equivalent of sticking your middle finger up at them!
Our top Iran Vacation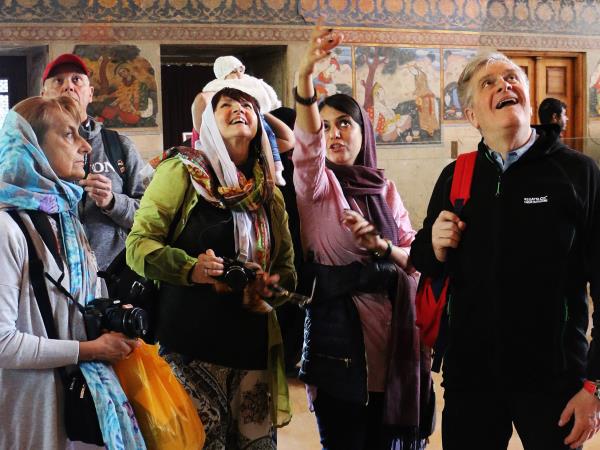 Join us to discover Iran's rich culture and history
From
€

960
7 days
ex flights
Small group travel:
2023: 21 Apr, 6 May, 9 Jun, 1 Jul, 6 Aug, 2 Sep, 6 Oct, 5 Nov, 30 Dec
If you'd like to chat about Iran or need help finding a vacation to suit you we're very happy to help.

Tips from our travelers in Iran
At Responsible Travel, we think the best people to advise our travelers are often... other travelers. They always return from our tours with packing tips, weather reports, ideas about what to do - and opinions about what not to.

We have selected some of the most useful Iran travel advice that our guests have provided over the years to help you make the very most of your vacation - and the space inside your suitcase.

You need to get used to the different ways in which the Iranian currency is referred to - rials and tomans. It can be a bit confusing at first!

"Iran is not as unsafe as sometimes portrayed in the press and media. The people were very friendly and helpful and there was no obvious police presence. Dress for women was not as strict as expected and although the headscarf was a given, many wore fashionable clothes in bright colours without being covered by a black chador. Be prepared for a variable standard of sanitary arrangements. In 3* hotels or higher, the better restaurants and museums they are usually adequate but elsewhere, toilets and washing facilities leave a lot to be desired with fittings missing or broken and smelly/unclean. Definitely pack a universal plug, toilet roll and wet wipes." – Rosemary Rennie

"Women – make sure you follow the dress code. as it gets hot in the summer months it might be better to do this trip in January when it is cooler. We only had 1.5 days of rain the other times we had lovely blue sky." – Anne Higgins

Dress for women was not as strict as expected and although the headscarf was a given, many wore fashionable clothes in bright colours without being covered by a black chador.

"Forget any concerns about Iran being dangerous, hostile of unfriendly. Highlights are numerous: Shiraz's blue mosques with amazing mekhana, after which, it being New Years Eve, we had blue cocktails and a blue cake (thanks to our guide, Mark). Dress is more liberal than you might expect. Hair covering is compulsory but hair can show, and a wooley hat or turban covering a reasonable amount of hair is fine. Tight trousers are fine if worn with a top that covers your bottom - mid-thigh length tunics are ideal. Take wet wipes for toilets." – Julia Turkington

"You need to get used to the different ways in which the Iranian currency is referred to – rials and tomans. It can be a bit confusing at first! Be aware that you need a lot of cash, as credit cards are not accepted in the vast majority of places. Be prepared to be welcomed everywhere! The Iranians are delightful people! I think the main benefit overall was to dispel the many myths propagated by the Western media about Iran and its people. It is not an oppressive and dangerous desert backwater. It is a beautiful country, hugely cultured, and its people were some of the most welcoming I have ever met anywhere." – Danica Trim