Five thousand years of culture
Cultural influences flowed into ancient Persia from the Far East, Arabia, Russia and Europe. Whilst from afar, modern Iran is dominated by the singular might of Islam, the culture here is every bit as rich and varied as its history suggests. The people here are Persian, not Arab, and embracing culture in all its forms is part of the Persian character.
One thing which is repeated again and again by those who have returned from Iran, is how friendly and open minded Iranian people are. Well educated, curious about the West, keen to show the best of their country – and demonstrate that they are not the same as their government. Any trip to Iran should allow you to meet and chat with local people, use Iranian guides, and really discover what life is like – away from the newspaper headlines.
Bazaars are wonderful cultural immersions. Every Iranian city has one – a space where past meets present, and spices and silks are sold alongside Persian rugs and pomegranates. Tehran's Grand Bazaar has 10km of corridors, Esfahan's is part of the huge Imam Khomeini Square complex, and Tabriz's – described as the most beautiful – even contains mosques. Amid all the eye-level enticements, don't forget to look up; the intricately adorned ceilings are the bazaars' loveliest features. If you take tea with a stallholder, sip it hot with a sugarlump between your teeth. Or if you're feeling brave, try the doogh – a salted, carbonated, yogurt drink, seasoned with mint. Um… cheers?

Strategically situated between Asia, Arabia and Europe, Iran was a hub for silk and spice traders, as caravans travelled across the known world, bringing religion, art, culture and cuisine

Follow the Silk Road
Today, the Silk Road is as much a concept as a physical road – and modern travelers can traverse selected parts of this 4,000 mile route in considerably more comfort than those who rode these trails centuries before. The Iranian section, skirting around the shores of the Caspian Sea, is the link between Central Asia and the Caucasus – leading on into Azerbaijan or Turkmenistan via mountains, desert and the former capitals of magnificent empires.
Walking & cycling vacations
Surrounded by so much cultural candy, it's easy to overlook Iran's scenic delicacies – but a walking tour in the Alborz Mountains is a delicious indulgence. The slopes are sprinkled with Alamut "Assassins" castles, named after the secretive medieval sect that was headquartered here. You'll meet nomadic Shahsevan pastoralists, spend the night in local villages – or attempt to summit the 4,811m Mt Salaban.
A cycling vacation in Iran gets you just as close to the scenery and culture while also covering more ground. Pedalling out of Tehran, you'll see just how quickly this metropolis transforms into desert, and you'll have the chance to visit not just the big attractions of Shiraz, Esfahan and Persepolis, but also join up the lesser-visited dots between them, including cities such as Kashan and Abadeh. Covering over 900km on two wheels is also the best way to take in the scale and barrenness of the desert – and to really appreciate the oases where it bursts into life.
Our top Iran Vacation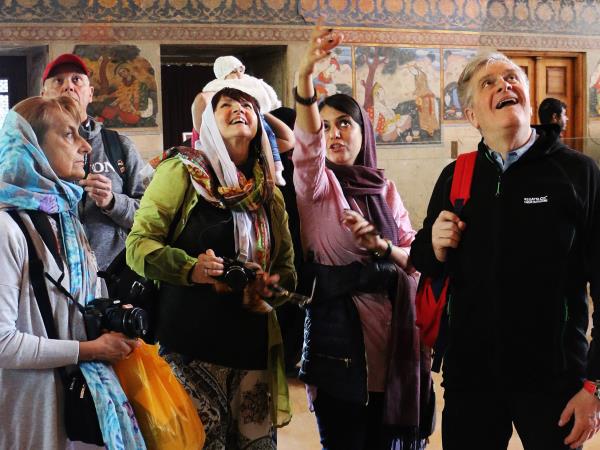 Join us to discover Iran's rich culture and history
From
€

960
7 days
ex flights
Small group travel:
2023: 9 Jun, 1 Jul, 6 Aug, 2 Sep, 6 Oct, 5 Nov, 30 Dec
2024: 7 Jan, 3 Feb, 2 Mar, 13 Apr, 6 May, 9 Jun, 1 Jul, 13 Aug, 15 Sep, 4 Oct, 2 Nov, 7 Dec, 24 Dec
If you'd like to chat about Iran or need help finding a vacation to suit you we're very happy to help.


In Iran, time is measured in millennia, and the minarets, mosques and mausoleums glinting across the country are what draw travelers to this ancient land.

Admire the architecture
Mirrored, mosaiced and majestic, Iran's ancient monuments are shrines to the things held most dear to the Iranian people: Islam, poetry, powerful emperors, and above all – beauty. The sprawling ruins of Persepolis is one of the earth's greatest archaeological sites, while a whole rainbow of mosques invites visitors to feel spiritual stirrings, as mirrorball-like interiors and elaborate stained glass take you one step closer to whatever your vision of heaven may be.