Ancient civilisations in Iran
Iran's history is measured not in decades or centuries, but in millennia – the diverse civilisations which roamed this land between Europe, Asia and Arabia were highly advanced, developing not just agriculture and architecture, but art, ideas and poetry. Even more surprisingly, many of the ancient sites they have left behind are not buried beneath the desert earth, or fenced off, inaccessible archaeological sites; they form part of modern cities and villages, they are lived in, worshipped in and traded in to this day. Centuries-old tombs are still sites of pilgrimage, for followers of Islam – or lovers of poetry. Calls to prayer still echo from the minarets, as bare-footed worshippers kneel and pray within the mosques.
Mosques
Some of the world's oldest, most beautiful and – interestingly – most open mosques can be found in Iran. There are some truly ancient examples – but on average, they date back 500-1,000 years, and have been phenomenally well preserved. Unlike in many countries, most mosques are open to non-Muslims; all visitors must remove their shoes before entering, and women must wear a headscarf. Within the tiled and stained glass interiors, the extraordinary aesthetic eye of the Persians can be appreciated – along with their gift for mathematics and powerful symmetry. Followers of any religion – or none – are sure to feel more than a little spiritual stirring as sunlight dances off the mirrored mosaics and shines through jewel-like windows.
Some of the best examples include the Blue Mosque of Tabriz, originally constructed in 1465, but rebuilt in the 1970s following an earthquake, and Shiraz's Nasir al-Mulk, known as the Pink Mosque. Each day at dawn, sunbeams shine through the vivid stained glass windows, turning the mosque's interior into a giant kaleidoscope with breathtaking effect. Also in Shiraz, the Shāh Chérāgh Mosque was built in stages, beginning in the 12th century. From outside, the mosque is nothing special – but step inside, and the walls and high ceilings are covered in mirrored mosaic and shards of glass, giving the impression of being within a vast, emerald mirrorball, as light reflects off every surface.
The Shah Mosque in Esfahan stands guard over the enormous Naghsh-e Jahan Square, and is considered a masterpiece of Persian architecture; both the mosque and the square are UNESCO World Heritage sites.
Persepolis
This was one of UNESCO's first World Heritage sites back in 1979. It stood at the center of one of the world's greatest civilisations – and is today among the world's greatest archaeological sites, sprawling over 13 hectares. In the 5th century BCE it was the capital of the Achaemenid Empire, ruled by Darius the Great. Terraces, sweeping staircases, a columned throne hall and magnificent gateways stand sunbaked in the southwestern desert, while bas-reliefs and calligraphic carvings tell of the comings and goings of great figures – a wonderful window on the past.
Linda Maguire, from our supplier Undiscovered Destinations:
"The stand out place for me was Persepolis as the sheer scale of the site is inspiring and the sense of history almost tangible. Some of the remains are very well preserved, and when combined with the visually impressive nearby sites of Naqsh-e-Rostam and Naqsh-e-Rajab, the area brings the magnificence of that era to life."
Our top trip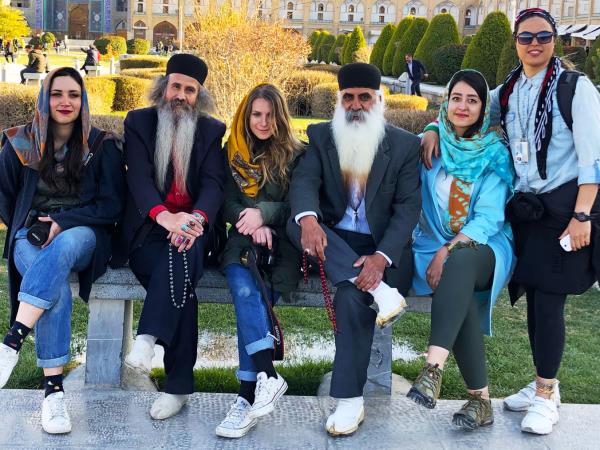 Join us, we show you the secrets of this fascinating country
From
€

1690
15 days
ex flights
Small group travel:
2023: 21 Dec, 31 Dec
2024: 3 Feb, 24 Feb, 7 Apr, 5 May, 5 Jun, 14 Sep, 5 Oct, 1 Nov, 7 Dec, 21 Dec
If you'd like to chat about Iran or need help finding a vacation to suit you we're very happy to help.

Yazd
In a country where elaborate mosques, palaces and plazas are considered the norm, Yazd dares to be different. The city's beauty lies in its seeming simplicity – ditching detailed mosaicwork in favour of desert-coloured, mud brick buildings. With roots dating back some 5,000 years, Yazd is the center of Zoroastrianism, one of the world's oldest religions which can be traced back to this region. Here, the elements rule in more ways than one. Fire temples are Zoroastrian places of worship; fires are kept ablaze in these buildings as symbols of purity. "Wind catchers" are another Yazd trait; in the searing heat of the central Iranian plateau, these are a kind of reverse chimney which funnels air into the mud-walled houses, cooling the insides.
Other sights
Your Iran itinerary may skip from city to magnificent city, but there will be historical sites lining the way – worth stopping off at for half an hour, or half a day. This is a country with more than a liberal sprinkling of UNESCO World Heritage sites – as well as many castles, caves and carvings that didn't make it onto the list, but are just as astounding.
Naqsh-e Rustam and Naqsh-e Rajab, 12km north of Persepolis, may not be household names – but in any other country they would be top of the bucket list. Naqsh-e Rustam is a Petra-like series of tombs cut into the rockface, a vertical necropolis between two and three thousand years old. Darius the Great and Xerxes I are amongst those buried here. The carved cliffs are astounding – huge reliefs of warriors on horseback, and Persian rulers triumphing over Roman emperors that are said to have acted as ancient billboards – warning the enemy what fate would befall them if they messed with the mighty empire.
Before Darius the Great's capital, Persepolis, Cyrus the Great ordered the construction of Pasargadae in the 6th century BCE. Today, the remains of great palaces and Persian gardens can be seen, as well as Cyrus's tomb.