The words of Rumi, the Persian poet whose verses remain popular eight centuries after his death, are strangely prescient of modern day Iran, a country which didn't exist until the 20th century – yet is as ancient as civilisation itself.

Out beyond ideas of wrongdoing and rightdoing, there is a field. I'll meet you there. When the soul lies down in that grass, the world is too full to talk about. Ideas, language, even the phrase "each other" doesn't make any sense.

Against a backdrop of reports of 'good' and 'evil' and the changing face of Islam, traveling to Iran today is more revealing than ever. The nation behind the news is wonderfully warm and welcoming; the imagined hostility towards Westerners simply doesn't exist. Amid the ruined palaces of Persepolis, temples of Tehran and windcatchers of Yazd, we are, indeed, forced to reconsider our ideas of 'each other', and to understand that the empires that rose and fell here, before borders were drawn, were ones that shaped all of our histories. This is a country of homely stews, slipping headscarves and more manmade beauty that you could think possible – from the mind-bending, mirrored mosaicwork, to the tranquil tea gardens; evidence if needed that amid all the modern chaos, Iranians are simply in search of peace.
Iran is...
Ready to say salam to the western world
Iran isn't...
the same as its government
WHAT WE RATE & WHAT WE DON'T
Mountains
It's worth tearing yourself away from the sparkling jewellery boxes of cities such as Shiraz and Esfahan to spend a few days in Iran's mountains. The Alborz Mountains rise up from the Caspian Sea, filled with hidden hiking trails. The Kurdish people hold the mighty Zagros Mountains sacred, and tucked beneath their 4,000m peaks, the Bavanat Valley is the summer home of tent-dwelling nomads.
Semi nomadic people
Nomads may not be what you would expect to find in modern, tightly controlled Iran – but semi-nomadic people do still live here, traveling hundreds of kilometres between the mountains in summer and the warmer south in winter. Responsible tours give you the opportunity to meet them, but hurry – the government is trying to "assimilate" them into mainstream society.
Western Iran
Iran not quite off-the beaten-track for you? Then head west, far from the popular mosaic-draped cities, to a rural region where headscarves have not yet slipped back and tourists are rarer than Asiatic cheetahs. The harshness of the desert gives way to surprising landscapes of forests, lush valleys and mountainside villages, and you'll have UNESCO sites such as Choga Zanbil all to yourself.
Tomb of Hafez
Iran's mosques are awe-inspiring; yet sometimes the lower-key monuments can be just as moving. In Shiraz, the tomb of Iran's much loved poet, Hafez, who died in 1390, is a place for poignant contemplation. Visit the softly-lit tomb in the evening as Iranians come to pay tribute, to hold hands under cover of darkness, and to recite his verses about love, and wine, remembering Iran's more artistic and liberal past.
Persepolis
Dating back to around 515 BC, the UNESCO site of Persepolis was founded in a remote valley by Darius the Great as the capital of the vast Persian Empire. Despite being ransacked by Alexander the Great in 330 BC, it retained the mighty monuments built by successive rulers, including the colossal columns of the Apadana Palace and Gate of Xerxes, stunning bas-reliefs and the Naqsh-e Rostam tombs.
Esfahan
One of Iran's three big "must sees", Esfahan, the former capital of Persia, is considered by many to be its most beautiful city, brimming with mosques, a bazaar and the huge Kakh-e Ali Qapu palace, all conveniently clustered around one of the largest squares in the world. Save space for photos of the striking blue tile work – plus the sunsets over the river, best viewed from one of the historic bridges.
Tehran's museums
If much of Iran is an open air museum, Tehran brings it back indoors, with a vast concentration of artwork, manuscripts, jewellery, rugs, Qurans and more sourced from across the Persian Empire. This is a great start to your vacation as you learn about Iran's rich history before visiting the sites. The Cinema and Contemporary Art Museums reveal the country's continuing love affair with art in all its forms.
Shiraz
Set in a lush valley, Shiraz has been the beloved center of Persian culture for two millennia, and contains the tombs of many famed poets. It was one of the most important Islamic cities in the world in medieval times, and its glorious mosques include the Shah-e-Cheragh, with its mosaic-mirrored interior . Don't miss the striking Arg-e Karim Khan fortress, before taking tea in the aptly named Garden of Paradise.
Independent travel
Independent travel is possible in Iran – but as visitors are required to have their own private guide and visa applications are extremely difficult without a reference from a licensed travel agent, it's tough – not to mention risky. A good vacation company will also ensure you are aware of local laws and etiquette – and you won't be reliant on reckless bus drivers or painfully slow trains to get around.
Dolphins in towers
With so much fascinating history on show in its museums, mosques and palaces, those in charge clearly decided that Tehran needed a more "contemporary" attraction, too. Enter the world's highest dolphinarium, at the top of Tehran's Milad Tower, where dolphins and sea lions perform for visitors four times a day to the sound of pounding Persian pop. We'll stick with the archaeology, thanks.
Kish Island
Kish is a beach-ringed resort island in the Persian Gulf, where no Iranian visa is required. But that really is all it has going for it. It was created in 1989 by the government in an attempt to lure tourists to Iran – a Sharia version of Las Vegas-style debauchery where you can – gasp! – swim and dance (gender-segregated), a little hair can be revealed beneath the hijab, and , yes, booze is still banned. Knock yourself out.
ATMs
These days, many tourists choose the ease of simply withdrawing cash once they arrive in a country. Unfortunately, Iranian ATMS do not work with foreign bank cards, meaning you'll need to take a stack of money with you – US dollars being the safest option. And unlike clothes, you'll always need to take more than you think, in case of emergencies – or in case you find the perfect Persian rug.
Eating & drinking in Iran
Chelo kebab is the national dish. The kebab is skewered minced lamb, lamb pieces or saffron chicken, on a bed of buttery basmati rice (chelo) with large, grilled tomatoes. Simple – but tasty.

Iranians love tahdig – the crispy layer of fried basmati rice left at the bottom of the pot. Eat it with your hands as a side dish.

Iranian sweets are often infused with the delightful aromas of cardamom, rosewater, pistachio or cinnamon – plus plenty of sugar or syrup. And don't miss the havij bastani – a kind of ice cream float made with carrot juice rather than soda.

If you find a mistake in your expensive Persian rug, don't send it back. Iranian weavers do this deliberately, to demonstrate that only God is perfect.

Our top Iran Vacation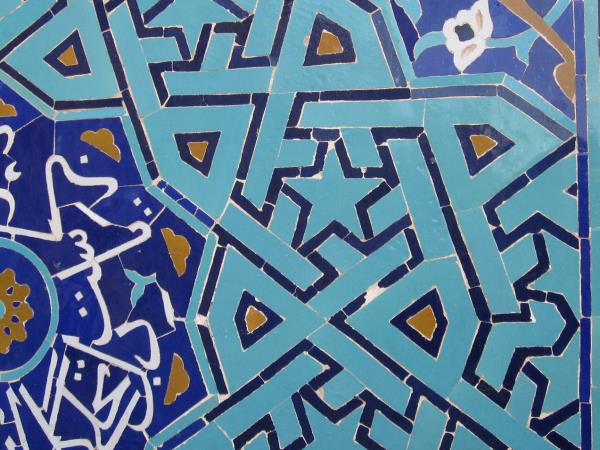 Discover the incredible cultural heritage of Iran
From
US $

3199
9 days
ex flights
Small group travel:
2024: 27 Apr, 26 Oct
If you'd like to chat about Iran or need help finding a vacation to suit you we're very happy to help.

People & language
Iran has one official language, Persian (Farsi), though just 61 percent of Iranians are Persian. There are also large minorities of Azeris and Kurds, with Lur people in the west, and the Baloch in the southeast. Religion is more unifying, with over 90 percent of Iranians identifying as Shia Muslim, and around seven percent Sunni – mostly amongst more remote and traditional communities. Zoroastrianism was founded in Iran in the 5th century BCE, making it one of the world's oldest religions. Today, it is centerd on the ancient region of Yazd.
Noosh-e jan = Bon appétit in Farsi
Mamnoon = Thank you. Iranians also commonly say Merci!
Try and learn to read Farsi numbers – it will help you understand prices.
Gifts & shopping
Iran's native ingredients include pistachios, almond, walnuts and saffron – they're far more flavoursome here than anything you'll find in your local supermarket.

When it comes to visiting an Iranian Bazaar, it's a case of carpets or it didn't happen. Over three quarters of all handmade carpets in the world originate in Iran, made by over a million weavers, and the craft dates back to the Bronze Age.

Women will need to wear a headscarf (roosari) as soon as they land in Iran – but dedicated stores are filled with scarves in intricate designs and jewel-like colours which can make for unique souvenirs or gifts.

The word 'paradise' comes from the Old Iranian paridayda, which referred to their beautiful walled gardens and estates. Evidence of these ancient paradises still exists in Iran today.

How much does it cost?
Tehran metro ticket = 12p

Cheap kebab or falafel wrap = £1.20

Tehran-Shiraz sleeper train, First Class = £16

Entry to the National Museum = £3.50

Persepolis entrance fee = £3.70

1kg of pistachios = £6.10
A BRIEF HISTORY OF IRAN
The Islamic Republic of Iran may not have been declared until 1979, but this landscape is one of the world's oldest continuously inhabited sites, with some settlements dating back over 6,000 years. And a thousand years before that, the earliest Persians were constructing cities and complex agriculture; some consider this to be the birthplace of modern civilisation. Some of the region's ancient practices are still in evidence today – the art of carpet weaving can be traced back to around 500 BCE, as can the New Year's vacation of Nowruz – a festival of Zoroastrian origin now celebrated across the country. It is this deep rooted connection with its past and a history counted in millennia rather than centuries that makes Iran such a seductive and fascinating destination.
Read more