Best time to visit Ireland

It felt as if the sun never set on the west coast last summer. We definitely got an extra hour of daylight. And if it rained, the clouds always cleared for sunset.

Everyone loves the Emerald Isle, but not everyone loves the reason why it is so green. The rain. The east coast averages 150 days a year and the west, 225. It can happen any time, but the best times to visit Ireland to avoid it are, according to records, April and June. The secret is to not worry. Ireland is one of those 'four seasons in a day' countries. In summer, temps top 20°C. Kerry and the Antrim Coast are busy in July-Aug, but hiking routes are never crowded. St. Patrick's Day is fun, but go rural rather than big city for traditional events.
Things to do and not to do
Things to do in Ireland…
Not only is it the favourite pastime of Irish people, but hiking just really is the best way to get around Ireland. As long as you have plenty of Gore-Tex, great boots and a good attitude to climate change. Because the climate changes here every few hours. What you do have is some of Europe's most stunning trails to take walking vacations on, in both the Republic of Ireland and Northern Ireland. Clinging to cove packed peninsulas like Dingle, dramatic clifftop extravaganzas such as the Causeway Coast, around islands such as Rathlin or the Blaskets, or tackling mountain ranges such as Kerry's Macgillycuddy's Reeks. The other reason that walking is the way to wander in (and wonder at) Ireland, is because everyone loves to talk. Be it on a mountain path, a remote cove or as you stop for rest in a pub. 'Failte' is the word of welcome. Arrive on foot, and your 'failte' is foolproof.
Anyone who thinks that bacon, cabbage, potatoes or Guinness are still the mainstay of the Irish diet, hasn't ridden the gastronomic wave that has hit Ireland over the last ten years. Local produce from seafood to seaweed, cheese to chocolate, lamb to legumes, is everywhere. From some of the best seafood chowders in seaside pubs to artisan Arcadias in local markets, as well as a plethora of fine dining experiences across the whole island, contemporary Ireland is now a land to feast in.
Things not to do in Ireland…
Add to already congested roads, especially in summer. There are great vacations that take you across the island, north and south, by train. You can also sail there from Scotland, and hiking trails abound, with a well oiled infrastructure of guesthouses, restaurants and of course pubs en route to give walkers the traditional Irish welcome. As well as walking vacation companies that transport your bags for you, as you mosey over mountains and seek out secret coves.
Ignore Northern Ireland. The mountains, lakes, rivers and coast that Ireland is famous for, don't stop because of a line on the map. Although sadly, some tourists still resist it because of years of conflict. This officially came to an end in 2007 when, after years of negotiations following the Good Friday Agreement in 1998, both sides of Northern Ireland's political divide came together to form a government. From super chic Belfast, to the colossal Causeway Coast, walk the highways and byways of Northern Ireland, and go in peace.
Having said that, do read up on politics before you go. It is not uncommon for English people to visit and say things like "I really don't get the Irish problem. You are all so friendly. How come you don't get along?" Read up on the 800 years of history just a bit, and you will see why ill informed comments won't get Irish eyes smiling. Oh, and nor will "top of the morning to you". Because no one actually says that in Ireland.
Our top Ireland Vacation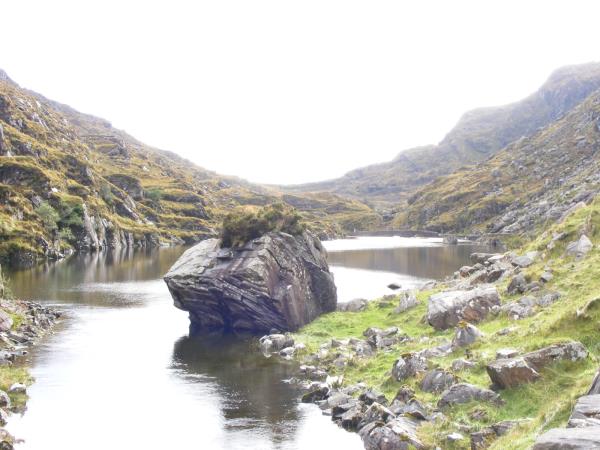 Self guided walk on The Dingle Way
From
£

980

to

£

1270
11 days
ex flights
Tailor made:
This trip can be be booked at a time to suit you
If you'd like to chat about Ireland or need help finding a vacation to suit you we're very happy to help.
Advice on where to go
Robert Kidd from our Ireland vacations supplier, McKinlay Kidd:

"Ireland attracts large number of tourists but the vast majority focuses on a handful of key places, some of which can feel rather over- run. So my main recommendation is to step slightly away from the main routes and there you will find a very authentic experience. So the ring of Kerry is a massive draw, but right next door is the much less visited ring of Beara; in Galway the south of Connemara is much quieter than the north; Sligo sees most visitors at its wide sandy beaches but the hinterland of lakes and valleys is usually missed."
"Then there is Northern Ireland – which is still very undeveloped. Here the Giant's Causeway is the major draw while the coastline of Antrim is fabulous – Murlough Bay and Cushendun are particular favourites. And County Down, the area around Strangford Lough especially is hardly touched by visitors from outside Northern Ireland itself. I am also a fan of islands – and Ireland offers quite a few, from Rathlin off the Antrim coast, to Cape Clear in West Cork. Even the Aran islands – hugely popular with day trippers, see far fewer overnight stays. "
When to go
Robert Kidd from our supplier, McKinlay Kidd:

"Go in the shoulder season, May June and September – so much quieter than August especially".
Cultural advice
Catherine Mack, author of Responsible Travel's guides, and of Ireland's first Ecotourism Handbook:

"Don't worry if you have dietary needs when traveling in Ireland. They are way ahead of the game in terms of gluten free, dairy free and so on, compared with across the water. And my other tip is don't be shy. The Irish love to talk, tell stories and share stories. It is part of the Irish way. As is listening to music in pubs. Ask a local person where the best music can be heard, rather than going for tourist traps. Oh and one big faux pas to be aware of. Never describe England as 'the mainland'. Ireland is Ireland's mainland."
At Responsible Travel, we think the best people to advise our travelers are often... other travelers. They always return from our tours with packing tips, weather reports, ideas about what to do - and opinions about what not to.

We have selected some of the most useful Cuba travel advice that our guests have provided over the years to help you make the very most of your vacation - and the space inside your suitcase.

...it was apparent that the tide was coming in and that also was a bit scary as progress was slow due to the wet and slippery rocks…

"One of the best walking trips we have had...great views, changing daily, friendly and interesting people… Be prepared to walk quite a distance before coming across somewhere that you could buy a drink or snack" - Denise Kibby on our Dingle Way walking vacation

"Coming from west to east, we had no idea of the tides and as we dropped to sea level, also walking along the rocks towards the beach (which can only be walked at low tide), it was apparent that the tide was coming in and that also was a bit scary as progress was slow due to the wet and slippery rocks…Know the tides and just enjoy it all. It was wonderful" - Diana Howie on a walking in Northern Ireland vacation
Back to the top
Convert currencies