In 1951, six million trees were planted along Israel's Kisalon River, to commemorate the six million Jewish people who died during the Holocaust. A country created out of grief, they chose to plant cypress, eucalyptus, pine and oak as a living memorial to those who perished. Which is not only poignant, but also captures so much of what Israel is about.

I am more excited stepping on these stones than I was stepping on the moon.

– Neil Armstong, talking about his visit to Jerusalem in the book 'From Beirut to Jerusalem' by Thomas L. Friedman
It is undoubtedly a land of complex history, and although we are not putting our head in the sand about its occupied territories (we also have tours to Palestine), this Israel travel guide endeavours to show that it is also one of the world's most fascinating countries to visit. One that captures the importance of religion for so many people around the world be they Jewish, Christian or Muslim. One that is curated carefully, and where ancient archaeology is given as much space as natural art. And, most of all, one that evokes passionate reactions, whether you are worshipping in Jerusalem, talking about Palestine, star gazing in the Negev Desert, or standing at the grave of Oskar Schindler, on the Mount of Olives.
Israel is…
complex. There's no getting away from it. But for historians it is heaven. For archaeologists it's an Arcadia. And for wilderness lovers, it's, well, wild.
Israel isn't...
all religion, Romans and relics. It's Mediterranean mixed with Middle Eastern magic. mountain streams, beaches, desert, olive groves and vineyards.
What we rate & what we don't
Food
There is so much more to food in Israel than hummus and falafel. Because it's good to remember that Israel's melting pot is a delicious pot, with historical influences on cuisine from North Africa, Eastern Europe and the Middle East. That's a lot of flavours. So open your minds and then open your mouths. You will be more than pleasantly surprised.
Hiking
Not often thought of as a hiking destination, you don't need to spend 40 days in the wilderness to appreciate the beauty of Israel. But it's tempting. Follow pilgrims around the Sea of Galilee, go exploring out into the Negev Desert, or through the almond and olive groves of the Jerusalem Hills. You definitely want to hike with an expert guide in Israel though. Some places are, sadly, very much out of bounds.
Desert excursions
The Negev Desert stretches over half of southern of Israel, and is home to over 175,000 Bedouins. This arid, mountainous landscape feels more Grand Canyon than Sahara, with wadis and deep gorges carved into the reddish rock. The Judean Desert is also part of Palestine, and stretches down to the Dead Sea where the eponymous Scrolls were discovered at the ancient city of Qumran, on the Sea's Palestinian shores.
Good archaeological guides
Some of the archaeological sites in Israel are one offs, such as the collection of ancient cities piled one on top of the other at Meggido. Or the Crusader remains in Caesarea, not forgetting the city's fine array of Roman ones too. It really is worth having a guide with you who is totally switched onto archaeology and history, otherwise it can all be a little overwhelming.
Dead Sea
Also known as the Salt Sea, which is pretty much doing what it says on the tin. Some beaches get really overcrowded, so seek out a quiet one to have your floating experience, cover yourself with healing mud and then treat yourself to a salty spa nearby. The biblical Dead Sea Scrolls, found in nearby Qumran Caves, on the Sea's Palestinian shores, are now stored in Israel Museum's Shrine of the Book.
Yad Vashem
It's not that we 'rate' it – we just think it is almost disrespectful not to visit Yad Vashem, Israel's Holocaust Remembrance Centre. Its location on Mount Herzl – the Mount of Remembrance – is beautiful, overlooking the Judean Hills on one side and Jerusalem on the other. The history museum will leave you speechless and the art museum, with the largest collection of Holocaust art in the world, will leave you humble.
Jerusalem
Jerusalem may be a city divided, with the west home to Israeli Jews, and the east to Palestinians, but opinion is never divided on the spiritual nature of its mosques and churches, Wailing Wall and Way of the Cross. Surrounded by 17th Century Ottoman Walls, the Old City is divided into four Quarters: Muslim, Jewish, Armenian and Christian. Head up the Mount of Olives to see Schindler's grave. And for the best views.
Nazareth
No fewer than 20 Christian churches revere the city's most famous resident, the big one being the Basilica of the Annunciation, on the site of where it is said Mary saw the Angel Gabriel. Meanwhile it is also a bustling, modern city and the largest Israeli-Arab city in the state. Seek out the Old City with ancient alleyways, Ottoman architectural hangovers and contemporary Middle Eastern cuisine and artisan shops.
All inclusive resorts
Israel has its share of fly and flop hotels that not only are not only eyesores on the Mediterranean seascapes of Eilat, but also on the Dead Sea. Indeed they are a dead form of tourism when it comes to sustainability, with less than 10 percent of daily tourist spend trickling into the local economy. Go kibbutz or homestay, desert camps or small locally owned hotels instead.
Cruise ships
Haifa, Eilat and Ashdod are havens for the types of floating liners that were recently described by UK charity Tourism Concern as 'floating abominations', not only because of their environmental track record or the lack of tourism money going into the local economy but also because of labour abuses. In our books, cruise liners of this giant, floating hotel nature, are highly irresponsible ways to vacation.
Eilat
Eilat, on the Red Sea, translates beautifully as a 'grove of tall trees', and may have been once. Now it's a grove of ghastliness. A concrete mass of resorts, popular with European sun seekers during the winter months. Scuba diving is big business but ensure that operators adhere to responsible diving practices. It's a money spinning town of duty free shops, cruise liners, cocktail bars and, oh yes, a biblical theme park.
Sound & light show
Just as the crowds dissipate, and you manage to grab a moment of quiet contemplation in Jerusalem, taking in the archaeological magnificence of the Tower of David, the queues start to form for the 'Night Spectacular'. A 45 minute nightly projection, creating a trompe d'oeil storybook effect about the story of Jerusalem on the walls, with a soundtrack booming through 14 speakers.
Eating & drinking in Israel
Hummus is staple and stupendous. For chickpea chic, check out hummus kawarma, with lamb mince garnish.

You have to wait until Saturdays to gorge on the Yemenite pastry snack, jachnun, as this is the only day it is served. Eat with boiled egg and skhug, or hot sauce.

Turn a blind eye to calories when kanafeh comes to the table – an Arabic cheese pastry recipe soaked in syrup.

The 'Shuk Bites' card at Machne Yehuda market is inspired. It allowed us to eat our way from one stall and shop to the next for one bargain ticket price. This is the way to go.

Our top Israel Vacation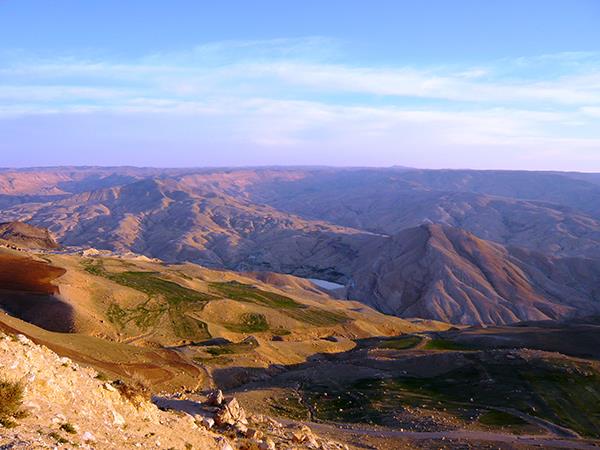 A tailor made tour of Jordan & Israel, breathtaking sites & fascinating history
From
US $

2650
15 days
ex flights
Tailor made
If you'd like to chat about Israel or need help finding a vacation to suit you we're very happy to help.
People & language
There are two official languages in Israel: Arabic and Hebrew, as well as many other languages heard on the street, including Russian, French, Spanish, Amharic and Yiddish. As for identity, that is never an easy one in Israel. But about 80 per cent of Israelis identify themselves as Jewish, and the remainder as Arab or Palestinian, or both, Bedouin, Baha'i, Muslim, Christian or Druze.

Shalom means peace, but also means hello and goodbye in Hebrew and Salaam the same in Arabic.

Sababa is slang for cool or great in Hebrew, but actually comes from Arabic.

Thanks = 'Toda' in Hebrew and 'Shukran' in Arabic.
Gifts & shopping
Local spices are two a penny in the souks throughout Israel.

If art is your thing, then leave plenty of room in your suitcase for Safed, an artists' colony, brimming with beautiful things.

With over 500 beekeepers in Israel, there is artisanal honey for sale everywhere.

Wineries are buzzing too, with over 300 boutique ones in Israel. So, leave room in your checked in luggage for a bottle of Israeli Cabernet or Chardonnay.

Leather artisans are in most of the souks, but be prepared to barter.

Jerusalem is completely divided in half, of course. And one half of it is fast asleep on Sabbath, and the other half is awake. So you can always find some part that is buzzing.

How much does it cost?
Inexpensive Lunch: £7.50

Tel Aviv's Tel-O-Fun city bike
scheme: £4/hr

Bottle of local honey: £4

Shuk Bites Machne Yehuda
market card: £19

Local beer: £5
A brief history of Israel
Given that the State of Israel was created as recently as 1948, its history is relatively complex and, of course, is still the source of ongoing national and international conflict. The history of the region as a whole goes back as far back as the word 'ancient' can possibly be stretched but, for the purposes of this Israel travel guide, we will only look at the state of Israel's history since its creation.
Nor do we don't seek to make sense of the Middle East conflict here, but just try to give a quick summary of the chronological events following the creation of the state of Israel. So that, when you visit, you have a good starting point from which to ask more of your own questions, seek answers and make your own opinions.
Read more
Back to the top
Convert currencies