It is worth noting that many Israel vacations also include trips to Palestine, although few will dare to put the same words in one sentence. They are usually called 'Holy Land' trips, because travelers who care about religion, archaeology and beautiful, wild landscapes know that they don't stop because of a line on a map. They want to see it all. Wander through desert wilderness and meet Bedouin people. Absorb the ancient cultures, Jewish and Arabic, of Jerusalem. Relish the Roman remains of Caesarea or Masada. Or take a poignant pilgrimage to the Sea of Galilee or Nazareth and, undoubtedly pray for peace in this terrific and yet, still terrifyingly traumatized land.
1. Sea of Galilee
2. Caesarea
3. Jerusalem
4. Nazareth
5. Masada National Park
6. Dead Sea
7. Mount Carmel
8. Safed
9. Golan Heights
10. Yad Vashem
11. Megiddo National Park
12. Rosh Hanikra
13. Jaffa
14. Galilee Walking Trail

1. Sea of Galilee
Also known as Lake Kineret, it's not only a place of Christian pilgrimage but also the largest freshwater lake in the country, with a backdrop of the Galilee Mountains and Golan foothills. With beaches all around, water sports abound and its impressive hiking route takes in Capernaum, known for the Biblical loaves and fishes miracle. And the Mount of Beatitudes, the site of the Sermon on the Mount.
2. Caesarea
A town built by Herod the Great and, although his reputation was far from great, the Roman ruins certainly are. Caesarea has seen various invasions over time, so as well as visiting the Roman port, aqueduct and amphitheatre, the ruins of the 12th century Crusader city are impressive. Modern Caesarea's architecture is similarly striking, now a highly affluent area managed not by the state, but a private enterprise.
3. Jerusalem
The capital, it's the Old Walled City that tourists hone in on. A holy site for Jews, Christians and Muslims, take in the iconic Wailing Wall, Islamic and golden Dome of the Rock shrine and Via Dolorosa, or 'Way of the Cross' leading to Holy Church of the Sepulchre. A complex city divided, the west is home to Israeli Jews, and east home to Palestinians. The Mount of Olives is the perfect place to take it all in.
4. Nazareth
A gloriously dichotomous city it has over 20 Christian churches revering Jesus of Nazareth, the most famous being the Basilica of the Annunciation, on the site of where it is said Mary saw the Angel Gabriel. But also the largest Israeli-Arab city in the state and busy metropolis. Seek out the Old City with ancient alleyways, Ottoman architectural hangovers and contemporary Middle Eastern cuisine and artisan shops.
5. Masada National Park
Either take a challenging hike or cable car up to this fort, built by Herod, an iconic location where Jewish Zealots took on the Romans, won them over and, when the Romans built a huge earth ramp to take it back again, Zealots committed mass suicide rather than be taken. Overlooking the Judean desert in one direction and Dead Sea in the other, Masada is exquisitely epic.
6. Dead Sea
Totally landlocked, this hypersaline lake is also known as the Salt Sea. It's the lowest place on earth, at 394m below sea level. Although many people want to experience the fun of floating in it, its location in the Jordan River Rift Valley is mesmerising. Cover yourself with its healing mud, visit mineral rich beaches, and treat yourself to a healing spa.
7. Mount Carmel
A low lying mountain range is plonked rather prettily between the Med and Jezreel Valley. As well as proffering wonderful walks, it's also homelands for Israel's independent Druze people, who identify as Arabic yet Hebrew-speaking and adhere to a monotheistic religion revering Jethro. Living mostly in settlements at Daliyat el-Carmel and Isfiya, and also in Golan Heights, they welcome tourists.
8. Safed
Another place that reminds us of the wonderful array of cultural influences making up the fragile fabric of this country, and which have held together for centuries. A hillside town, which thrived during the Ottoman years as you can see from the ruins of the Crusader fort, the Kabbalah movement thrives here (Madonna famously putting it on the world map a few years ago) as do many artists' communities.
9. Golan Heights
A contested territory, following Israel's capturing it from Syria in 1967 and occupying most of it ever since, you can't ignore the politico side of what has become known as a geopolitical site. Nor can you ignore the geo, with its elevated fertile plateaus, superb views, basalt cliffs and volcanic hills. All in contrast with the ruins of 139 Palestinian and Syrian villages that were destroyed during occupation.
10. Yad Vashem
There are few words to capture this museum, as the Holocaust leaves us all speechless. The choice of its location on Mount Herzl, known as the Mount of Remembrance, is a beautiful one, overlooking the Judean Hills on one side and Jerusalem on the other. Also home to both the National and Military Cemetery, whatever your politics, it is impossible not to be moved by every aspect of this hilltop.
11. Megiddo National Park
Israel's largest archaeological site and still work in progress, with bi-annual digs on this UNESCO Site. Known as a 'tel' – a mound created by the remains of a human settlement slowly covered up over time – there are around 20 ancient cities piled on top of each other here. Also known as Armageddon, it is mentioned in the Bible as a place of apocalyptic battle.
12. Rosh Hanikra
Not only a stunning stretch of white limestone cliffs and underground caves, grottos and turquoise blue tranquility, Rosh Hanikra is also a welcome breathing space from cultural, historic or political overload. Albeit up on the Lebanese border, so security can be tight here. It is a very popular tourist spot, especially for families, so go early in the morning or late in the day to avoid crowds.
13. Jaffa
This ancient Tel Aviv suburb is an odyssey into Ottoman times with colourful alleys, multicultural restaurants and pretty, eons-old port overlooked by the Al-Bahr Mosque. The flea markets are very popular, although artisans fill all sort of corners in Jaffa, where Muslims, Christians and Jews co-exist happily through artistic expression. Such as at the Peres Center for Peace and the Arab Jewish Community Center.
14. Galilee Walking Trail
A 65km pilgrimage trail, otherwise known as the Jesus Trail, around some of Israel's eclectic landscapes. Stroll through the olive tree lined Galilee Hills, up to the outlook plateaus around Mount Arbel National Park. Or to the ancient fishing village of Capernaum, as well as the Mount of Beatitudes, aka Mt. Eremos, and believed to be the site of the Sermon of the Mount.
Our top Israel Vacation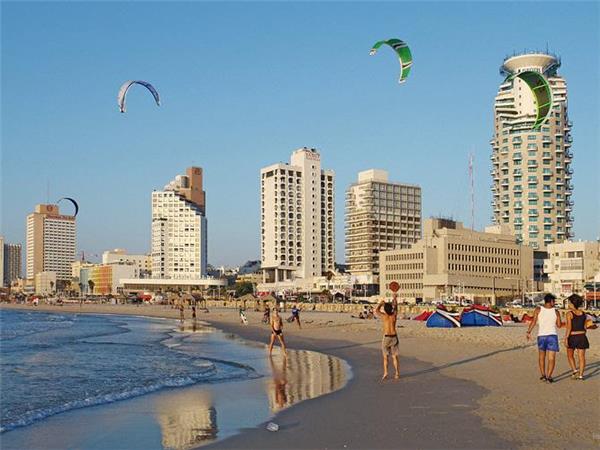 8 day tour from Tel Aviv to Jerusalem
From
£

1399

to

£

1499
8 days
ex flights
Small group travel:
2019: 6 Jul, 13 Jul, 20 Jul, 27 Jul, 3 Aug, 10 Aug, 17 Aug, 24 Aug, 31 Aug, 26 Oct, 2 Nov, 9 Nov, 16 Nov, 23 Nov, 30 Nov, 7 Dec, 14 Dec, 21 Dec, 28 Dec
2020: 4 Jan, 11 Jan, 18 Jan, 25 Jan, 1 Feb, 8 Feb, 15 Feb, 29 Feb, 7 Mar, 14 Mar, 21 Mar, 28 Mar, 4 Apr, 11 Apr, 2 May, 9 May, 16 May, 23 May, 30 May, 6 Jun, 13 Jun, 20 Jun, 27 Jun, 4 Jul, 11 Jul, 18 Jul, 25 Jul, 1 Aug, 8 Aug, 15 Aug, 22 Aug, 29 Aug, 24 Oct, 31 Oct, 7 Nov ...
If you'd like to chat about Israel or need help finding a vacation to suit you we're very happy to help.
Israel sample itineraries
8 day classic tour of Israel
Tel Aviv > Caesarea > Megiddo > Safed > Golan Heights > Sea of Galilee > Nazareth > Jerusalem > Masada > Dead Sea > Tel Aviv

8 day walking vacation around Galilee
Nazareth > Mount Precipice > Yavne'el Valley > Tiberias > Mount Arbel > Ginosar > Mount of Beatitudes
The following times give you a rough idea of the travel times between the main attractions in Israel.
Ben Gurion Airport – Haifa: 1hr 30 mins by train Tel Aviv – Jerusalem: 1hr 10 mins by bus Jerusalem – Masada National Park: 1hr 30 mins by car Galilee Walking Trail: 4-5 days on foot Tel Aviv – Nazareth: 2hr 45 mins by bus Tel Aviv – Eilat: 1hr by air

Convert currencies