Food and drink in KwaZulu-Natal
KwaZulu-Natalís cuisine reflects its rich history with influences that span from the indigenous foods of the Zulu nation to Afrikaner, European and Indian traditions. A fusion of fertile soils and cultural diversity are the order of the day in a province where the best of Zulu, Indian, and European food genres combine to provide opportunities for delicious dining. KwaZulu-Natalís food terroir encompasses sugar cane fields, banana and pineapple plantations and sardine runs. An influx of immigrants from around Africa has helped to cause an explosion of African flavours in South Africaís major cities. Deep in each city, local restaurants offer local cuisine - sample Mopani worms or stewed tripe, or how about fresh seafood and juicy steaks.
Our KwaZulu-Natal Vacations
Indian
The region is home to many South Africans of Indian origin whose ancestors arrived in the 1860s as indentured sugar cane workers. The profound influence of this community on the regionís food is apparent in the provinceís most famous street food, half a loaf of bread filled with curry, known as a Bunny Chow. The mutton curry bunnies at Silveraniís topped with mango pickle are a hot favourite. To sample this plentiful province head for the Saturday morning Shongweni Farmerís Market. Alternatively, visit Durban's Victoria Street Market for Indian spices, curios, and snack food.
European
Those in search of KwaZulu-Natal's colonial heritage will find it on the Midland's English style tea tables. This tiny, tranquil inland valley, embraced by the Drakensberg Mountains must surely have more tea pots, scones and sugar dusted shortbread than any other region on earth. It is also the heartland of KwaZulu-Natal's trout fishing industry. All KwaZulu-Natalís brown trout descend from a single spawn barrel sent from Scotland in 1890.
Zulu
Dr Elliot Ndlovu offers a rural village tour complete with an explanation of traditional healing and dietary practices at Kwa-Malulekoes Indigenous Herb Garden and Cultural Centre. The Midlands Meander features cheese makers, micro-breweries, organic farmers, and 2 wine estates. African Hopper Tours offer a 6 day combined Clarens (Free State) and Midlands Meander Tour with visits to local breweries, cheese makers and other gastronomic delights. Those seeking a Zulu perspective on the food terroir of KwaZulu-Natal should contact Dr Elliot Ndlovu who offers village tours that include a lunch laden with amasi soured milk, grilled meats and dombolo (dumplings). If itís modern Euro-Zulu food you're after, Fordoun Spa incorporates a range of Zulu indigenous vegetables into their fine dining restaurant dishes.
Our top KwaZulu-Natal Vacation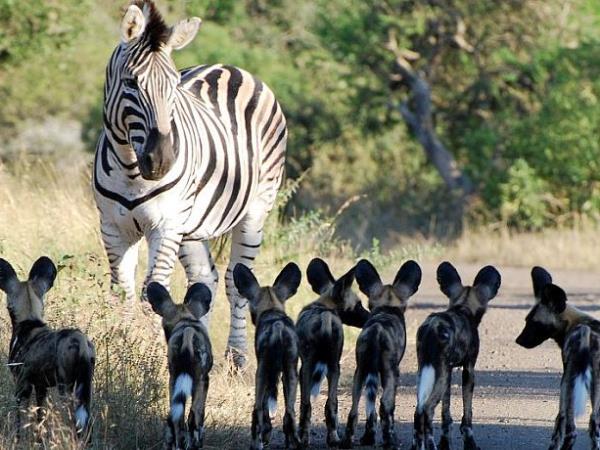 Preserve iconic wildlife in the breathtaking South Africa!
From
£

1295

to

£

5295
14 days
ex flights
Small group travel:
2023: 12 Jun, 26 Jun, 10 Jul, 24 Jul, 7 Aug, 21 Aug, 4 Sep, 18 Sep, 2 Oct, 16 Oct, 30 Oct, 13 Nov, 27 Nov, 11 Dec
If you'd like to chat about KwaZulu-Natal or need help finding a vacation to suit you we're very happy to help.

Afrikaans
The most famous Afrikaans traditional dish is the braaivleis, commonly known as the braai or barbeque, which long ago achieved iconic status. Dried, salted meat (biltong) is a tradition handed down from the original voortrekkers who dried meat for preservation purposes while dishes such as milk tart, koeksisters (syrup-coated braided doughnuts) and boerewors (stuffed sausage often cooked on a braai) are enjoyed throughout South Africa.
Wine
KwaZulu-Natal became a Wine of Origin under the classification scheme of South African wine in August 2005 and the first KZN Wine of Origin produced was a Pinotage Claret by Tony and Judy van Niekerk of The Stables Wine Estate in Nottingham Road in the Midlands region of the province. The estate has subsequently won many national and international awards including International Woman Winemaker of the World in 2008.
With its mild temperate climate, KZN has some of South Africa's coolest vineyards. The altitude of the Midlands has helped in cultivating grapes which like a cool climate - similar to Burgundy and Champagne Ė and the regionís Sauvignon Blancs are currently showing promise as are Pinotage, Pinot Noir and Chardonnay. It is also hoped that the region will potentially produce some of South Africaís best Method Champagnes.
Beer
A KwaZulu-Natal Beer Route has recently been launched offering visitors a chance to learn more about the world of beer production. The Beer Route visits nine small breweries in the province with demonstrations of the art of beer making, beer tasting and the opportunity to purchase gift packs of the beer.

The nine breweries visited are: The Congella United National Breweries in Durban; South African Breweries in Prospecton, Durban; Firkin Hophouse Micro Brewery & Pub at the Pavilion Shopping Centre in Westville, Durban; The Nottingham Road Brewery at Rawdons Hotel in the Midlands; Wartburger Brauhaus in Wartburg ; The Ijuba-United National Breweries in Dundee in the Battlefields region; The Shongweni Brewery and the Zululand Brewing Company in Eshowe.