KwaZulu-Natal travel guide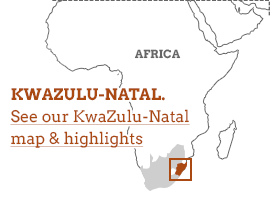 Before the end of Apartheid, KwaZulu-Natal was known simply as Natal. 'KwaZulu' - the 'Place of the Zulus' – was not recognised as an official part of the province. All changed in 1994 and rightly so; the Zulu people who dominate this region are proud of their distinct heritage and keen to share it with visitors that pass through their ancestral lands.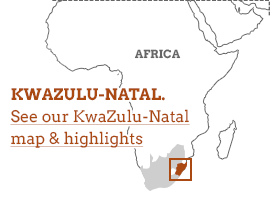 Zulu culture colours every corner of KwaZulu-Natal's mountain peaks and coral-fringed coastline, dotted with vast game reserves and villages of thatched
rondavels
.

Perfect for South Africa second-timers, or if you'd prefer something wilder than the Western Cape, here you can hike in the Drakensberg Mountains, visit Zulu homesteads and tour the battlefields of the Anglo-Zulu wars. Safaris are second-to-none too – in game reserves considered to be world-leaders in conservation. And it would be a crying shame to miss its coastline, a UNESCO-listed tropical utopia of hippo-filled wetlands, sand dunes and secluded white-sand beaches.
KwaZulu-Natal is
the wilder, more remote side of South Africa; the beating heart of conservation and Zulu culture.
KwaZulu-Natal isn't
just safari and beach. It does these spectacularly well, but don't overlook the Drakensberg Mountains, Midlands Meander and more.
Our KwaZulu-Natal Vacations
What we rate & what we don't
Self-drive vacations
An excellent way to explore KwaZulu-Natal and discover some of its hidden corners. Self-driving is easy in KwaZulu-Natal, with well-maintained, well-signposted roads. Don't miss the Midlands Meander – a driving route through beautiful rolling countryside linking potters, weavers, artists and breweries to gorgeous locally-owned accommodations.
Drakensberg Mountains
Granted, many KwaZulu-Natal itineraries will dip your toes into the 'Berg', sneaking a spectacular view or two. But the hiking trails around these dramatic peaks deserve a serious chunk of your time. Trek to the top of the 'Amphitheatre' escarpment to Tugela Falls – the world's second highest waterfall, or through the beautiful Mahai Valley.
Wildlife conservation volunteering
Volunteer as part of an endangered wildlife research programme in one of KwaZulu-Natal's reserves for a no-frills yet unforgettable immersion into the African bush. Daily game drives see you radio-tracking key species, monitoring sightings and perhaps, if you're lucky, even helping to capture game for radio collaring.
Private game reserves
While Hluhluwe-iMfolozi is KwaZulu-Natal's big name when it comes to safaris, don't overlook the province's myriad smaller, private reserves – including Phinda Private Game Reserve and Tembe Elephant Park. These offer excellent safari experiences, with luxury lodges nestled in the heart of the reserves, intimate game drives and walking safaris.
Beach time
We're not saying
KwaZulu-Natal's beaches
themselves are overrated – quite the opposite, they're deserted and spectacular with miles of Indian Ocean surf – but there's so much to see and do along this glorious coastline that simply sitting in the sunshine won't cut it. Watch migrating humpback whales, snorkel among pristine coral reefs, visit Zulu villages or kayak past hippos. As well as enjoying those shining white stretches of sand.
Hunting reserves
The link between hunting and conservation is controversial, oft-debated and far from black-and-white. Both privately-owned and government-owned game reserves in KwaZulu-Natal use hunting concessions as a way to generate critical income for vital conservation work. Here at Responsible Travel we won't promote any hunting trips – but choose the reserve you visit carefully if you want to avoid any association with hunting in KwaZulu-Natal.
Fake culture
Zulu culture is ubiquitous in KwaZulu-Natal, but while many lodges and camps will offer performances from local dancers and other cultural events, much of this type of entertainment feels inauthentic and staged. We recommend staying in lodges which are owned by or invest in local communities - which offer much more enlightening village visits and cultural exchange.
Our top KwaZulu-Natal Vacation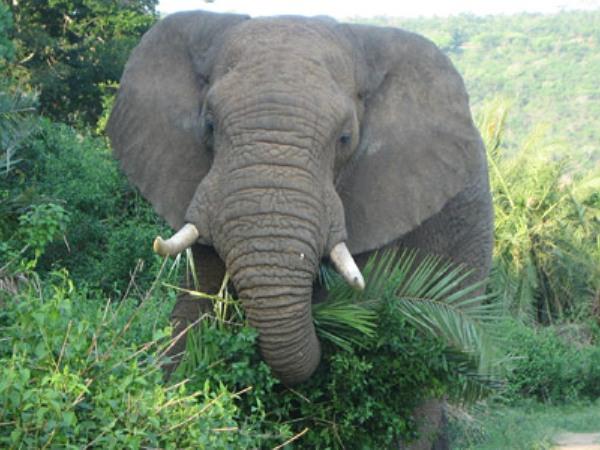 Discover Kwa-Zulu Natal with a qualified botanist
From
£

3200
13 days
ex flights
Tailor made:
This trip can be tailormade throughout the year and can be adapted to suit your interests, budget and requirements as necessary
If you'd like to chat about KwaZulu-Natal or need help finding a vacation to suit you we're very happy to help.

Food, shopping and people
A reflection of the strong Indian influence in Durban, no trip to KwaZulu-Natal is complete without a bunny chow – a tasty street curry served up in a hollowed-out loaf of bread.
As with anywhere in South Africa, braais – a selection of meats including boerewors (stuffed sausage) grilled over a barbeque - are ubiquitous in KwaZulu-Natal.
If you want something more traditionally Zulu you can expect grilled meat to be served with dombolo – dumplings.
Don't miss the cheese and wine producers, and the breweries along the Midlands Meander. All local, often with Zulu influence.

KwaZulu-Natal's cuisine reflects its rich history with influences that span from the indigenous foods of the Zulu nation to Afrikaner, European and Indian traditions.

Gifts and shopping
Take a meander along the Midlands Meander for some of KwaZulu-Natal's best local handicrafts. This famed driving route takes you past artisan potters, basket weavers, artists and more.

Traditional Zulu beadwork is exquisite, and sold all over KwaZulu-Natal. Look out for geometric designs and intricately designed wire-framed figurines.
People and language
KwaZulu-Natal is home to Zulu, Afrikaner, European and Indian cultures whose influences are indelibly marked into the region's fabric. Dutch and British settlers originally landed at the Western Cape, spread into the region and came face to face with the Zulu Nation – united under the legendary Zulu King Shaka whose legacy is still revered by Zulu communities today. In Durban, the influence of the largest population of Indians outside the Indian subcontinent can be seen in its spice markets and ubiquitous bunny chow – curry served in a hollowed-out loaf of bread. Since the end of Apartheid these groups no longer need to live forcibly separate lives – but integration is slow, and inequality between minority white South Africans, and black, coloured and Indian South Africans is still substantial.
While the majority of KwaZulu-Natal's population speak Zulu as their first language, English is widely spoken, and you're still likely to hear a few words of Afrikaans slang. Greeting Zulu hosts in isiZulu will raise a genuine smile.
Don't worry if you can't understand Durban slang – this mix of fast-paced Indian colloquialisms, chilled-out beach talk and Zulu phrases can be nigh-on incomprehensible.
A robot is a set of traffic lights.
Zulu people will call their elders Baba or Mama (father or mother) whether they are related or not. It's a sign of respect.

The ubiquitous Zulu greeting is
sawubona
– the equivalent of good morning/afternoon. But remember it's
sanibonani
if you're addressing more than one person

A brief history of KwaZulu-Natal
KwaZulu-Natal is the homeland of the Zulu people who trace their origins back to the warrior Nguni tribes of Central Africa that had slowly migrated south over many centuries and reached what is now South Africa during the 16th Century. The name 'Zulu' means 'heaven' in the Nguni language and was the name of the founder of one of the most powerful Nguni clans, Zulu kaNtombhela.
Read more