KwaZulu-Natal is home to some of the finest game parks in the world including Hluhluwe-Imfolozi, the oldest in Africa. The Big Five - lion, rhino (both black and white), elephant, buffalo and leopard – can all be seen in KwaZulu Natal alongside a huge range of other game animals including cheetah, zebra, hippo, crocodile, giraffe and warthog as well as rare and exotic species like the nyala antelope.
The province's parks and reserves are expertly managed by Ezemvelo KwaZulu-Natal Wildlife which, during more than 100 years of formal conservation, has received many awards for the quality of its service to conservation and for the high standard of management of the province's natural resources.
Our KwaZulu-Natal Vacations

PODCAST
Phillip Khumalo, Amakhosi Guide
"When a lion sees a cheetah, he will chase the cheetah because they compete for food. A lion won't allow any other predator around him." [2:09]
Hluhluwe-Imfolozi Park
Established in 1895 when the first conservation laws were put into practice, Hluhluwe-Imfolozi is the oldest game park in Africa. Located in Zululand in the north of the province, the park was once the hunting ground of Zulu kings including Shaka and Dingiswayo. Today, the Big Five stalk the savannah alongside a huge range of large mammals including cheetah, wild dog, zebra, giraffe, hyena, jackal, blue wildebeest, impala, waterbuck, common and mountain reedbuck, nyala, kudu, bushbuck, steenbuck, duiker, warthog and more than 300 species of birds.
Hluhluwe-Imfolozi is an amalgamation of two parks. Hluhluwe, in the north, is cooler, higher and more forested while Imfolozi, in the south, is dryer and flatter. As the home of Operation Rhino in the '50s and '60s, the park became world famous for bringing the white rhino back from the edge of extinction. Numbering less than 20 animals in 1900, there are now more than 10,000 worldwide.
Ithala Game Reserve
Located in the rugged thornveld of the Ngotshe Mountains in northern KwaZulu-Natal, Ithala is renowned for its scenic beauty and geological diversity. With a topographic profile that ranges from 400 metres above sea level in the north to 1,450 metres in the south, the reserve's terrain extends over lowveld and densely vegetated riverine valleys to high-lying grassland plateaus, ridges and cliff faces. The area has been occupied by man for thousands of years and there are many sites littered with stone age spear and axe heads dating back 20,000 years.
uMkhuze Game Reserve
Located in northern Zululand, uMkhuze Game Reserve forms the north-western spur of the iSimangaliso Wetland Park. It is famous for being a Mecca for bird lovers and home to more than 420 bird species. The reserve has a huge diversity of natural habitats from mountains to broad stretches of acacia savannah, swamps and a variety of woodlands including riverine and sand forest. This diversity of habitats attracts a corresponding variety of wildlife including black and white rhino, elephant, giraffe, nyala, blue wildebeest, warthog, eland, hippo, impala, kudu and other smaller antelope.
Our top KwaZulu-Natal Vacation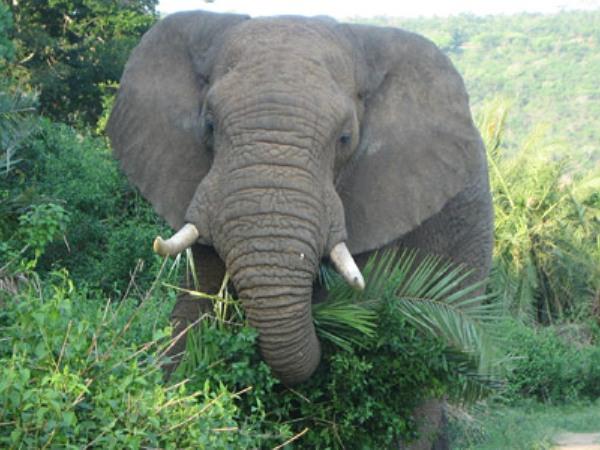 Discover Kwa-Zulu Natal with a qualified botanist
From
£

3200
13 days
ex flights
Tailor made:
This trip can be tailormade throughout the year and can be adapted to suit your interests, budget and requirements as necessary
If you'd like to chat about KwaZulu-Natal or need help finding a vacation to suit you we're very happy to help.

Pongola Game Park
Another of Africa's oldest reserves, Pongola extends from the slopes of the Lebombo Mountains on the border with Swaziland to savannah on the banks of the Pongolapoort Dam. The reserve has over 300 bird species and a range of plains game including elephant, white rhino, leopard, zebra, giraffe, blue wildebeest, kudu, impala, nyala, warthog, waterbuck, common and mountain reedbuck. The reserve is a co-operative conservation project between private landowners, tribal communities and government conservation services. One hundred years after the last sighting of elephant in the Pongola area, two breeding herds were reintroduced in 1994 and The Space for Elephants Foundation was formed to sustain an elephant population of 1,000 and re-establish ancient migration routes.
Ndumo Game Reserve
Ndumo Game Reserve near the Tembe Elephant Park on the Mozambique border is best known for its bird life with the highest bird count in South Africa (around 430 species). Its habitats include pans with yellow fever trees, thick bush wetlands and reedbeds as well as acacia savannah and sand forest. The reserve is home to black and white rhino, hippopotamus nyala, bushbuck, impala, red duiker, suni, and a very large population of crocodiles.
Tembe Elephant Park
This remote park, deep in an area of sand forests, pans and wetlands lies on the northern border between KwaZulu-Natal and Mozambique in an area that was once known as The Ivory Route linking the ivory traders of Mozambique and Zululand. It is famous for being home to the largest elephants in Africa. Today, over 220 of these gentle giants still remain in their ancestral homeland alongside the Big Five and many other mammal species right down to the tiny Suni, one of the smallest antelope in the world.

The park is situated within the sand veld ecological zone and consists mainly of closed woodland and secondary thicket formation. The zone falls within a transition area between tropical and sub-tropical forms and therefore is home to a great diversity of vegetation. Only ten vehicles are allowed into the park on a daily basis and these must be 4X4s to negotiate the sand tracks that form the road network.