Wildlife in KwaZulu-Natal
Kruger National Park might grab the headlines in South Africa, but you might also want to look further east for your wildlife kicks. KwaZulu-Natal counts the continent's oldest game reserve, Hluhluwe-iMfolozi, among its abundance of wilderness parks. Home to Operation Rhino in the 1950s and 60s, Hluhluwe-iMfolozi has been widely credited to have saved the white rhino from the brink of extinction.

KwaZulu-Natal lays claim to being the birthplace of wildlife conservation in Africa.

But wildlife vacations in KwaZulu-Natal go well beyond the Big Five. This province boasts a coral-fringed coastline that is home to some of the most biodiverse waters in the world, sheltering manta rays, turtles, reef sharks and a cornucopia of colourful fish. Migrating humpback and southern right whales are seasonal visitors, as are the vast shoals of the Sardine Run – one of the world's largest marine migrations - creating a feeding frenzy of sharks, dolphins and seabirds in their wake.
Our KwaZulu-Natal Vacations
KwaZulu-Natal wildlife highlights
Bird watching
KwaZulu-Natal's dramatic variety of landscapes – supporting over 670 species - makes the province a birder's dream. Head to the iSimangaliso Wetland Park and the Elephant Coast for a huge range of birdlife. Its wetlands and estuaries shelter waterbirds - including flamingos, storks and pelicans – while game reserves such as Ndumo and uMkhuze offer sightings of rare pink-throated twinspots, Neergard's sunbirds and Woodward's batis. The Drakensberg Mountains offer an alternative, and no-less bewitching birding experience with long crested eagles, jackal buzzards, lammergeiers and cape vultures all to be seen at Cathedral Peak.
Conservation volunteering
If you want wildlife to be your sole focus in KwaZulu-Natal then consider volunteering on an endangered wildlife conservation project based in one or more of the province's game reserves. You can expect a no-frills, away-from-it-all immersion into the African bush as you get stuck into an ongoing research programme monitoring populations of cheetah, rhino, leopards and more. While game drives will focus on radio-tracking the research teams' target species, you're still likely to come across the reserves' other wildlife too – including lions, elephants and giraffe. But ultimately this is work, not a safari – you are assisting (and helping to fund) vital permanent research teams. Expect long days, and a fair amount of in-camp admin and data-entry to keep research databases up to date. You'll also get involved with vital ongoing community outreach projects, which aim to empower local people economically – and provide education around the importance of, and value in protecting local wildlife.

Galen Schultz from our wildlife conservation volunteering specialist WildlifeACT explains their work: "We have permanent monitoring teams on each reserve we work on – aided and funded by groups of volunteers, therefore providing specialist priority species monitoring services to protected areas; delivering time and expertise to provide adequate management, capture, transport and reintroduction of endangered animals to new homes; developing and deploying state-of-the-art monitoring and anti-poaching measures and equipment in the field; and helping rural communities who live alongside protected wildlife areas to develop a love and respect for nature, provide them with reasons to protect it, and advance economic empowerment."
Hluhluwe-iMfolozi
Africa's oldest game reserve, established in 1895 when conservation laws were first put into practice, and the leading light of KwaZulu-Natal conservation. This venerable park is home to lions, leopards, buffalos, elephants and giraffe – but its rhinos are Hluhluwe-iMfolozi's calling card. Home to Africa's highest concentration of white rhino, conservation efforts here have been credited with saving the species from the brink of extinction. Bird lovers will be in paradise too – with over 340 species to spot including the colourful violet-backed starling and southern bald ibis.
iSimangaliso Wetland Park
South Africa's first UNESCO World Heritage site, the iSimangaliso Wetland Park (formerly the Greater St Lucia Wetland Park) is home to sand dunes and savannah, hippo-filled estuaries, mangrove-backed wetlands and beaches fringed by some of the world's most pristine coral reefs. The waters off the coast here are some of the most biodiverse on Earth – snorkelling and diving reveals manta rays, leatherback turtles, sharks and a host of colourful coral fish – while further inland uMkhuzi Game Reserve's swamps and savannah hide black and white rhino, hippo, elephant, giraffe and more.
The Sardine Run
One of the world's largest marine migrations comes to the KwaZulu-Natal coastline in June to July each year, as billions of these tiny fish travel north on cold currents towards Mozambique. The vast shoals – stretching up to 6km wide and 15km long – bring with them a feeding frenzy of sea birds, sharks and dolphins. And a festival atmosphere to KwaZulu-Natal's coastal towns which fill with people keen for a glimpse of one of nature's greatest marine spectacles. Watch it from a boat, or go scuba-diving to get closer to the action.
Whale watching
Humpback whales – and smaller numbers of southern right whales – migrate north from their feeding grounds in Antarctica to their breeding grounds off Mozambique along the KwaZulu-Natal coast in June and July each year. There's often no need for a boat trip – the whales can be seen breaching, tail-slapping and blowing their way up the coast from viewing platforms set among the Elephant Coast's sand dunes. And don't panic if you miss the whales heading north, they return along the same route in September and October.
Our top KwaZulu-Natal Vacation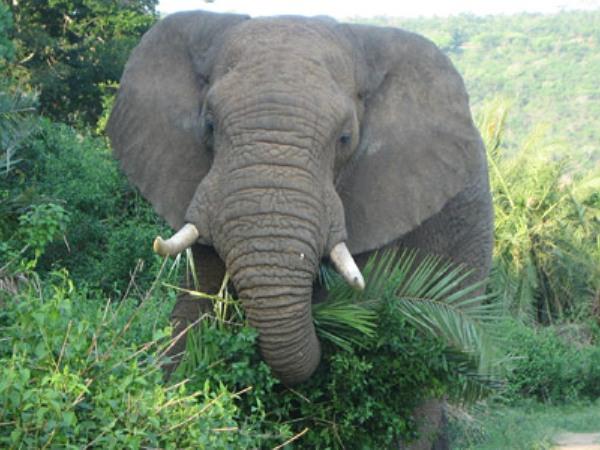 Discover Kwa-Zulu Natal with a qualified botanist
From
£

3200
13 days
ex flights
Tailor made:
This trip can be tailormade throughout the year and can be adapted to suit your interests, budget and requirements as necessary
If you'd like to chat about KwaZulu-Natal or need help finding a vacation to suit you we're very happy to help.