Ladakh photography vacations
"One of the main highlights of our photography tours in Ladakh is spending time with a Changpa nomadic community that we know well," says Geraldine Westrupp from our specialist operator Wild Photography Vacations. "The nomad lifestyle here is starting to fade away now. They're happy, but it's still sad for us to see this way of life coming to an end." But the lifestyles and traditions of the Changpa nomads, whole families invested in caring for their herds of yaks and goats throughout the year, have gone on almost uninterrupted for centuries. To be welcomed into such a community on the cusp of change, to join in with their celebrations, such as the Korzok Gu-stor Festival, and to be able to wander among them taking photographs freely, feels like an enormous privilege.

Ladakh is one of the most remote parts of India, situated north of the Himalayas. Though it was once at the crossroads of important caravan routes, since China closed the borders to Tibet and Central Asia in the 1960s international trade has shrunk to a trickle. That Ladakh's cultural and religious heritage appears as solid and unmoving as its mountains is borne in part from its isolation. To be up here on the Tibetan Plateau at the roof of the world, encountering local monks, shopkeepers, farmers and families, all welcoming you with respect and a smile, is a humbling experience. You will need to return that respect with your camera (your tour leader will ensure you know how) but when it comes to photography destinations, Ladakh is quite remarkable.

The scenery here is stark, striking and sparsely populated: sky-scraping mountains and plunging valleys, monasteries that date back centuries perched precariously on cliffs, lakes the colour of sapphire. If you find yourself moved to poetry, you wouldn't be the first. Ladakh is a beautiful wilderness, with a peaceful, Buddhist culture that assures hospitality whether you're visiting people in their homes, or shaking hands in the crowds at a harvest ritual. "A true adventure," said Pamela Jones, who travelled there in 2018, "absolutely loved it."
Our top Ladakh Vacation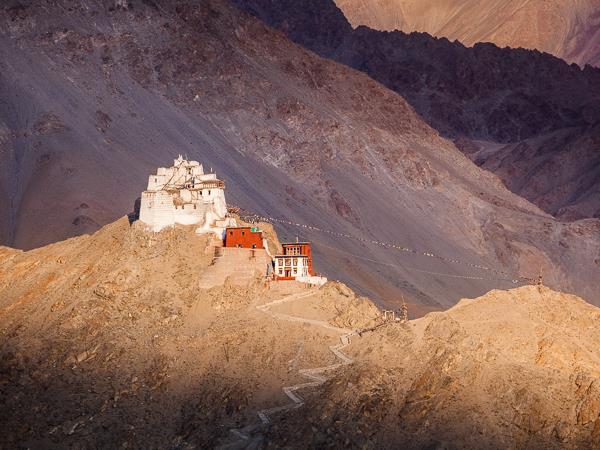 Inspirational photographic expedition to stunning Ladakh
From
£

3750
17 days
ex flights
Small group travel:
2024: 1 Jul
If you'd like to chat about Ladakh or need help finding a vacation to suit you we're very happy to help.

Subjects
The images you'll take home from Ladakh reflect the amazing level of trust that your operator has managed to secure through years of working with local people, and supporting their communities economically. "The Changpa people that we work with lost almost all of their animals in one harsh winter," affirms Geraldine. "We bought some goats to help them get started again, and since then we've seen families thrive just from that one small intervention. Their kids are getting better educated and soon these nomadic families will no longer exist. But for now we have a great relationship with them which really opens doors."
The Lamayuru Monastery is among the oldest and most dramatically situated in Ladakh, set on a tall cliff and surveying a magnificent, lunar-like landscape with snow-capped Himalayas all around. There is the impressive Basgo Gompa fortress nearby, built of mud bricks and protecting three Buddhist temples. And there is the Nubra Valley, 'the valley of flowers', where the fertile land produces walnuts, apricots, blood apples and almonds. Two-humped Bactrian camels stalk the chilly sand dunes around the village of Hundar here.

You might catch sunrise above a white-domed stupa (a Buddhist monument often used for meditation), or sleep over at a monastery, witnessing the monks engaged in their morning puja (acts of worship). You'll encounter yak herders, dancing lamas and smiling village children; blue sheep, Asiatic ibex and bearded vultures; bridges festooned with prayer flags that flutter in the breeze, and all of it framed against endless skies.

Assuming you're there at the right time of year, the runaway highlight of a trip here is likely to be spending a few days at the Korzok Gu-stor Festival. This is attended by many herding families who will often have sons at the Korzok monastery where it is held. Dancers in colourful masks perform alongside musicians wearing traditional dress, and slices of a 'sacrificial cake' are handed around, representing the destruction of evil. Learning a few phrases from your guide will help you negotiate portrait photography while wandering around the festival.
Practicalities
These are small group tours, typically beginning with an arrival into Delhi and then a mesmerising early morning flight over the Himalayas to the largest town in Ladakah, Leh. Over the course of around 17 days, expect to be on the move a lot of the time, although the itinerary will likely build in a day or so here and there for relaxation – you will be at high altitude, and will need a day at the start to simply acclimatise. Group numbers are usually capped at around 12, and while photographing a location you will often split up into twos and threes. A limited group size minimises intrusion in remote communities, enables you to stay in smaller, often family-owned accommodations, and ensures that everyone has sufficient time to get advice and support from the tour leader. As well as local guides, who are expert at scouting new locations and vantage points, you will be accompanied throughout by an experienced photography tutor.

When staying with the Changpa nomads, you'll sleep in tents with bathrooms attached. Water is a precious commodity in many parts of Ladakh and arrangements will be made wherever possible so that you can use refillable water bottles. You will also, for the most part, travel on foot, which allows for greater cultural immersion. And just as no effort is spared to minimise your environmental footprint, your tour will also aim for a positive social effect. As well as economically supporting the communities you pass through by using locally owned accommodations, restaurants and local guides, you will be encouraged not to photograph people or places of religious significance without permission.

The level of experience of each participant, as well as their equipment, will likely vary widely. Some will be content to head out on their own from the off with very little in the way of support, others may appreciate constant tips from a professional. An absolute beginner will still be able to get a great deal from a trip here, but given the range of subjects and taking into account that you will be moving from place to place at a fairly fast pace, it will help if you are familiar with the functions and capabilities of your camera (or smartphone) before departure.

In 2019 the Indian government, in an immensely controversial move, split the bitterly contested region of Jammu and Kashmir, of which Ladakh was the easternmost part, into two union territories. But despite the near-constant tension in Jammu and Kashmir between India and Pakistan, you need have no concerns about traveling to Ladakh. "It's very safe," confirms Geraldine. "We've been going since 1991 and people always said it's dodgy, but Ladakh is separate from Kashmir and Jammu. About the worst thing that we've experienced in all that time is sometimes the internet gets cut. It's peaceful, Buddhist and well away from any trouble."
When to go on a photography vacation in Ladakh
Trips usually operate in July, the summer, when you can expect hot, sunny days and cooler nights. It won't hurt to bring a fleece and hat along though just in case. Most roads and trekking routes are open at this time of year, along with tourism infrastructure. However your chances of seeing Ladakh's most elusive resident, the snow leopard, are practically zero, as they stick to much higher altitudes in the summer.
More about Ladakh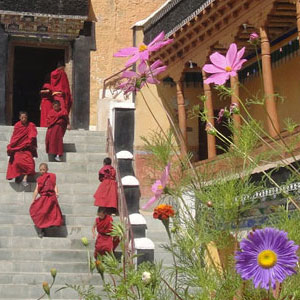 Feb or March for snowy mountains, July to Sept for warmer days and festivals.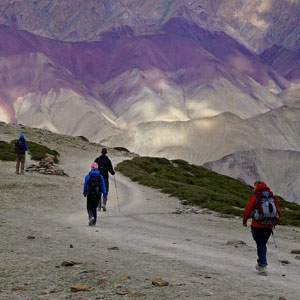 Ladakh is a remote, Himalayan region, home to the elusive snow leopard.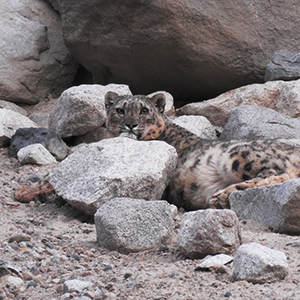 Explore a true wilderness to search out the big cats, with expert naturalists and guides.