Best time to visit Ladakh

The religious festivals in Ladakh are spectacular, but even more so out of season when the selfie crazed tourists have gone. Festivals between October and May are blissfully beautiful.

Most people travel in summer July-September when there are hot, sunny days and the nights are pleasant. Also, the roads, trekking routes, hotels and restaurants are open, with high passes closing during the later winter months. However, winter is superb here for seeing snow leopard descend from high peaks in search of food, the trekking routes between April and June are practically empty, and yet skies are still clear and homestays are open. Although nights are cold, so you need to be prepared. Winter is also a time for traditional monastery festivals, such as the Thiksey Festival in November, which are magnificent and totally authentic events.
Things to do in Ladakh...
The wonderful thing about trekking in Ladakh is that you have super elevated terrain – which doesn't require super elevated climbing skills. Just good fitness and a head for heights. And you really hit the heights here – Himalayan ones no less, trekking the Markha Valley in around eight days, or the easier Likir or Sham Trek in three days. Aim even higher and trek to Stok Kangri peak at just over 6,000m. If conquering one Himalayan summit isn't enough, try three peaks and five mountain passes in 18 days.
Visitors looking to imbibe Ladakh's culture usually head east to explore the Buddhist traditions that the region is famous for, although half the population of Ladakh is Muslim. But it is the Buddhist, Tibetan-influenced gompas or monasteries, and stupas or shrines that are scattered throughout the mountains that most tourists are drawn to. Such as Shanti stupa in the Leh or, in contrast, Rizong monastery, Ladakh's most remote place of worship north of Alchi. The heritage is also tied up in Silk Road traditions, and traveling along the iconic Khardung La Pass takes you through this ancient world of caravan trading.
For wildlife watching, Hemis National Park's mountains are home to the elusive and spectacular snow leopard, as well as ibex, wolf, blue sheep and lynx. Trek with local experts, who have the gift of spotting snow leopard as descend from the peaks in the height of winter in search of food. February/March is the best time to see these beauties.
Things not to do in Ladakh…
Expect luxury. Vacations in Ladakh are about trekking, wild camping and staying in welcoming homestays with a few remote hotels as well. Cocktails? Forget it. Sundown over the Himalayas sipping hot toddies out of a flask, that's more like it. Swap fluffy robes for the comfort of a traditional yurt, and transcendental meditation replaces digital communication. As for organic food – not a problem. It's always been the way to do things in Ladakh, which is all about the natural.
Just go in summer. So few people travel here outside July-September, that you will have the place to yourself. Stay in homestays, trek with expert guides, track snow leopard in February and March and enjoy totally untouristy monastery festivals such as in Stok when the brightly robed monks perform ritual masked dances. Flights are much cheaper during winter months too. Skies are clear and blue, so it is also a great time for photography.
Go it alone. Not only are roads inaccessible outside summer, there are always issues, such as glaciers melting and roads becoming impassable, or encountering a slow-moving military convoy on a mountain pass where overtaking is not possible. Local vacation companies know the ins and outs of road travel as well as trekking, and have support networks if you need help of some kind.
This isn't like the rest of India, so don't expect people to speak English or Hindi. Ladakhi is the language, and you can buy a phrasebook in Leh, or learn a few key phrases online before you go. An easy one is 'Jullay', pronounced joo-lay, which covers all bases for hello, goodbye and thank you.
Our top Ladakh Vacation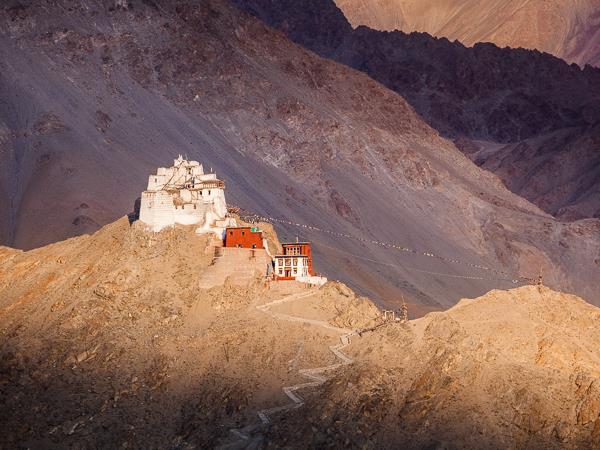 Inspirational photographic expedition to stunning Ladakh
From
£

4250
17 days
ex flights
Small group travel:
2024: 26 Jun
If you'd like to chat about Ladakh or need help finding a vacation to suit you we're very happy to help.

Tips on what to expect
Valerie Parkinson, tour leader from our Ladakh supplier, Exodus:

"Don't expect 5 star luxury – there are good hotels and simple guest houses but be prepared for basic accommodation outside of Leh, but no bars or pubs. There is usually (but not always) WiFi in the hotels in Leh but outside of Leh and trekking there is no mobile signal or WiFi – a real treat of being cut off from technology. There aren't really air conditioned coaches either."
"If you love trees and forests don't go to Ladakh. It is a wonderful mountainous desert with a wonderful landscape of multi coloured barren mountains – blues, purples, greens and browns – the mountains shine in the high altitude light but there are not many trees."
When to go
Valerie Parkinson:

"If you want to see the masked dances at a monastery festival don't go to one in the summer (ie. Hemis, Phyang or Tak Tok) as they are full of tourists. Find a festival off season (Oct-May); you will be one of the very few visitors at that time and can enjoy the experience. Spittuk, Tikse, Chemre, Stok and Matho all have festivals off season. At Matho the state oracles appear and thousands of Ladakhis come to see the spectacle so it is very busy."
Jonny Bealby from our supplier, Wild Frontiers:

"In terms of what to pack think trekking and adventure, so plenty of layers, with lightweight and slightly heavier fleeces, some good walking boots and probably walking poles. You'll probably need a head torch and the like as you are almost bound to so some camping. And I really advise carring a 'Life Straw' self-filtering water bottle. So many tourists go to Ladakh and work their way through literally hundreds of plastic bottles. If you have one of these brilliant devices you can cut that out completely. "
Valerie Parkinson

"Take a reusable water bottle and whilst in Leh visit the dzomsa – for Rs7 you can buy safe drinking water. Plastic is not recycled in Ladakh and plastic never biodegrades at high altitude, so try not to buy drinks in plastic bottles. Try the fresh apricot juice or sea buckthorn juice – also available at the dzomsa."
Altitude tips
Jonny Bealby:

"First and foremost, beware of the altitude, particularly if flying in from Delhi. The difference in altitude is over 3,000m which is pretty intense and needs to be managed. As such take the first couple of days very easy: walk around Leh, sit on rooftops enjoying the amazing views, drink plenty of local tea and don't do too much – at most visit the Indus Valley monasteries but not much more. And avoid lots of heavy red meat, it's much harder to digest at altitude."
Jim O'Brien, Director of our suppliers, Native Eye Travel:

"If you are traveling in Ladakh or Kashmir, try and coincide your visit to one of the monasteries when morning prayers are going on, because it is something else to see. Especially the small ones off the main monastery trails."
Jonny Bealby:

"Although you are very welcome in the monasteries, you should observe rules while there, and of course not smoke, but also not wearing shorts or anything revealing… which goes for both sexes."
At Responsible Travel, we think the best people to advise our travelers are often... other travelers. They always return from our tours with packing tips, weather reports, ideas about what to do - and opinions about what not to.

We have selected some of the most useful Ladakh travel advice that our guests have provided over the years to help you make the very most of your vacation – and the space inside your suitcase.

...Leh is a lovely town to start in and you feel you learn about the culture, particularly Buddhism.

"Listen to your leader and drink plenty of water to avoid altitude sickness. Don't do too much when you first get to Leh in order to acclimatise properly. Enjoy the views!!!... The cultural elements were great too and a brilliant way to acclimatise safely… Leh is a lovely town to start in and you feel you learn about the culture, particularly Buddhism. Don't expect lots of snow peaked mountains… but gorgeous none the less!" – Ellie Hawksley, trekking in the Markha Valley

"This was a trip of a lifetime for me as I had wanted to visit this area for a long time. The vacation surpassed all expectations by far! … Be prepared for different temperatures and aware of the effect of the high altitude on your wellbeing." – Irene Nicoll

Make sure you have good telescope, binoculars and camera lenses. Even if you don't see snow leopards, they are needed for the birdlife. Suggest getting a solar powered charger for electrical equipment - they don't weigh much and work really well. Have a care if you suffer from vertigo - you will be climbing up the side of mountains and walking along narrow trails in order to get good vantage points! My most memorable part? Actually being able to watch snow leopards in the wild - the main aim of the trip. We spent nearly 50 hours watching interaction between several different cats including hunting and mating – Liz Cooke on our Snow Leopard tracking in the Himalayas vacation

...Be prepared for different temperatures and aware of the effect of the high altitude on your wellbeing.

More about Ladakh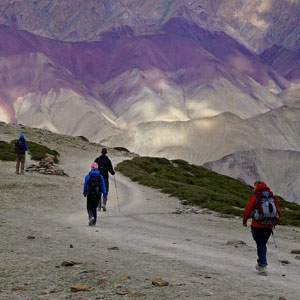 Ladakh is a remote, Himalayan region, home to the elusive snow leopard.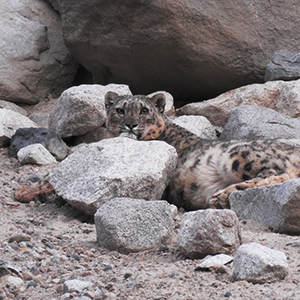 Explore a true wilderness to search out the big cats, with expert naturalists and guides.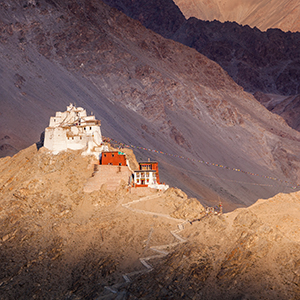 Ladakh photography vacations blend Himalayan landscapes and cultural immersion.