Montenegro went a bit ballistic after it gained independence, with property developers, hotel visionaries and, to use the official economic term, a load of greedy gits jumping on that dollar driven bandwagon. In 2008, just two years after independence, a BBC report announced that Montenegro was in receipt of more foreign investment than any other country in Europe. And most of that came from Russia. The cranes moved in, concrete was poured and steel girders were erected at various spots along its coast. Small traditional towns, such as Budva and now Petrovac, with traditional red tiled roofed houses and mountainous backdrops that looked like a marriage between Finland's fjords and Austria's Alps were drowning under a ruble rainstorm.
And then after the storm came the drought, with Russia's economy going from boom to bust. In many places the cranes stopped and construction sites were left unfinished. Also unfinished were some of the controversial issues around local corruption and money laundering that were allegedly happening around this rapid development of Montenegro's coast. Indeed, money laundering has been cited as one of the things that Montenegro has to fix before proceeding to EU membership. The nightclub scene in Budva was getting a seedy reputation, and as recently as 2014, the Mayor of Budva was arrested for corruption. As was one of his predecessors in 2010. Many questions remain unanswered and many buildings remain unfinished.
Sources : Independent Balkan News Agency, SETimes.com and BBC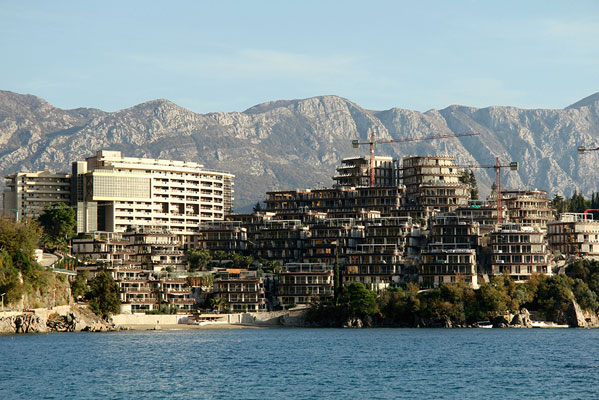 What you can do
It is worth noting that, in 2011, the Montenegrin Ministry of Sustainable Development and Tourism put in place a Coastal Area Management Programme (CAMP). This covers the entire coastal zone including the land and waters around Herceg Novi, Kotor, Tivat, Budva, Bar and Ulcinj. Based at the Ministry of Sustainable Development and Tourism, you can find out more about their work, proposals, endless consultations and long term promises on their
CAMP website
. In the meantime, it is crucial to support small, locally owned businesses along the coast. Talk to local people about how they feel, email CAMP if you feel strongly, and post your thoughts on social media. #Montenegro. That tends to get attention from the powers that be.