Montenegro multi activity
vacations guide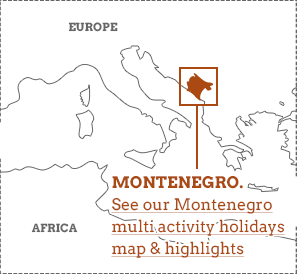 Montenegro is gaining a reputation as an adventure sports hotspot. Unlike neighbouring Croatia, with its miles of shoreline and thousands of islands, Montenegro has a short coast. People do come here for a beach break, but there's way more fun to be had if you get active. Down by the sea and beautiful Lake Skadar try sailing, kayaking and stand up paddle boarding, then head inland to romp in Montenegro's dramatic interior, rippling with rugged mountains and peppered with wildflower meadows, lakes and quiet villages.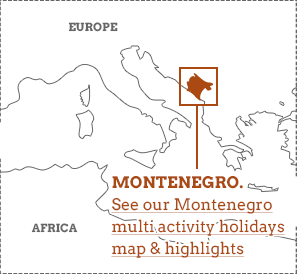 If you want active, Montenegro wants you – paddle, sail and snorkel the coast, then make for the mountains to hike and bike, horse ride and raft, canyon and climb.

While the activities serve up the rush, you're likely to get a buzz off the country itself. Montenegro has yet to thud heavily onto the tourism map. Its landscapes are unspoiled and its people incredibly friendly, making it easy to feel genuinely immersed once here. All in all, multi activity vacations in Montenegro are about so much more than adrenaline sports. They offer cultural immersion, exploration, self development and loads of good old fashioned fun in the fresh air. Find out more in our Montenegro multi activity vacations guide.
Our Montenegro multi activity Vacations
What does a Montenegro multi
activity vacation entail?
Multi activity vacations in Montenegro are usually a week or 10 days long, with daily activities plus downtime and perhaps a free day, too. You might be sailing along the coast one day, then biking and wild swimming in the mountains the next. Sea and lake kayaking, stand up paddle boarding, canyoning, orienteering, horse riding, zip wires, white water rafting and via ferrata rock climbing are all available in this tiny country. Some multi activity trips include jeep safaris through the mountains, paragliding, boat cruises on Kotor Bay and sailing along the coast, too, so it's not always you doing the leg work.
Activities range from gentle (short hikes with a picnic lunch) to totally challenging (two days of tough trekking, with wild camping overnight), so there's something for everyone, and each activity takes you deeper into the country's unspoiled landscapes, revealing a side to Montenegro that less energetic vacations don't see. Multi activity trips are often themed, too, ranging from family and all ages trips, to extreme adrenaline adventures, so you can pick according to your abilities and experience. Obviously, it's a good idea if you have a reasonable level of fitness and a love of the outdoors, but these are vacations, not boot camps and there's no need to be an Olympian.

On a personal level, the travelers who have reviewed multi activity vacations in Montenegro on the Responsible Travel site rave about how much fun they've had, and how rewarding these trips are – both physically, but also in terms of the cultural immersion that comes from mixing with friendly Montenegrin hosts and activity guides. Multi activity trips really punch above their weight, and are jam packed with experiences: meeting local people, learning about life in Montenegro and actively exploring incredible scenery; trying new activities and pushing yourself physically (if you want to); and the chance to bond with your friends or children, with none of the ennui that can set in on a static beach break.
What you'll be doing
What won't you be doing is the simpler question – Montenegro delivers a huge dose of active adventure possibilities, thanks in part to its mixed terrain. Some vacations will combine time on the coast or Lake Skadar with time in the mountains, canyons and lakes of the north, others are based in a single location – Durmitor National Park, for instance – with all activities taking place in and around that one place. Happily, the country is only the size of Northern Ireland, so it's easy to zip between very different landscapes and scoop up a dazzling array of activities as you do, from sailing and SUP on the coast, to hiking, mountain biking and rafting in the mountains.

Most of the locations for activities are utterly spectacular. White water rafting down the Tara River isn't your standard rafting experience, it's the chance to explore one of the cleanest rivers in Europe, which flows through the deepest canyon in Europe, and the second deepest canyon in the world, after the Grand Canyon in the USA. You'll kayak between hidden beaches on the coast, hike between high mountain lakes across plateaus full of wildflowers, or bike down dirt tracks through hills where only sheep roam.
"We went through areas which would have been difficult to drive, walk or cycle through, so this was a great way to see parts of the national park which I didn't otherwise experience. (And we were accompanied by the guide's adorable dog.) Rafting was also great fun, and being at the bottom of the Tara valley really drove home the majesty of the place." – Ruolin Wang in a review of her Montenegro multi activity mountain vacation all ages

You will always be accompanied by professional, qualified guides, who will provide all the instruction you need and add in lots of bonus information about the places you're exploring. All equipment is supplied, too, plus any transport to and from the activity sites – so really, all you have to do is relax and enjoy yourself, with all the logistics taken care of.
Families
Montenegro has family multi activity breaks covered, with specialist trips that include activities designed to suit little legs and short attention spans, such as gentle hikes broken up with hearty picnics, orienteering, sea kayaking on calm inlets between sandy beaches, and high ropes adventures.

Most multi activity vacations, whether classed as 'family' trips or not, will welcome children of all ages, although be aware that children younger than six can't take part in activities and those aged from six to 10 won't be able to do everything. As a guide, the minimum age for paragliding, canyoning, quad biking and horse riding would be 10 years, while for actual mountaineering it would be 13 years. Some multi activity vacation companies will be happy to tweak activities to make them age appropriate, or they can arrange babysitters, so both parents are still free to enjoy activities – just ask. There is often a discount, too, for children under 16.
There's usually WiFi back at the accommodation, so no teen has to suffer the indignity of an internet-free vacation. Having spent most of the day hiking, biking, rafting or canyoning without a phone in sight and miles from a signal, most parents are happy to let their kids chill out with their phone at the end of the day; in fact, that's pretty much the definition of a good balance, right?

"This is the perfect family vacation if you are keen to experience Montenegro, have a go at some physical activities - including some with a bit of a buzz, and have a chance to chill out." – Selina Overy in a review of her Montenegro activity vacation
Small group tours
Almost all multi activity breaks in Montenegro are organised on a small group basis, typically with around 10 or 12 people on each trip. That said, you won't necessarily be spending all your time with the other members of your group. There will be downtime between activities to relax in your apartment or rooms, read a book in the garden, go for a beer, ride a bike to the local town or take a nap. It makes for a perfect blend of privacy and sociability. Biking through the mountains of the north and stopping for wild swimming and a picnic, builds camaraderie with your trip mates, but then there's also the satisfaction of flopping into a lounger at the end of each active day, with tired muscles and lungs full of fresh air, to sit quietly with a drink and a book, or just relish the views.
Our top Montenegro multi activity Vacation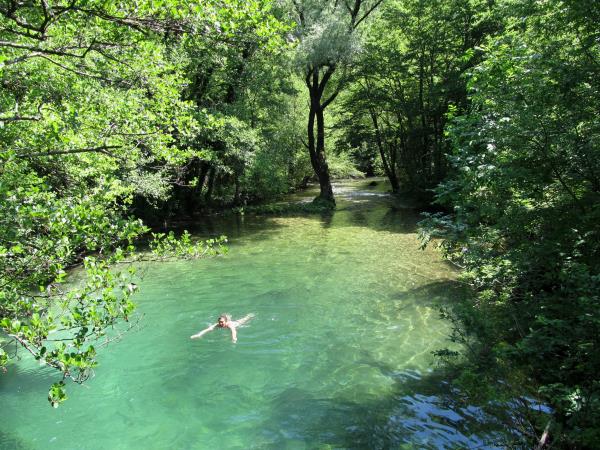 An active villa vacation at stunning Lake Skadar, Montenegro
From
£

745

to

£

845
7 days
ex flights
Small group travel:
2023: 1 Apr, 8 Apr, 15 Apr, 22 Apr, 29 Apr, 14 May, 28 May, 4 Jun, 11 Jun, 18 Jun, 25 Jun, 2 Jul, 9 Jul, 16 Jul, 23 Jul, 30 Jul, 6 Aug, 13 Aug, 20 Aug, 27 Aug, 3 Sep, 10 Sep, 17 Sep, 24 Sep, 1 Oct, 8 Oct, 15 Oct, 22 Oct
If you'd like to chat about Montenegro multi activity or need help finding a vacation to suit you we're very happy to help.

Cultural immersion
Multi activity vacations in Montenegro are about more than adrenaline sports or mountain hikes, they are also about meeting the people of this super friendly country. This doesn't necessarily get bigged-up in the trip's itinerary details, but read the reviews and travelers always mention how much they enjoyed getting to know Montenegrins.

This includes the local hosts, who collect you from the airport and fine tune activities for you, cook superb meals using regional ingredients, offer local recommendations and greet you after each activity with homemade cake. There's also the activity specialists who take you out on each adventure and are fantastically enthusiastic, or the hiking guides who know every flower and bird species in Durmitor National Park. And don't forget the café owners, honey vendors and the kids selling wild strawberries by the side of the road. These people are proud of their country and enormously hospitable, always happy to share local knowledge and explain more about life in Montenegro. You may have come for the activities, but find you leave with much more – an understanding of the country, its people and landscapes, and the lasting glow that only a week of warm, nothing's-too-much-trouble Montenegrin hospitality provides.

"This is a must do trip for anyone looking for physical and mental challenge and beautiful scenery coupled with fantastic hosts, company and food." – Georgia Klein, in a review of her Montenegro activity vacation
Accommodation
You'll generally be staying in rooms or apartments, owned by the vacation company, so there's a personal feel to accommodation and your hosts are on hand to help. In Durmitor National Park, you might stay at a mountain camp with self catering apartments that have TV and WiFi, surrounded by a big garden, with a barbecue and bikes available in case you want to pedal into town for coffee or shopping. There is table tennis and a barn containing communal dining space, too. Down near the coast, on Lake Skadar, you can stay in a renovated traditional farmhouse with private ensuite rooms, a communal kitchen and living room, and a terrace overlooking the lake. Basically, accommodation provides a nice balance between privacy and sociability. Forget staying in an anonymous hotel, and banish all memories of the kind of barrack style accommodation you might remember from school activity breaks – in Montenegro, accommodation is always comfortable, well kitted out and in a fabulous location.
Best time to go on a Montenegro
multi activity vacation
It's cold and snowy in winter, so the best time to go on a Montenegro multi activity vacation is from April to the start of November. Be prepared for soaring temperatures in July and August if you're on the coast or in Lake Skadar. Here, highs of 40°C or more are possible, but as you'll usually be mucking about on the water, it's easy to cool off. Up in the mountains, temperatures are lower, and sudden thunderstorms can drench you in high summer. Pack waterproofs, plus layers for the cooler evenings. By October, there may be a dusting of snow, but itineraries can usually be adjusted to cope.
Montenegro, month by month
Multi activity vacations don't run in Montenegro in December, January, February and March, due to the wintery weather. Even on the coast it's chilly, dropping to 2°C, with November and December also pretty wet, with an average of 13 or 14 rainy days a month and snow on higher ground. By March, temperatures begin to rise, with highs in the low teens, but you expect plenty of showers along the coast. April, May and June are superb for multi activity vacations, with temperatures pushing into the low 20°Cs, especially in the coastal lowlands and near Lake Skadar. The landscape is greening up and wild flowers are in bloom. May is also the best time for adrenalised white water rafting. The Tara River is at its highest now, after the winter rains, and the rapids are bigger than later in the season. The water is freezing, but you'll be provided with a wetsuit. In July and August, Montenegro can feel very hot, particularly on the coast. Temperatures here can nudge into the high 30°Cs now, so if you want to be active, you'll need to stick to the water and wear lots of sunscreen. Up in the mountains of the north, though, conditions are much cooler and no barrier to active high summer fun. Durmitor National Park, for instance, is 1,520m above sea level, making it sometimes as much as 10°C cooler than the coast, but typically hovering at around 22°C in high summer. September and October are great for multi activity vacations. The sea and lakes are blissfully warm for swimming. Pomegranates, persimmons, quinces, cornelian cherries and figs are ripening in the landscapes of southern and central Montenegro, and the beach forests that line some of the big peaks are turning golden. White water rafting on the Tara River is gentler now, as the water level has dropped.
More about Montenegro multi activity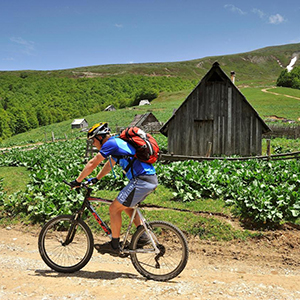 Our Montenegro multi activity map and highlights pinpoint the places that offer the perfect blend of exhilaration and exploration, inland and on the coast.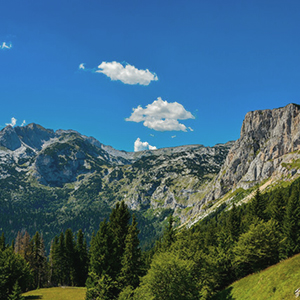 Dramatic peaks, glacial lakes, meadows and forests make up the unforgettably beautiful and rugged Durmitor National Park in northern Montenegro.