North America travel guide
Three of the biggest countries in the world are in North America – Canada, USA and Mexico. Each state and province has its own identity shaped by dramatically different terrain, climate and communities. The incredible distances involved in traversing these lands make for epic journeys that range from ocean voyages along the Inside Passage to diving deep into the cenotes and Mayan history of Yucatan. Islands tell their own stories, too – Hawaii, with its debate on independence, and Baffin Island, where Inuit villages and scientists share the ice with polar bears.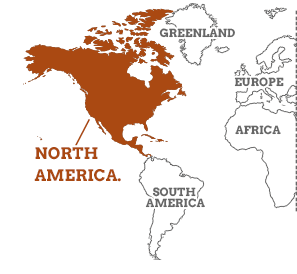 Get your kicks on Route 66, sure, but don't forget the beaches and rainforests of the Yucatan Peninsula, the glaciers of the Icefields Parkway, and wild Denali Highway.

Navigating the distances – and six time zones – involved is best left to the experts. They'll know, depending on your interests and requirements, whether you're better off whizzing around the highlights of Western Canada, exploring Mexico's Caribbean or Pacific coasts, or zooming in to focus on the Delta Blues and civil rights movements in the Deep South.

Keep reading our North America travel guide to find out the best way to explore this vast continent.
North America is...
diverse. Landscapes, cultures, weather and wildlife transform from state to state.
North America isn't...
just the USA. There's also Canada, the second biggest country in the world, Mexico and the self-sufficient islands of the Pacific and Arctic.
Our North America Vacations
North America map & highlights
Have we mentioned that North America is huge? At almost 250,000km, Canada has the longest coastline in the world after Russia. The Rockies chug along for 4,800km from British Columbia to New Mexico. Baja, the second longest peninsula on earth, is in North America, too – 1,200km of whale-traversed waters, sugar pine forests, deserts and mountains. Trains can be far and few between, especially when compared with Asia and Europe, so most vacations to North America use road transport on land (
converted school bus
, anyone?) or small ships to explore the Pacific and Caribbean coasts. Instead of highlight-hopping and spending all your time on the hoof, the best vacations take their time, diving deep into one spectacular region.
1. Alaska, USA
Alaska is the USA's wildest state. Neighbouring Denali and Wrangell St Elias national parks are bear, moose, wolf and caribou country, as well as the setting for Mount Denali (6,190m), the highest mountain in North America. On the south-east coast, Glacier Bay National Park is a popular and dramatic stop for small ship cruises – and a feeding ground for humpback whales.
2. Baja California, Mexico
Once whispered amongst in-the-know marine biologists, the Baja Peninsula has made a name for itself as a top whale watching destination over the last decade. Jump on a boat, kayak or paddle board to explore the southern tip, where sea turtles, pelicans, orcas, manta rays, sea lions and a whole cast of whales – including the mighty blue whale – live.
3. British Columbia, Canada
Squeezed between the Pacific Ocean and Coast Mountains, Vancouver is British Columbia's much-loved main city. Beyond the city limits, there's about 60 million hectares of river gorges, mountains and rainforest, where you can bed down in low-impact lodges run by First Nations Canadians and track bears with experts. Vancouver Island is just across the water, too.
4. Inside Passage
The 1,500km-long Inside Passage offers calm ocean sailing between Seattle and Alaska via the beaches and kayaking coves of Vancouver Island and Haida Gwaii. It's not just sailors who have taken advantage of this safe passage for thousands of years, either – whales and orcas also chase krill north in the summer.
5. Manitoba, Canada
Most people go to Manitoba province for one reason: to see polar bears. Join guides in the inhospitable Arctic tundra or stay in a wilderness lodge where polar bears wander the horizon while you sip your morning cuppa. Ghostly belugas hunt in Hudson Bay, caribou cause traffic jams while licking salt off the roads, and over 100 bird species (and the Northern Lights) soar overhead.
Yucatan Peninsula, Mexico
6. Yucatan Peninsula, Mexico
The Yucatan Peninsula pokes into the Caribbean Sea, reaching out towards Cuba. It's home to Cancun, yes, but we recommend making tracks for the Mayan ruins of Chichen Itza, Uzmal and Kabah instead. Merida is the capital city of Yucatan, where you can cool off with a horchata under the palms of the Plaza Grande or wander the ultra-modern Mayan World Museum.
Our top North America Vacation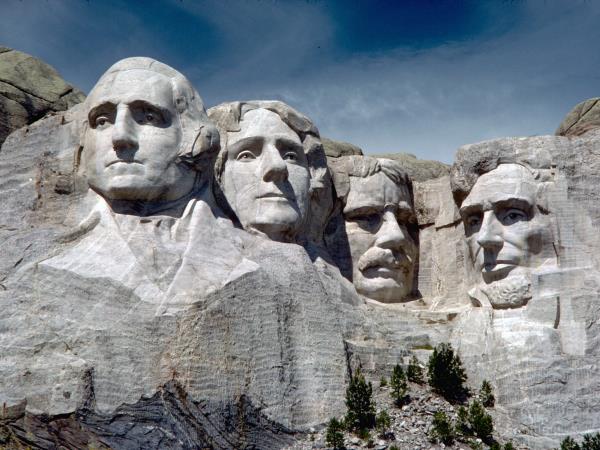 Explore the United States fantastic National Parks.
From
£

6500
24 days
inc UK flights
Tailor made:
This trip can be tailor made throughout the year to suit your requirements
If you'd like to chat about North America or need help finding a vacation to suit you we're very happy to help.

Fast facts about North America
What are the largest cities in North America?
The answers are quite different, depending on if you're counting by population or area. By population, the biggest cities in North America are Mexico City, New York City, Los Angeles, Toronto and Chicago. By area, the biggest cities in North America are Ottawa, Jacksonville, Houston, Mexico City and Phoenix.
What is the tallest mountain in North America?
Mount Denali – "the tall one" in the local Koyukon Athabascan language – is the tallest mountain in North America. It's also one of the most isolated peaks on earth, climbing 6,190m out of Alaska's Denali National Park, part of an ancient, sleeping chain of volcanoes. Mount Logan (5,959m) in the nearby Canadian Yukon comes a close second, followed by Pico de Orizaba, an inactive snow-capped volcano south-east of Mexico City.
What is the highest waterfall in North America?
It's thought that Pu'uka'oku Falls is the tallest waterfall in North America, dropping 840m from a cliff face in Molokai, Hawaii. It's even taller than Dubai's Burj Khalifa, the highest building in the world. However, there's no standardised way to measure a waterfall – some measure its full height, while others only count the unbroken stream of water – so any claims to highest waterfall fame are best taken with a pinch of salt.

Other towering waterfalls in the USA include Yosemite Falls (739m) and Ribbon Fall (491m) in California's Yosemite National Park. Time your visit here wisely, as both are seasonal and reliant on plenty of snowmelt. Canada's tallest waterfall is up for debate, but they're both in British Columbia. James Bruce Falls is 840m in total height, while Cerberus Falls has the tallest unbroken drop of water (475m).
What is the longest river in North America?
The Missouri River (3,767km), which flows from the Rocky Mountains in Montana before joining the Mississippi River at St Louis, is the longest river in North America. The Mississippi (3,730km) isn't far behind, starting north of Minneapolis, near the Canadian border, and sinking as far south as it can go, emptying out in the Gulf of Mexico at New Orleans.
More about North America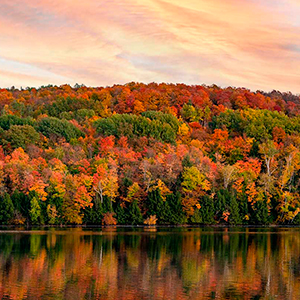 When should you visit North America? Our guide will help you decide. We also highlight some of the best festivals in North America.