When to go on a small ship cruising vacation in Scotland

Forget about the weather on these trips. That is for the skippers to worry about. Start thinking more in terms of beautiful light, soothing morning mist, and extraordinary western sunsets.

Expect four seasons in a day on the west coast of Scotland, or indeed cruising up through the Great Glen on the Caledonian Canal. Most cruises run between mid April and mid October, with temperatures ranging from single figures to teens. And nights can dip well below 10°C even in summer. Days are long in summer, however, with the sun setting around 10pm and later, depending on latitude. And unlike other countries in Europe, the light for photography is wonderful during this time, bathing everything in a warm glow. As for rain, it happens, with May the driest month in the Hebrides with only 17 days of rain.
Our Scotland cruising Vacations
Scotland cruising, month by month
Wildlife trips to the Outer Hebrides and, in particular, St Kilda archipelago, tend to favour July and August. The machair dunes are in bloom, which attracts the corncrake, seals come ashore in their hundreds and birds are prolific. Plus the conditions for getting out there are generally calmer. May is a great time to see nesting birds on the west coast and islands. Edinburgh goes nuts in August with the International and Fringe Festivals. If you want to see the capital as part of your trip to Scotland, arrange a small ship cruise in remote waters during Festival time and head to Edinburgh at the end of your trip. If you are traveling on inland waterways through rural Highland areas, April is a wonderful time as it is lambing season and the fields are a-jumping. Seals love to bask on the islands but particularly when they are ready to moult. For common seals this is August and for grey seals, February to April. You might think that October is too late for hitting the waters here. But not so. Apart from the fact that the light is amazing, foodies will love October in Scotland. Seafood is superb from lobster to langoustines, monkfish to mussels. And the game is on, with wild duck, grouse and pheasant going from 'flight to fork.' Around late September and October you may even be lucky enough to glimpse the Northern Lights. Lewis, Harris and the most northerly tip of Skye are popular spots for the Aurora to appear. The best time of year to watch whales and dolphins around the Hebridean waters is between April and September. Midge season is May until October, but only at dusk and on the water's edge. Skippers are experts at avoiding them and will often keep on the move at this time. So do not let the midges get you down. If you are keen on evening walks along the Caledonian Canal, for example, during this time, you will need a head net and some serious repellent. Ask your tour operator for their best brand. And don't be embarrassed about wearing a net; they are the norm.
Our top Scotland cruising Vacation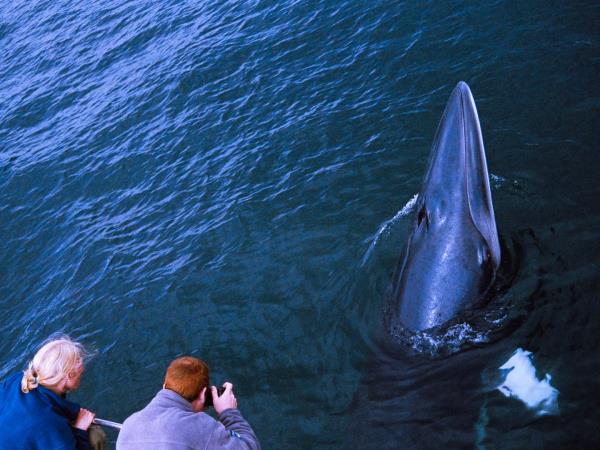 Spot whales, otters and eagles on Isle of Mull, Scotland
From £575 to £790 5 days ex flights
Tailor made:
This trip can be tailor made from late April to the end of September
If you'd like to chat about Scotland cruising or need help finding a vacation to suit you we're very happy to help.

Responsible travel recommends
Marie McGhee from our partner, The Majestic Line:
"Cruise off season! April and October are often better for sunny weather with excellent scenery and wildlife spotting opportunities. And the price is cheaper!"
Colette Dubois co-founder at our Scotland cruising partner, St. Hilda Sea Adventures:

"The best time to see birdlife and other wildlife in Scotland, where we take our guests, is June. The autumn is also a lovely time but you will see fewer birds. For the weather, June is often also the best month. People do worry about midges in Scotland, but we absolutely never have midges on the boat because there is always a breeze. And when we go onto the mainland, we always carry Avon Skin So Soft which is a fantastic product to stop the midge bites. But on the boat we never get them."
More about Scotland cruising