Wildlife on a small ship cruise in Scotland
Colette Dubois, co-founder at our partner, St. Hilda Sea Adventures:
"What I find is fantastic about Scotland and, in particular where we sail, is that it is so wild, and yet still so close to Glasgow. When we go sailing we meet very, very few other boats, and when we anchor we are often totally alone. If it was in the south of England, which is also beautiful, it would be packed with boats. But here it is really magical, because it is completely quiet, you are really lost. Sometimes you see a lot of wildlife, but to see it you've got to be very patient. You have to stay for a long time, be quiet and look around. Often people want to see the wildlife and they don't, because they don't stay there."
Our Scotland cruising Vacations
Whale music
After the silence, solitude and solace that cruising around the west coast of Scotland's inlets and islands can bring, it is the wildlife that stands out in most people's minds. The skippers on board these boats tend to be naturalists as well as navigators, conservationists as well as trusted captains. The range of wildlife you will hope to see includes porpoises, dolphins and even whales, not only in the far out waters en route to the Outer Hebrides, but also in the Sounds and Kyles that are closer to the mainland and wind their way between the islands. So get ready. You might see minkes off Mull or humpbacks off the Hebrides.
Scotland's seals
The Scottish islands are alive with the sound of music, and often this is actually of seals singing. These are grey seals, which wail in an eerie fashion as they move onto land and seek a space in the sand. Which can be a push at times, with hundreds packing into a colony in places like the remote Isle of Flodaigh in the Outer Hebrides, or the Monach Islands which is the largest seal breeding colony in the UK - these clever mamas giving us 20 percent of the country's seal pups.

Grey seals are larger than common seals, the latter being silent and not fond of singing, and grey ones identifiable by their hooked nose. Strangely, they are not always grey, but vary from almost black to creamy white if female, with the same for newborn pups. They can be seen basking throughout the year, but favour land when they are ready to moult which, for common seals is August and September, and grey seals is February to April.
Our top Scotland cruising Vacation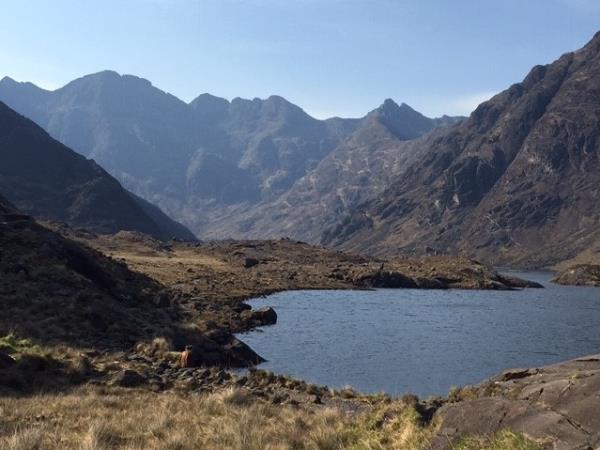 Sail Scotland's Small Isles and visit spectacular Skye
From
£

1520

to

£

2880
9 days
ex flights
Small group travel:
2024: 16 Apr, 10 May, 14 May, 19 May, 3 Aug, 8 Aug, 22 Aug, 7 Sep, 9 Sep
2025: 30 Apr, 4 May, 10 May, 20 May, 15 Jun, 31 Jul, 18 Aug, 19 Aug, 22 Aug, 5 Sep, 7 Sep, 9 Sep
If you'd like to chat about Scotland cruising or need help finding a vacation to suit you we're very happy to help.



High flyers

A voice so thrilling ne'er was heard
In spring-time from Cuckoo-bird
Breaking the silence of the seas
Among the farthest Hebrides.

- 'The Solitary Reaper' by William Wordsworth
There is a veritable frenzy of birdlife, especially on some of the uninhabited islands where cliffs and coast are highly protected. Such as the puffin colonies on the Treshnish Isles, short-eared owls on the Uists or common buzzards on the Outer Hebrides. Skye is sublime for birding, ranging from golden eagles to whooper swans. Look out for sea eagles off Arran and, in the breeding season, Burnt Islands' bird sanctuary is brimming with greater and lesser black backed gulls, oyster catchers, cormorants and eider ducks. Last but not least, white-tailed eagles were reintroduced to the West of Scotland in the 1980s after their populations had been wiped out by Victorian trophy hunters. They are now a frequent sight, particularly over the Isle of Mull.
Ring of Bright Water

The fauna frenzy on Skye's rocky coasts is usually over otters, as anyone who has read Gavin Maxwell's world famous book, Ring of Bright Water, knows - as it was set there

Otters also thrive around Loch Pooltiel on the North West coast, where they are well camouflaged while they fish. But your skippers will be sure to spot them, with wakes and ripples appearing on the surface of the loch and then, suddenly, a spiky tail appearing as the otter leaps out and dives quickly back in again. You can also go on an otter trail on the Uist Islands, organised by the RSPB.
More about Scotland cruising