Tips on Scotland cruising vacations
What to pack
Colette Dubois co-founder of our partner, St. Hilda Sea Adventures:
"It is important not to forget your waterproofs. Some people think that they can manage without. It is not because the weather is bad, but because when you put the anchor up in the dinghy you can get wet. They don't have to be fancy – cheap waterproofs which cost about £10 for the trousers are fine. We also ask people to bring clean shoes. People think that it is ok to have dirty shoes on deck, but you can't, because you have all the working things on deck when you go sailing, such as the sails, and so it is important to keep it clean. And bring something comfortable to change into when you go inside the boat. Something to slip into rather than tie laces, particularly for young children. Crocs are fantastic."
Marie McGhee from our Scotland cruising partner, The Majestic Line:
"Take loose clothing! The food on board is delicious and far too tempting – our guests never lose weight while on board. There is a shop in Tobermory that stocks kaftans for guests that can't do up their zips at the end of the cruise!"
Our Scotland cruising Vacations
Advice for families
Colette Dubois co-founder at St. Hilda Sea Adventures:
"I think Scotland small ship cruises are perfect for families because there is a lot to do on the boat. When we dock, we have a dingy in to go and visit little beaches, go fishing or see the seals. So the children can learn a lot. With children, we say a minimum age of seven, not because the boat is dangerous, but because they are so small, so they cannot use the equipment so easily, such as the toilet or the sinks. It is interesting to see family dynamics on the boat, and it is lovely to see young children on board, who are so fresh, enthusiastic and wanting to learn and anticipate. Teenagers can be less inclined to do things sometimes, although this is not always the case. On a couple of occasions, we had teenagers on board who were about to choose their university degrees, and after discussing things with Michael, the skipper, they changed their minds and did something else! They wrote to us later on to tell us, which was wonderful."
Marie McGhee from The Majestic Line:
"A private charter with our full onboard service is ideal for families – especially with several generations on board. Our vessels, with up to 12 guests, are the ideal size. The crew goes overboard to engage with all ages, ensuring everyone has the time of their lives, from small children to great grandparents. The family has the freedom to choose their own itinerary, shore visits, food and activities. Children love the fun and excitement of life afloat and adults can be as relaxed or as active as they like."
Itinerary tips
Marie McGhee from The Majestic Line:
"Take each day as it comes, there is no rigid itinerary! We have a great selection of idyllic stopovers and these are chosen according to the weather and the guests' preferences. Every cruise is different and a personal adventure."
Colette Dubois co-founder of St. Hilda Sea Adventures:
"People who come on our boat want to learn, to participate, to navigate. Sometimes they want to do nothing and just rest, and that is fine too. Do think about coming by train. A lot of people do, and they get a ticket on Scotrail that includes the ferry to Dunoon, and then we can organise a taxi to Holy Loch Marina, where we are moored. We are actually only an hour from Glasgow."
Accessibility on board
Colette Dubois co-founder at St. Hilda Sea Adventures:
"You need to be able to walk down the stairs to where we sleep. These are a cross between between stairs and a ladder, with about eight steps. It has wooden handles, but still if you are very overweight, or quite fragile, we need to check that you can manage this. If people are worried when they inquire, I send them a picture, but we have never had anyone have a problem with it. We had a lady who was 87 and she came on board with a stick, and she had quite a problem with her back, but she left her stick upstairs, and she managed, and it was a great pleasure to have her on board. "
Safety advice
Colette Dubois co-founder at St. Hilda Sea Adventures: "It is important that people listen very carefully to the skipper and to myself when they are on deck, and if they do the boat is extremely safe. We have never had an accident because people really listen. If not, you could do things that could kill somebody, such as when you use the boom, or not lifting the right rope, or lifting a handle when you shouldn't, the boom can crash down on the deck and kill somebody. That has never happened of course, but it is very important to listen."
Travel safely on a Scottish cruise
HEALTH
There is always a first aid kit on board and a fully trained first aider, often the skipper on these trips. Bring any special medicines with you especially as you may be in remote waters for several days.
If you are prone to sea sickness, do bring some tablets with you, along with natural remedies such as ginger tea.
Don't underestimate how much sun you might catch, even if it is overcast. So always bring a good factor sun cream, and an eco friendly one too, especially if you are planning on swimming in the water. These are sensitive marine environments.
Similarly bring good quality, protective sunglasses. Even if it is cold, the sun's rays can be harsh on water.
Check with your tour operators about any mobility issues. Sometimes there might be narrow stairwells to negotiate on board. Boarding dinghies or going down narrow staircases below deck, for example, can be physically challenging for some.
Midges are a pest, but you won't look silly with a net over your head in the evening. Everyone does it. While you are moving on the water, they are rarely a problem, but when you go for a walkabout on land, early evening is the worst time, especially if it is damp and there is little wind. The worst season is June, July and August; check the Midge Forecast website for further details. There is an anti-midge product, called Smidge, and if anyone knows how to protect against them, the Scots should.
If you are out walking on land during your cruise, you do need to be wary of ticks. They carry Lyme disease and other nasties, so best to take precautions. Read this guide for top tick tips.
If you are swimming, be aware that blue green algae can be a problem during the warmer months so adhere to any warning signs.
SAFETY
Scotland is blissfully safe, especially when on a small ship cruising vacation. Quite simply, always listen to the safety instructions from both crew and skipper. Boats can be very safe places as long as the rules are adhered to. So don't touch ropes, lift levers or move booms unless you are instructed to.
Always wear your buoyancy aid or life jacket when instructed. You don't always have to wear it on deck, although of course if you can't swim it is advisable. However, they are always recommended if you are going out on dinghies or sea kayaks for trips ashore. And ensure it is fastened properly, especially with children, who can slip out of them easily.
If you are sea kayaking, beware of a change in weather conditions. A good rule of thumb is to stick within 400m of the shore or your boat.
If you are taking time off the water and going for a serious hike on the likes of Skye or Lewis and Harris, don't underestimate how much the weather conditions can drastically change. Always tell a member of the crew where you are going. One of the most common causes for rescue on the Scottish hills is hypothermia usually brought about by exhaustion and injury. So make sure you have enough food and water, the right layers and a shelter. The Mountaineering Council of Scotland is a font of knowledge on all things safety.
Our top Scotland cruising Vacation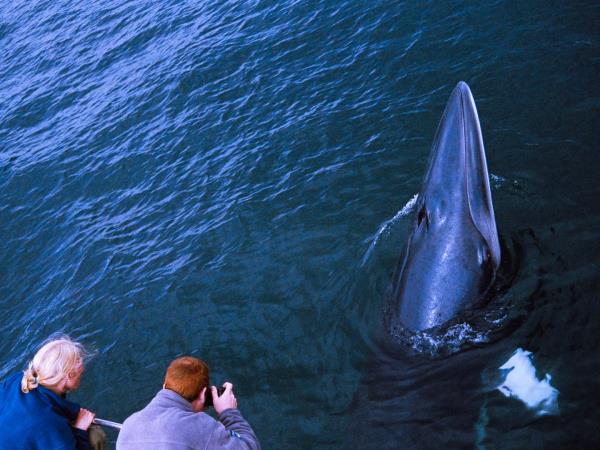 Spot whales, otters and eagles on Isle of Mull, Scotland
From
£

575

to

£

790
5 days
ex flights
Tailor made:
This trip can be tailor made from late April to the end of September
If you'd like to chat about Scotland cruising or need help finding a vacation to suit you we're very happy to help.

Scotland cruising vacations travel advice
At Responsible Travel, we think the best people to advise our travelers are often... other travelers. They always return from our tours with packing tips, weather reports, ideas about what to do – and opinions about what not to.

We have selected some of the most useful Scotland cruising vacations travel advice that our guests have provided over the years to help you make the very most of your vacation – and the space inside your suitcase.

Bring waterproof clothing and shoes. One day the water was rough and the wind was very strong. Those of us who were not waterproof arrived at Iona soaked. We were warned beforehand in the travel information. It needs to be heeded.

"Leave the smart clothes at home along with your mobile (signal so patchy it is frustrating, so unless essential best to forget it)! And settle into a different rhythm. Don't forget sunscreen and insect repellent for on shore - the midges can be fearsome! Read 'Para Handy' by Neil Munro for an insight into the atmosphere of the west highland ports and eccentric characters of the past" – Fiona Morrison

"I was a single passenger, I went with a certain amount of trepidation, but this was all put to one side by the first evening, all 10 of us gelled almost at once, and got on like a house on fire …The crew was marvelous, and nothing was too much trouble, with a number of elderly passengers on our cruise, all was taken in their stride. I will certainly be back." – Gerald Peppiatt

Follow Colette's pre-tip and kit guidance. If you have snorkel, wetsuits or other kit definitely think about bringing them

"Go and enjoy. I am not a sailor but I loved it. I found sea bands (for travel sickness) really worked. I even read books while the boat was moving. Bring good walking boots, sun cream and insect repellant for the midges! The weather was amazing but even more so were the wonderful crew - Steve, our chef - so inventive and creative." - Etta Geras

Don't forget your binoculars. Sensible shoes and a waterproof for when up on deck and the weather damp… The whole of our vacation was wonderful. The crew were all great, friendly and so helpful. The food was delicious every meal, and plentiful too! The cruise was the best way to see some of Scotland's beautiful scenery and wildlife. The only fault, we wished it didn't have to end!" – Julie Clease

"Take ear plugs, your shipmates may snore! Be prepared to get involved with sailing procedures if the opportunity is there, it will increase your understanding and enjoyment of the trip. Make the most of the wildlife viewing,(including plankton !). Don't expect to lose weight, Colette produces wonderful meals and is disappointed if it doesn't get eaten!" – Andrew Swales
More about Scotland cruising