Scotland wildlife travel guide
A wildlife watching vacation to Scotland is not for the faint-hearted. And it's not for impatient folk looking to snap a selfie of a selkie or catch sight of a capercaillie from a car park in the Cairngorms. You need to understand the benefits that your presence brings. Why passionate and knowledgeable folk in remote island communities will welcome you with open arms; how responsible wildlife watching tours can sway estate owners away from the profits of the Glorious Twelfth; and how the wild animals, coastlines and Highlands of Scotland will create an experience unlike any other.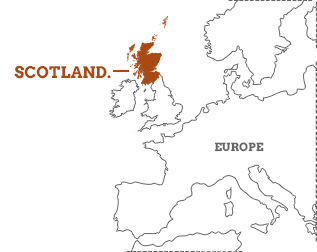 Sightings of seals, whales and dolphins at sea are just as exciting as otters, eagles and red squirrels inland – just manage your expectations and make the experience as a whole your
raison d'être
.

Our Scotland wildlife travel guide invites opportunities to observe animals in the most responsible way possible. Sailing silently around an isolated cliff face crammed with puffins, perhaps, or camping out in a tipi accompanied by an expert animal tracker, and his dog, Reko, for instance. You can self-drive all the way to Orkney and Shetland or check into a cosy B&B in Tobermory, on the Isle of Mull. Whichever way you choose to watch wildlife in Scotland, we ensure a sustainable solution for local people, local wildlife, and the environment, as well as our responsible travelers.
Scotland's wildlife map & highlights
It's 100km from Edinburgh to Cairngorms National Park. Exit at Aviemore on the sleeper train from London Kings Cross to Inverness, however, and you'll wake up in Scotland's wild heart. If you're looking to watch wildlife within the Inner and Outer Hebrides, small ship cruises set sail from Oban, on the west coast, which is two and a half hours' drive northwest of Glasgow via Loch Lomond and the Trossachs National Park. A self-drive road trip through the Scottish Highlands to Scrabster, near Thurso, opens up a 90-minute ferry ride to Orkney. From there, you can venture even further north on the overnight ferry to Lerwick on Shetland. A ferry from Shetland to Aberdeen works wonders for tired, yet happy, wildlife watchers making their way home.
1. Cairngorms National Park
The pines, lochs and steep granite outcrops of the Cairngorms deposit you into the wilds without a return address. Leave modern life behind as you cosy up in a tipi tent after a day spent searching for red squirrels, pine martens, woodpeckers and capercaillie. Look for otters on Loch Insh, inspect arthropods on the banks of burns (streams), and listen for the roar of rutting stags every autumn.
2. Inner Hebrides
Pure and peaty best describes the landscapes and whisky of the Inner Hebrides. Filling your hip flask and sailing around Luing, Lismore, Shuna, Jura and Mull will place you in the water with minke whales, dolphins and basking sharks, as sea eagles observe from above. Otters glide over Loch Scavaig while seals spoon onshore to create a little piece of Hebridean heaven over the sea to Skye.
3. Isle of Mull
Explore in an ancient oak forest surrounding the sheltered shores of Loch Spelve and you'll instantly become acquainted with the animals, including red deer, mink and mountain hare, making the most of the Isle of Mull. Boat trips with marine biologists introduce you to puffins as well as Mull's underwater inhabitants: minke whales, dolphins, porpoises and even the occasional orca.
4. Orkney Islands
Heading north of John O'Groats to the Orkney Islands – never bastardise to 'the Orkneys' – may appear a bit far for a self-drive vacation...unless it's wildlife you're after. Coastal cliffs lead to white sand beaches crowded with selkies (seals to the uninitiated) as puffins dive from 30m rocky crags and porpoises and dolphins dance offshore. Wetlands, moors and coasts thrive under RSPB protection.
5. Outer Hebrides
Set sail from sea lochs and over sounds (stretches of water between islands), under winking Cyclops lighthouses and headland castles, and you'll find yourself in the St Kilda archipelago, in the center of the Outer Hebrides. This is the realm of gannets, fulmars, storm petrels and giant skuas, where minke whales appear from Atlantic swells, grey seals occupy swathes of coast, and sea eagles nest on sheer cliff faces.
6. Shetland Islands
Extend animal adventures further north as you take an overnight ferry to the Shetland Islands and discover why these sheltered shores provide safe haven for seabirds, seals and tiny wee ponies. Noss National Nature Reserve is a screeching cacophony of chaos in summer, as kittiwakes, guillemots, shags and puffins sit on sandstone ledges and otters, seals and harbour porpoise surround the shore.
Our top trip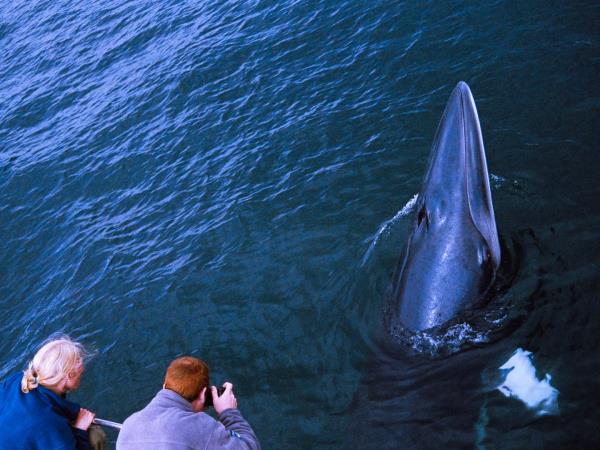 Spot whales, otters and eagles on Isle of Mull, Scotland
From
£

595

to

£

830
5 days
ex flights
Tailor made:
This trip can be tailor made from late April to the end of September
If you'd like to chat about Scotland wildlife or need help finding a vacation to suit you we're very happy to help.

What does a Scotland wildlife vacation entail?
These are less like vacations and more like safaris. You'll find yourself surrounded by the forces of nature in environments where animals outnumber humans and the weather requires respect. When it's in your favour, it's glorious, when it's not, it's incredibly exciting. And cold and wet.

Scotland's wildlife always takes center stage. How, when and where you choose to travel – and a whole lot of luck – will dictate what you're able to see.

You can join like-minded passengers on an island hopping cruise where you'll live on board a small skippered sailing ship. Or you can explore Scotland by car and take day trips out to sea or hike in the Highlands and stay overnight in locally owned B&Bs or under canvas in the woods. You can stay on the mainland or take the car ferry out to one of the islands and check into a small hotel. A week in the village of Tobermory on the isle of Mull, for example, works wonders for the constitution.
Wildlife watching will take place every day if you're on a small group tour. It's up to you how much or how little you wish to do if you're on a tailor made or self-drive tour.

You'll be invited to meet local folk, too. People who've lived in the Highlands or around the islands of Scotland all their lives. These are the skippers and their crew, who know where and when to watch out for basking sharks, grey seals and bottlenose dolphins in the Outer Hebrides; they're the hiking companions who can help you spot a red or fallow deer on the mountain slopes of Mull or find capercaillie, Scottish crossbills and reindeer on a hike through the Cairngorms; they're the accommodation hosts who'll bring you grilled kippers and salted porridge for breakfast and ask if you'd like to borrow their binoculars or well-thumbed birding book.

This is a wild experience in every sense and your interest in seeing animals in their natural, untamed element is just the start of the adventure.
Small group sailing safaris
The small group wildlife watching vacations in Scotland that we recommend are mainly on liveaboard small cruise ships. These ships are designed to withstand the Atlantic extremes, as well as being built for comfort and cosiness. A converted Norwegian ferry boat, for example, or a traditional wooden tall sailing ship, or an ex-cruising lifeboat.

Maximum capacity is from six to 12 passengers. There's a minimum age of five or seven – depending on the boat – which means families are welcome aboard. Safety always comes first and only top class equipment and procedures are in place to ensure peace of mind so you can focus on finding wildlife.

Taking a small ship cruise around the Inner or Outer Hebrides, for instance, really gets you away from it all. You'll be in the company of other like-minded passengers as well as an experienced skipper who also serves as a conservationist, naturalist and just genuinely lovely, caring person.

An on board chef takes care of meal times and locally sourced, sustainable produce will be the order of the day. This also benefits local food stockists and the environment. For example, free range eggs are considered just as important as line caught kippers from the local fishmonger.

Professional wildlife guides and marine biologists will also be on board to share their knowledge of island ecosystems and the animals you can expect to find above and below the water. Discovering the preferred places for puffin and seal colonies, for example, as well as where you can expect to see dolphins and basking sharks, is not always just down to luck.

It's up to the skipper where you sail, and they will also help you understand the best way to observe animals from a perspective that doesn't disturb natural behaviour or the environment. You'll be able to walk on land, visit fishing villages and meet the islanders. You might also be invited to take out a sea kayak or dive into the water with mask, flippers and snorkel. There are many ways to watch wildlife in Scotland and our tours will ensure you do it from the most responsible position possible.
Camping safaris
Aside from sailing, we also recommend
camping out with a guide in the Cairngorms
. This type of tailor made experience is for animal lovers who are happy to curl up inside a tipi or beside a babbling
burn
(small stream) and fall asleep to the twit-to-woo of a tawny owl. Animals come first on this adventure, including the accompanying Highland ponies Goldie and Foxy. Patience, local knowledge and an expert guide create a camping experience in the Eastern Highlands that is as uniquely enjoyable and therapeutic as educational and exciting.
Self-drive safaris
Driving up through Scotland feels like you're casting off the shackles of the modern world and allowing nature to take control. Senses become heightened as you head into the heather-strewn Highlands and there's nothing like an early morning mist to send imaginations soaring like an eagle. However, driving north on the mainland is just the start of the adventure. The real fun begins when you embark on a self-drive safari around the Scottish islands of Orkney and Shetland.

The car ferry from Scrabster to Kirkwall opens up Orkney first, from where you're free to explore and watch wildlife until your heart's content. Accommodation is all sorted out in advance alongside opportunities to observe animals in the company of a local expert who is certain to be on first-name terms with many of the local seabirds and seals.

After a few days on Orkney it's off to Lerwick in Shetland on the overnight car ferry. A much more scenic experience than it may at first sound. Noss Nature Reserve on Shetland is an absolute must with knowledgeable wildlife guides on hand to point you in the direction of gannets, guillemots, kittiwakes and seals in their hundreds.

The car ferry from Lerwick to Aberdeen allows for a restful end to a week away, as you wave au revoir to Orkney and Shetland whilst flicking through your animal snaps and trying to decide which to enlarge, frame and hang on the wall. Spoiler alert: otter or seal pups usually win.

Robert Kidd, founder and director of our UK & Ireland specialists McKinlay Kidd, shares his thoughts on self-drive safaris in Scotland: "Scotland not only offers some superb scenery but also pretty empty roads, certainly compared to much of England. Even in high summer it's perfectly possible to find an open road, whether it's on the coast or through the Highlands. Within less than an hour from the central belt – either north or south – you are able to find open spaces."
What wildlife will I always see in Scotland?
None. It's wild for a reason. Okay, okay, there are animals in Scotland than you can hope to see. Bottlenose and common dolphins, minke and killer whales, basking sharks, harbour porpoise, sea otters, grey seals and harbour seals can all be seen in Scottish waters. Puffins populate burrows on tufted tiered slopes whilst white-tailed eagles wheel overhead and seabirds, such as gannets, storm petrels, Arctic terns, skuas, kittiwakes and guillemots, cluster in shoreline colonies or take to the skies above.
Elsewhere, on dry(ish) land, you might see red squirrels, roe deer, otters and red deer making the most of protected woodlands and highland areas, as well as buzzards, golden eagles, greater spotted woodpeckers and red grouse (if no one's shooting them).

Larger islands such as Mull and Skye also boast their fair share of feathers, with marshlands making ideal habitat for hen harriers just the same as remote rural hedgerows create an excellent opportunity to keep your ears open for cuckoos, mistle thrush and skylarks.

Scottish wildcats and pine martens are also known to inhabit the mainland, although you can count yourself lucky if you see signs of scat or spoor rather than actually catching sight of the beasts themselves.
More Scotland wildlife articles