Small ship wildlife safaris in Scotland
Watching wildlife out at sea is really rewarding. Not only do you get the thrill of life on the ocean waves, but you'll also be able to reach remote islands and otherwise inaccessible cliff faces and rocky crags where all the cool colonies hang out.

Sailing trips can take you inland, too, along the Caledonian Canal, for instance, which links the lochs of Dochfour, Ness, Oich and Lochy. Alternatively you can enter the calm waters of Loch Spelve on the beautiful Isle of Mull. The Inner and Outer Hebrides, on Scotland's west coast, are alive with the songs of seals and squawk of seabirds, whilst, in contrast, sheltered overnight anchorages offer a safe haven accompanied only by the gentle lapping of the waves.

You can also stay on dry land and take a trip out to sea for a half or whole day. You'll still get to see seals (hopefully) and seabirds (definitely), and who knows what else if the wind's in the right direction. If you're hoping to stack chances of sighting success firmly in your favour, however, a small ship safari for a week or more is definitely the best way to do just that.
Our Scotland wildlife Vacations
Colette Dubois, co-founder at our Scottish sailing safari specialists St. Hilda Sea Adventures, explains why:
"Small ship cruising is about exploring the wilder parts of Scotland. But don't worry, it can be done at whatever pace suits you. We feel the best thing we offer is our knowledge of the hundreds of remote anchorages and places to land on and explore. Mingulay is a favourite spot of mine, it has everything from the dramatic cliffs and stacks on the western side, with many thousands of seabirds, to one of the best beaches in the western isles, as well as an incredibly interesting history within the ruins of the old village. Stunning sunsets and watching the vast colony of seals coming ashore on the beach each evening is also a favourite!"
Size matters, though. This is not a massive ocean liner we're talking about here. The only wildlife you'll see on those floating monstrosities is at the late night cabaret. Speedboats are also not an option. They're an environmental menace and an affront to ocean ambience
Liveaboard small ships can sail across the sounds and around the islands where wildlife is most likely to be found. You can also reach really remote and untouched crags and rocky shores which would be impossible to sail to from the mainland in a day. You'll get to meet local people onboard, too. Skippers, chefs and crew members; conservationists, marine biologists, photographers and artists – enthusiastic, passionate animal lovers, one and all.
If you're looking to find out more then read our
small ship cruising vacations in Scotland guide
or see if some of your sailing questions can be answered below. We can't guarantee the weather or the wildlife, but you can be certain a sailing safari will set you on course for an absolutely unforgettable adventure.
Who goes on a small ship safari in Scotland?
People who want to experience the wildlife of Scotland's Highlands and islands from an unobtrusive perspective. No crowds, no cars, no noise. The small ships that we advocate provide berths for eight to 12 passengers, sometimes in just six cabins.
Can I come on a sailing safari on my own?
Solo sailors are welcome on board. You can share a twin cabin with another passenger of the same gender at no extra cost or, if you're hell-bent on having your own space, you can always pay for the privilege of your own double cabin. The supplement's usually around 50 percent of the total price. Of course, you might get lucky and wind up with your own double cabin at no extra cost. This happens when a sailing trip isn't fully booked. You never know.
Where will I go and what wildlife will I see?
Although itineraries are rarely fixed you will have a rough idea of where you're going to be sailing. Safari tours around the Inner Hebrides will often set out from Oban on the mainland. You might then be treated to trips to Tobermory and into Loch Spelve on the Isle of Mull, or salty sea spray as you cross the sounds of Mull, Luing, Shuna and Jura. Other voyages might set sail to the St Kilda islands in the Outer Hebrides or the even more remote Monach Isles.

Sandy white beaches, sprawling seal colonies and sea eagle nesting sites await – fingers crossed. However, this is Scotland; the weather is as untamed as the wildlife. The skipper calls the shots and is completely in charge of where you go and when you sail. Just go with the flow and don't expect to see any animals whatsoever.

P.S. You will see lots of wildlife when sailing in Scotland, of course, just don't get disappointed if a dolphin doesn't leap over the boat on the first day.
Our top Scotland wildlife Vacation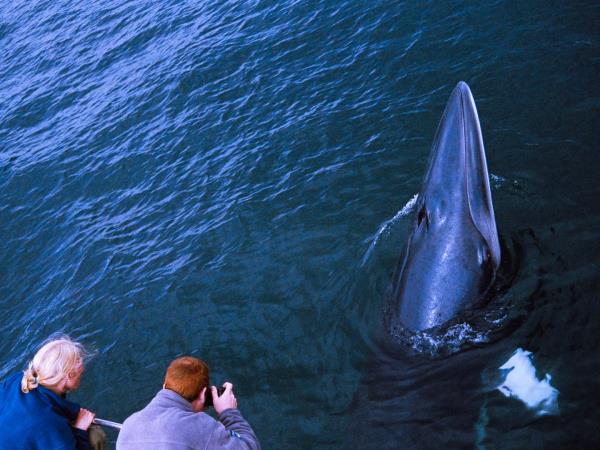 Spot whales, otters and eagles on Isle of Mull, Scotland
From
£

575

to

£

790
5 days
ex flights
Tailor made:
This trip can be tailor made from late April to the end of September
If you'd like to chat about Scotland wildlife or need help finding a vacation to suit you we're very happy to help.

What are the small ships like?
They're small enough to get into all the little lochs and crannies that larger vessels simply can't contemplate. This allows wildlife watching to take place in absolute peace and quiet both for the observers and animals. Some of the small ships that are used for sailing safaris were once working vessels that have been converted and restored to a very high standard of comfort. Former fishing boats, for example, or a rescue boat that was designed to withstand the waters of Norway. We also recommend a wildlife cruise on a wooden 'ketch' boat complete with a couple of masts and traditional rope rigging.
You can choose from three different styles of ship as to which type of
wildlife sailing vacation in Scotland
you wish to undertake. Indoor saloon lounges and observation decks provide ample comfort and shelter from storms as well as an area for presentations from the onboard wildlife experts. You might even find sea kayaks and fishing gear on board. If not, you might want to bring your own – or perhaps a bike, SUP board, snorkel, mask and flippers? Ask the skipper first, of course, although there's usually plenty of storage space on deck.
What are the cabins like?
Cabins really vary according to the boat, but there is usually a mix of doubles and twins, and the occasional single berth, some with en-suite bathrooms and others with shared facilities. Chat to the sailing safari operator in advance if you want to know more about a ship's full spec. They might also be able to tell you more about some of the other passengers and onboard experts.
Who do these wildlife watching tours benefit?
In most cases, the small ships that we recommend for wildlife safaris in Scotland are actually owned by the skipper who takes the tour. This means that Scottish locals benefit, including those living in more remote island communities, rarely touched by the typical tartan tourists. Local experts benefit too, as they're able to extend their enthusiasm and passion to a range of folk who are more than happy to listen.

Specialist wildlife cruises will often have a naturalist, conservationist or even a marine biologist on board. Not only will they aid and assist the skipper with their first-hand local knowledge of where to watch wildlife, but they'll also ensure animals are observed in the right way without disturbing natural behaviours or habitat. It's these factors that help to create a sustainable and responsible tourist industry that benefits local people, local wildlife and responsible travelers.
Advice for families
Kids are welcome onboard, but be honest with yourself when it comes to suitability. If you're chartering a boat to yourself then nobody's going to mind how irritating little Trevor or Tina are other than you, and maybe the skipper. Walking the plank is always an option. But if you're joining other wildlife watchers as part of a small group then are you really sure that peace and patience is going to be observed, especially when approaching seals, otters and other slightly skittish and shy swimmers?

Minimum age is from five to eight although, knowing my kids, I'd say closer to nine or ten would be more appropriate, especially if joining other passengers as part of a small group. Those children who are lucky enough to make the grade will absolutely love it. They can help out at meal times, and try their hand at fishing, and filleting, if they're game.

Skippers and crew love having families on board. They get to share their knowledge, stories and jokes, as well as their knotting skills. Astronomy lessons are also a feature for families, with nights under starlit skies always best enjoyed with a mug of hot cocoa before bed and dreams about sea eagles, otters and seals – oh my!

Colette Dubois, co-founder at our Scottish cruise specialists St. Hilda Sea Adventures, says:
"I think Scotland small ship cruises are perfect for families because there is a lot to do on the boat. When we dock, we have a dinghy to go and visit little beaches, go fishing or see the seals. So the children can learn a lot. With children, we say a minimum age of seven, not because the boat is dangerous, but because they are so small, so they cannot use the equipment so easily, such as the toilet or the sinks.

"It is interesting to see family dynamics on the boat, and it is lovely to see young children on board, who are so fresh, enthusiastic and wanting to learn and anticipate. Teenagers can be less inclined to do things sometimes, although this is not always the case. On a couple of occasions, we had teenagers on board who were about to choose their university degrees, and after discussing things with Michael, the skipper, they changed their minds and did something else! They wrote to us later on to tell us, which was wonderful."
Accessibility on board
Colette Dubois from St. Hilda Sea Adventures also says:
"You need to be able to walk down the stairs to where we sleep. These are a cross between stairs and a ladder, with about eight steps. It has wooden handles, but still if you are very overweight, or quite fragile, we need to check that you can manage this. If people are worried when they inquire, I send them a picture, but we have never had anyone have a problem with it. We had a lady who was 87 and she came on board with a stick, and she had quite a problem with her back, but she left her stick upstairs, and she managed, and it was a great pleasure to have her on board."
More about Scotland wildlife