Dolphins, whales & basking sharks in Scotland
Scotland's coastline juts and jags like jigsaw pieces to create swathes of sand, pebbles and sentinel-like sea stacks that line one of the best environments for marine wildlife watching in Europe. Minke whales, common dolphins and porpoise can all be seen off the Scottish coast. Basking sharks and orcas can also be seen, depending on the time of year.

'
Can
be seen' is the key phrase here. Not '
will
be seen'. Don't expect to see anything. This is the wild and untamed natural world, not a zoo. Nothing is guaranteed.

Of course, there are a few factors that can put the odds in your favour. Finding out the best time to visit Scotland for watching marine mammals is always important. Where you go and who you go with will also play a huge part in whether you're 'successful'. For instance, joining a marine biologist and Scottish sea captain onboard a small ship for a day is certain to point you in the right direction. And living on board a boat for a week, or more, will yield many more opportunities to watch wildlife way beyond the reach of binoculars and tourist boats setting sail from harbour walls.

One of the best pieces of advice is to simply go with the flow. Come and visit Scotland without any preconceived notions or expectations related to what animals you're going to see. Let nature do its thing. You do yours. Enjoy the experience, as a whole. Don't get downhearted if you don't see a dolphin. Just enjoy the feeling of sea spray on your face or the wind whipping off the ocean. Stroll along a deserted beach and peer into rock pools. Crabs, eels and tiny wee fish can often be just as fascinating as catching sight of an orca's fin appearing from a deep blue swell. (Okay, not quite. But you get the picture.)

Scotland is staggeringly beautiful and actually observing marine wildlife from the land or from a boat should be treated as an extra special bonus. Not something to take for granted. Below are some of our top tips on where and when to see dolphins, whales and basking sharks in Scotland.
Our Scotland wildlife Vacations
Dolphin watching in Scotland
Bottlenose, white-beaked, common and Risso's dolphins can all be seen in Scottish waters. Pods of bottlenose and common dolphins are more frequently seen, whereas Risso's and white-beaked dolphins are slightly rarer, as they favour deeper waters and areas around more remote islands.

Orcas are also part of the dolphin family, as they have teeth. The killer whale moniker can be slightly confusing but they are dolphins – the largest of their kind – and you can see them in Scotland, if you're lucky.

Sunshine, food stocks and the rising tide are key indicators as to whether you're going to get lucky and see a dolphin from dry land. Joining a marine biologist on board a boat for a half or full day will also increase your chances of a successful sighting, as well as helping you learn more about natural behaviour and how to watch dolphins in the most responsible way possible.
Where to see dolphins in Scotland
Pods of common dolphins are commonplace around the Inner Hebrides on Scotland's west coast, whereas bottlenose dolphins can be sighted in the Moray Firth inlet to the northeast of Inverness. Chanonry Point, within the Moray Firth, is one of Europe's best locations to spot bottlenose dolphins. Often you don't have to leave dry land to watch them swimming closer to the shore to feed.

Offshore from the Isle of Mull, within the Inner Hebrides, is another excellent area to spot dolphins, with wildlife sailing safaris offering optimum chances of sighting success. White-beaked dolphins and Risso's dolphins favour the deeper waters around the Outer Hebrides, where stocks of squid, octopus and cuttlefish are at their most plentiful.
Shetland is a hotspot for orca watching, as Tessa O'Hara from our Travel Team explains:
"Nothing compares to seeing orcas wild and free in their natural environment. We had the privilege of watching them for five hours: hunting porpoise, milling about, and traveling along the Shetland coastline with their pod, so close that we could hear their blow every time they surfaced. It was just the most thrilling wildlife encounter I've experienced in my life."

As Tessa experienced, the waters around Shetland and the surrounding islands, including Orkney, are known to attract orcas, and you can also keep your fingers crossed for sightings around the Small Isles and Skye within the west coast's Inner Hebrides.
Emma Grear works for our Scotland wildlife tailor made tour specialists McKinlay Kidd. She says:
"When it comes to dolphin watching in Scotland, there are a few different places to look. One of our favourites is the Isle of Mull, where pods of common dolphins are commonplace. We actually offer a number of vacations to this west coast island due to the wonderful wildlife watching opportunities – you could even spot orcas, if you are very lucky! If you want to stay on the mainland, venture up to the far north of Scotland. Chanonry Point – located between Fortose and Rosemarkie on the Black Isle – is known as one of the best bottlenose dolphin spotting locations in the country. We recommend checking the tide times before heading this way – dolphins are most likely to be seen on a rising tide."
Best time to watch dolphins in Scotland
Scotland's summer sunshine presents the best time to watch dolphins in the wild, with weather conditions during May to September presenting peak viewing potential from land and at sea. Tessa from our Travel Team spent five hours watching a pod of orcas swimming around the coastline of Shetland in July.
Read more about
dolphin watching in Scotland
.
Our top Scotland wildlife Vacation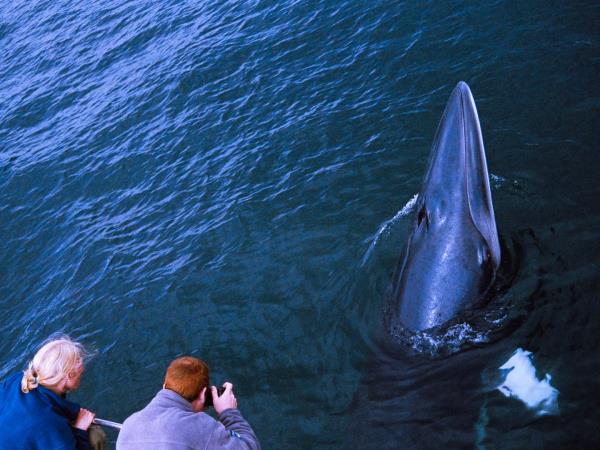 Spot whales, otters and eagles on Isle of Mull, Scotland
From
£

575

to

£

790
5 days
ex flights
Tailor made:
This trip can be tailor made from late April to the end of September
If you'd like to chat about Scotland wildlife or need help finding a vacation to suit you we're very happy to help.

Whale watching in Scotland
Minke are the most commonly seen whales in Scotland. In more recent years, humpbacks have also started to make an appearance as part of their migration from the Arctic to the tropics.
Where to watch whales in Scotland
The waters around the Inner Hebrides are alive with minke whales every summer. The Small Isles of Rum, Eigg and Muck and between the islands of Skye and Mull are especially well-known for minkes, particularly inquisitive juveniles that will often approach boats.
Humpback whales have also been seen with more regularity off the Scottish coast, with the Firth of Forth a known feeding ground used by these marine giants migrating south. Unfortunately, this annual event has not always proved prosperous for the returning pod. The
sad story
of a humpback whale entangled in fishing gear has made the need for marine conservation initiatives all the more vital.
Best time to watch whales in Scotland
Winter waters during February, March and April have begun welcoming migrating humpbacks in Scotland, although you won't find many boat operators offering whale watching trips at this time of year. Thankfully, the warmer summer months from May to September are also known for minke sightings as they follow the glut of herring and mackerel off the northern and eastern coasts.
Basking sharks in Scotland
As the second largest fish in the ocean it would be easy to assume that spotting a basking shark is going to be relatively easy. Of course, it isn't; although, if you know when and where to look... Sometimes it will be no more than the sight of a dorsal fin appearing above the ocean. On other occasions boats might be approached with a fully extended two-metre-wide mouth opening up for plankton. They're big beasts, but harmless and slow moving.
Where to see basking sharks in Scotland
Scotland's Inner Hebrides are abundant with plankton, which makes them ideal hunting grounds for gorging basking sharks. All the way along the west coast, in fact, from Galloway to Caithness, you'll find opportunities to see basking sharks from within sheltered bays and from rocky capes and headlands overlooking deeper water. Watching basking sharks from onboard a boat is the best way to get into their environment and allow these incredible creatures to approach without disturbing their natural patterns of behaviour. A wildlife safari around the Isle of Mull, Ardnamurchan Peninsula and the Small Isles offers every chance of watching basking sharks in Scotland.
Best time to watch basking sharks in Scotland
Warmer weather and sunshine brings more plentiful supplies of plankton, which is why June, July, August and early September offer the best time to watch basking sharks around the west coast of Scotland. Calm conditions and lots of luck are both needed to catch sight of one of nature's giants.
More about Scotland wildlife