Otters, seals & birds in Scotland
Many of the medium-sized mammals that you might see in Scotland are also some of the cutest, with doe-eyed seal pups and puffin pufflings providing pure perfection for photographers. Eagles are even more jaw-dropping, and photogenic, with wingspans stretching to more than two metres casting serious shadows over Scotland's coast and countryside.

Knowing where to look is a key part of any wildlife watching trip. Local hiking guides and small ship skippers will often be keen birdwatchers and animal enthusiasts, so they'll be well-versed when it comes to showing visitors prime habitat without disturbing natural behaviour and the environment.

There are no guarantees that you'll see any animals, of course. You will not get your money back from a trip if you don't catch sight of a sea eagle with a rabbit clasped in its talons or a puffin with a beak full of eels. However, eagle eyries are pretty large and fairly unmistakable; puffins return to the same place to breed every year; seals, too, can often be found occupying the same patch, whereas otters (there are no sea otters in Scotland) need to be near fresh water – so you might get lucky by a loch...if you've got the time, and the patience.

Seeking out some of Scotland's most iconic mammals is a great excuse to escape into the Highlands on foot or take a boat out to see inaccessible cliff faces and rocky shores from the water. Think of Scotland as the adventure, the raison d'être; it's one of those places that gets into your psyche and fills up your heart with wild and untamed energy. Seeing an animal anywhere in the wild is an immense privilege and below are our top tips on where and when you might see otters, seals, puffins and eagles in Scotland.
Our Scotland wildlife Vacations
Sleek, solitary and certainly not to be confused with sea otters that are native to the North Pacific, Scotland's otter population is positively thriving, with current estimates thought to be around 8,000. Freshwater lochs and rivers offer an ideal habitat for a holt (burrow or shelter), with trout, salmon, eels and amphibians – especially when they spawn in spring – providing all the sustenance required to maintain a diet of 1-1.5kg of prey per day. Although there is an unusually high proportion of otters living and feeding along the Scottish coast, they still need to be close to fresh water in order to clean their coats and keep themselves insulated.

Did you know? Otters use their long whiskers to feel the vibrations that fish and eels make in the water. As a result, they can hunt and catch their underwater prey in pitch darkness. In contrast, their eyesight is very poor – both underwater and on land – in daylight.
Where to see otters in Scotland
Practically half of Scotland's otter population can be found around the coastline, especially the west coast. Skye and the Isle of Mull, within the Inner Hebrides, are good spots for otter watching as is Shetland to the north. On the mainland, the banks of the freshwater burns, rivers and lochs in Cairngorms National Park often feature telltale signs of otter activity.

Colette Dubois, co-founder at our Scottish cruise specialists St. Hilda Sea Adventures, says:
"Otters thrive around Loch Pooltiel on the northwest coast, where they are well camouflaged while they fish, but your skippers will be sure to spot them, with wakes and ripples appearing on the surface of the loch and then, suddenly, a spiky tail appears as it leaps out and dives quickly back in again. You can also go on an otter trail on the Uist Islands organised by the RSPB."
When to see otters in Scotland
Scotland's otters can be seen all year round, although as territories can stretch from 20 to 30km it can be a case of luck rather than judgement if you're hoping to see an otter in the wild. There are one or two lochs, however, that otters frequent more often than not. An early morning or evening stake out will often pay dividends if you know where to look.
Don't discount the sight of a seal as a run-of-the-mill experience. If you take a boat out, you will see seals in Scotland, common (harbour) and grey varieties, especially, but those soul-searching eyes are very hard to tear yourself away from no matter how easy they are to spot. Seal strongholds and established colonies are well-known by sea captains and conservationists.

Just make sure you're able to observe them with a reputable wildlife watching tour operator that won't disrupt natural behaviour by getting too close. I was also told not to point at seals – they might think it's a gun – and to create a wall of humans rather than standing as individuals. Our sea captain also whistled a little tune to keep them calm. Whether it worked or not is anyone's guess, although it did add to the peaceful ambience as we idled on the water.
Where to see seals in Scotland
The UK's largest colony of breeding seals is the Monach Islands in the Outer Hebrides and there's also a rather tightly packed colony on the tidal island of Flodaigh. The Isle of Skye is another seal hotspot. Basically, the Outer Hebrides and the outer islands of the Inner Hebrides are going to yield seal sighting success. Also, coastal stretches in-between Skye and Arran are where you'll see common seals. Further north and the furthest reaches of Orkney and Shetland also boast their fair share of seals, as do the more remote sandbanks in the Firth of Tay and the Moray of Firth.
Best time of year to see seals in Scotland
Grey seals tend to be trickier to spot, as they are bigger than common seals and can therefore travel longer distances, hanging out on less sheltered coasts and uninhabited islands closer to the open sea. Greys and common seals are indigenous to Scotland and can be seen all year round.

Often the best time of year to see seals, however, is when the pups are being born. Mothers are taking a well-deserved loll on sandy stretches and rocky outcrops – not uncommonly the same one that they themselves were born on – whilst pups are just doing their big-eyed, cuddly, squidgy thing. Pup season for grey seals starts in late September and can stretch all the way through to January. Common seals give birth to a single pup in the summer around June and July.
Our top Scotland wildlife Vacation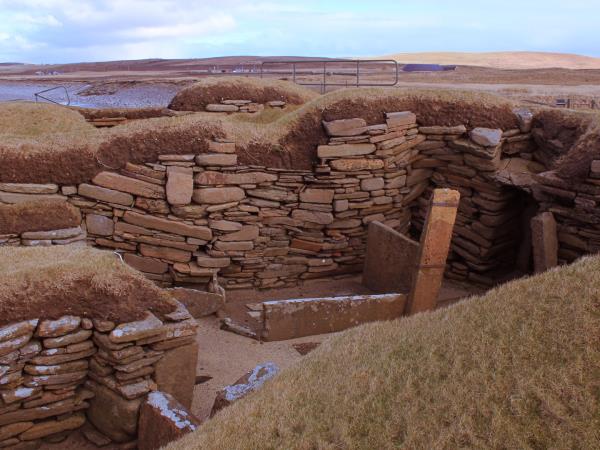 Self-drive island-hopping through the Northern Isles
From
£

895

to

£

1015
7 days
ex flights
Tailor made:
This trip can be tailor made throughout the year to suit your requirements
If you'd like to chat about Scotland wildlife or need help finding a vacation to suit you we're very happy to help.

Thankfully puffins are now a protected species in the UK despite certain celebrity chefs consuming them on trips to Iceland (the country). Watching them is a far more convivial activity and many an afternoon can be enjoyed simply sitting and staring at coastal cliff top communities or at a 'raft' of puffins bobbing about on the sea close to the shore. Puffins aren't Scottish natives however, they will return to the same spot to reunite with the same mate year after year.

Did you know? Puffins can live up to 25yrs and puffin pairs take it in turns to feed solitary black fluffy chicks known as pufflings.
Where to see puffins in Scotland
You can see puffin colonies up and down the cliff tops of the Scottish coastline, and the surrounding islands. Although they live in burrows they often come out to stand on the slabs and tussocks outside their nests. The isolated archipelago of St Kilda in the Outer Hebrides is the premier league of puffin colonies with almost 140,000 pairs returning year on year. The Isle of May National Nature Reserve at the entrance to the Firth of Forth, on Scotland's southeast coast, is one of the country's fastest growing puffin colonies, as is the red sandstone Handa Island in the northwest.
Best time of year to see puffins in Scotland
Mid-March to the end of August is the best time of year to see puffins in Scotland. Nesting takes place at the start of the season and pufflings (cute by name, cute by nature) will be born around six weeks later. Puffin parents take it in turns to incubate the egg and to fish; the money shot for photographers has to be a puffin returning to the nest with a beak packed with plunder. Puffin 'rafts' are also quite a sight, just offshore, and tend to take place at the start of the season. The best time of day to watch puffins is usually as the light of the afternoon turns to the early evening.
The Highlands and islands are where you're most likely to catch sight of an eagle in Scotland. White-tailed eagles (sea eagles) are almost one metre tall, and can be found scouring the northwest and northeast coastlines in search of fish, rabbits and smaller seabirds.

Golden eagles are almost as tall as their coastal counterparts although they stick to the countryside when it comes to their expansive hunting territory or 'home range'. An eagle eyrie – they can have a few – is almost as impressive as the birds themselves, with high craggy cliff faces and tall trees offering an ideal retreat from which they can survey the surrounding scenery.
Where to see eagles in Scotland
The mountains and moorlands of the Cairngorms are where you're most likely to see a golden eagle in Scotland. The Inner Hebrides – typically, Mull, Rum and the Isle of Skye - present the best chance of spotting a sea eagle. Skye, in fact, is actually one of the few places you might be able to see both species in the same day. Make sure to buy a lottery ticket if you do.
Best time of year to see eagles in Scotland
Sea eagles and golden eagles can be seen all year round in Scotland. The rising tide is often an optimum time to see eagles fishing along the coast. Egg laying takes place around March, with chicks being born towards the end of April or early May. Juvenile eagles will usually stay with their parents through the summer before being booted out in autumn to fend for themselves thereafter.
More about Scotland wildlife