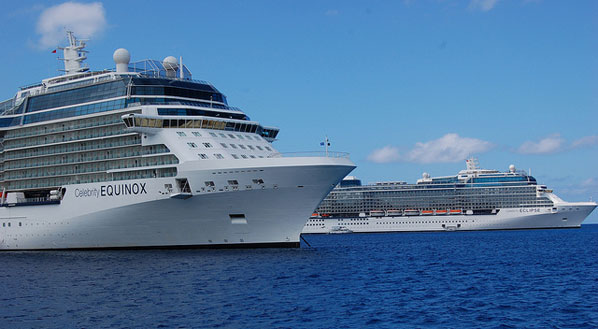 Several major cruise companies offer eclipse cruises on giant liners which not only have a significant negative ecological impact in terms of ocean pollution and waste generation. According to Climate Care, a cruise liner such as Queen Mary 2 emits nearly double the CO2 per passenger mile than even a passenger jet. Research also suggests that, on average, passengers on a cruise ship each account for 3.5 kilograms of rubbish daily - compared with the 0.8 kilograms each generated by local people on shore.
Large cruise ships inflict this on local communities while also bringing them very limited economic benefit. Making fleeting visits to a place then encouraging passengers to spend time on board rather than on shore doesn't help put money into local community via places like local restaurants. Take one leading company's cruise itinerary for its March 2015 'eclipse cruise', where its floating behemoth devoted the following time to the beautiful and distinctive Faroese capital Torshavn: "Arrive morning, depart afternoon". A lot of insight into the Faroe Islands gained there then...
Better, perhaps, a company that sails to an eclipse destination and allows travelers to discover numerous sites over a week's exploring and engaging with local people. The eclipse becomes the glorious icing on the cake – basically, a fantastic excuse to discover somewhere few people might otherwise have considered. Rather than cruising quickly through on a giant floating hotel, stick around and really take time to find out how much more a destination offers than being in the right place at the right time for a fleeting celestial encounter. You'll thank the stars you made the effort.
SOURCE:
Responsible Travel cruise liner issues

What you can do:
Don't eschew cruises as a way to get to a perfect spot to view an eclipse – but do try and choose a trip using a small boat/ship which devotes time to the destination rather than quickly sailing on.