Sweden wildlife map & highlights
Wildlife vacations in Sweden are small group trips, but often with only seven people per guide. In summer, they run in the forests and lakes just two hours' drive from Stockholm, perfect for a short break, but winter adventures take place in Lapland. You can fly to Luleå in northern Sweden and be transferred by bus to Jokkmokk, a remote town that's a great base for discovering wildlife. Alternatively, reduce your carbon footprint by taking the night train from Stockholm to Jokkmokk. For really wild adventures, you can be helicoptered into remote Sarek National Park, often called Europe´s last true wilderness, in the vast Laponia region, for camping and moose spotting.
1. Bergslagen Forest
Just two hours from Stockholm, Bergslagen Forest in Skinnskatteberg is moose central, with Sweden's largest population found here, plus plenty of beavers and wolves, roe deer and mountain hares. Stay in a friendly guesthouse on Lake Storsjön and go on forest hikes, or take to the water on canoe and boat trips, accompanied by wildlife guides, to learn about the unique flora and fauna.
2. Jokkmokk
This small northern outpost town serves as a great base for excursions deep into the wilds of Swedish Lapland. The surrounding landscapes are incredibly beautiful, ranging from mountains and frozen lakes to ancient boreal forests and rivers. Jokkmokk is also home to a large Sámi community, and you can meet a family of reindeer herders and enjoy an evening meal in their lávvu (traditional tent).
3. Laponia
North of Jokkmokk, the Laponia area is a UNESCO World Heritage Site because of its nature and Sámi culture. In winter, stay at a Sámi tented camp and explore the forests and frozen lakes on skis or snowshoes, searching for animal tracks. In September, head to Sarek National Park for a moose spotting hiking adventure; with no access roads, you'll need to be helicoptered in and out.
4. Swedish Lapland
Winter wildlife vacations to Swedish Lapland steer you into the wilderness, far from Santa-spotting tourists, to see reindeer, track the moose that roam the forests and photograph the spectacular Northern Lights. Stay in a tented camp in the wilderness with the Sámi people, go dog sledding and enjoy a slower pace of life in pristine, silent landscapes – the perfect alternative Christmas or New Year break.
5. Skärsjön Lake
Base yourself at a back-to-nature ecolodge in the pine forests around Skärsjön Lake, with no electricity or WiFi signal to distract you from nature. Paddle Canadian canoes around the lake, track beaver and moose with an experienced wildlife guide, forage for mushrooms and berries, hike, fish and bird watch, then gather wood for the fire so you can cook outdoors.
Our Sweden wildlife Vacations
If you'd like to chat about Sweden wildlife or need help finding a vacation to suit you we're very happy to help.

Sweden wildlife vacations advice
Marcus Eldh from our specialist vacation company, Wild Sweden, gives the lowdown on spotting wildlife in Sweden.
How and where to spot wildlife
"We focus entirely on wildlife tours to see animals like moose, beavers, wolves and bears. We always go quietly – hiking, small boats with electric engine, canoeing, photo hides. We take people to the right place at the right time to spot wildlife in their natural habitat, in a good way with great respect for the animals. Also, you don't have to travel to the north of Sweden to spot wildlife and nice nature. For example, the best moose area is Bergslagen, just two hours from Stockholm, where there are also good numbers of wolves and beavers."
Packing advice for summer tours
"Summers in Sweden are short and it can be chilly at night, so bring a jacket and warm hat. We often hike through the forest in the evening, when it's below 20°C, and as the undergrowth is often damp it's a good idea to bring waterproof shoes or boots so you don't get wet, cold feet."
How wildlife tours help the local community
"We are a Swedish company. We work with local guides and locally owned accommodations and restaurants. This creates jobs in rural areas and it also provides you with a much more authentic experience. We ask restaurants to cook our meals with locally produced ingredients, for example smoked wild boar or free grazing lamb along with pickled chanterelles or sweetened lingonberries. We educate our local guides to understand the various forms of interaction between humans and wildlife. There are many conflicts between humans and wildlife, but when wild animals provide income for local people, the wild animals are more likely protected. We want people to be proud of their local nature, and fight to preserve it for the future."
How wildlife tours ease human wildlife conflict
"We do wolf tours in Bergslagen, and wolves are a hot topic for many farmers and hunters in our area. During our wolf tours we educate people about wolves, discuss misconceptions, fears, facts and the latest research. We bring together our guests from all over the world with our local guides, trackers, rangers and researchers so that we all can learn from each other. We begin and end all of our wolf tours at Pensionat Udden, a sheep farm located in a wolf territory, that has experienced real problems with wolves. This gives them an income and other positive effects from wolf related tourism. Our guides also report all findings to the rangers. We also see beavers. Beaver are sometimes seen as a pest. They cut down trees across telephone lines, clog pipes under roads and floods forests. Since I began with wildlife tours in my region, they have spread from a few lakes to nearly all lakes, rivers and streams. They are also hunted to reduce the problems that they may cause. When our tourists arrive from all over the world local people are surprised that there is an interest in beavers that otherwise get negative attention. We can see that this has changed some people's idea about beavers. We also try to educate people that beavers are in fact not destroying the forest, but they are in fact contributing greatly to biodiversity."
Wildlife sightings can't be guaranteed, but…
"You can expect to see moose, beavers, roe deer, cranes, divers, ospreys, woodpeckers and various birds of prey. There is also a good chance to see wild boar, red fox and badger. For the lucky few even wolf, lynx. For winter tours people can expect to see reindeer and moose."
Highlights of a wildlife watching trip
"People who come on our wildlife watching trips say the highlights are late nights by the camp fire; sitting in silence for a few hours on a hill in the forest and suddenly hearing wolves howl nearby; the enthusiastic guides and the friendly local people; enjoying local food at a farm or in the forest and the spongy forest floor full of mushrooms and berries."
At Responsible Travel, we think the best people to advise our travelers are often... other travelers. They always return from our tours with packing tips, weather reports, ideas about what to do, and opinions about what not to.

We have selected some of the most useful Sweden wildlife vacation tips that our guests have provided over the years to help you make the very most of your vacation, and the space inside your suitcase.

It is a vacation for those who enjoy the simpler things of life and the beauty of nature so make sure you have the right clothing.

"Relax and go with the flow. Food is basic so bring along treats as long as they don't require refrigeration." – Eleanor Rollett

"This was a fairly 'full on' trip. You need good walking boots and wet weather gear. Be prepared to 'rough it' a little bit when camping and in the bear hides. Many of the animals you're looking for are nocturnal so a number of the activities started at about 5.00pm continuing well into the early hours. Remember June is 24 hours daylight in mid Sweden." – Sheila Jukes

"Go determined to enjoy all parts of being in the outdoors with wildlife experts. Hearing or seeing wolves should be an extra bonus if it happens." – David Green

"Take lots of warm clothes. The two nights in the Sami tents are very rustic – no electricity, running water, or flushing toilets – but still very comfortable and a unique experience." – Alison Rogers

Take good binoculars and midge spray.

More about Sweden wildlife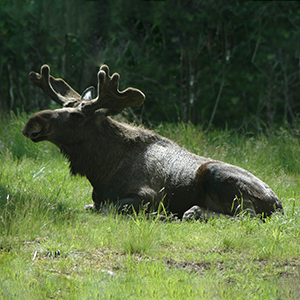 Escape to the Swedish wilderness to spot its native wildlife and immerse yourself in nature, spotting beavers, wild boar and enormous moose, and listening for the cry of the wolf.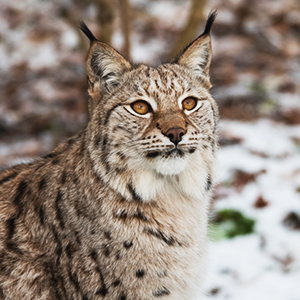 Sweden has its quota of familiar European wildlife – the deer, foxes and squirrels that we see on our own doorsteps – but its huge areas of wilderness are host to some larger, more exotic creatures, too.