Things to see & do in the
Ngorongoro Crater, Tanzania
Karibu sana. Welcome to the Ngorongoro Crater, Tanzania's epic volcanic bowlful of 30,000 animals. This 25km-wide geological marvel is the easiest place in Tanzania to see the Big Five, is firmly established on Tanzania's northern safari circuit, and it's not hard to see why.

Formed around three million years ago, when a huge Rift Valley volcano erupted and collapsed, the UNESCO World Heritage listed Ngorongoro Crater is the largest unbroken and unflooded volcanic crater in the world. It's 260sq km floor is surprisingly diverse with a permanent lake, open savannah and areas of mature woodland. Surrounded by steep, densely forested walls rising over 600m high, the effect is that of a huge natural amphitheatre – with Africa's classic big game taking center stage.

The wider Ngorongoro Conservation Area encompasses the crater (and two others), tracts of Serengeti plains, the Olduvai Gorge and highland forest ecosystems. Uniquely, the Ngorongoro's status as a conservation area rather than a national park means that outside the crater itself, resident Maasai still graze livestock on its grasslands, herds of cattle moving among the herds of zebra.
What does a vacation to the Ngorongoro Crater entail?
The Ngorongoro Crater is typically a one- or two-night stop on a longer itinerary. Most often, safaris here are combined with game drives in nearby Lake Manyara National Park, Tarangire National Park and the iconic Serengeti National Park, home to the famous wildebeest migration. This safari circuit of northern Tanzania is fairly well trodden, with excellent infrastructure. Driving between each of the parks, and to and from Arusha's airport, involves relatively short, and easy journeys.
Typically, safaris in the crater involve game drives in six-seater, 4x4 safari vehicles, with an expert naturalist driver and guide. Vehicles share information on sightings so keep your binoculars and camera poised – you never know what you might come across around the next corner. Morning game drives often culminate in a lakeside wilderness picnic lunch.

Accommodation in the Ngorongoro area ranges from luxury tented lodges to basic campsites, with options at both ends of the scale enjoying panoramic views from the crater rim. Where you stay depends on your budget and your preferred style of vacation. Small group tours will often use the crater rim campsites, where night times can be chilly. In June to August, Tanzania's winter, temperatures can drop below zero. This is peak safari time and you'll need layers for early morning game drives. It gets cold, even in Africa .
What can I see in the
Ngorongoro Crater?
The Ngorongoro Crater is popular, particularly in high season, but with good reason. Safaris here are a giant wildlife lucky dip – descend to the crater floor and you're almost guaranteed to pick out a Big Five prize, sometimes all five of them. The sheer concentration of wildlife means game drives here enjoy regular sightings of lions, massive bull elephants, giraffe, endangered black rhino and even elusive leopards. Tanzania's more southerly parks may offer a more isolated, wilderness feel, but the Ngorongoro delivers wildlife in spades.

Black rhino are, for the species, relatively plentiful here making the Ngorongoro Crater one of the best places in Tanzania and Kenya to spot them. However, with just 26 individuals [1] occupying a 260km2 crater floor, seeing these critically endangered animals is still a rare privilege.
The Ngorongoro Crater is also famously home to one of the densest populations of lions in Africa, making sightings of the 'King of the jungle' very common. You will be sharing your lions with other safari trucks – there's no getting around it in the Ngorongoro. The Conservation Area Authority specifies a maximum of five cars around an animal or kill, but wildlife here is so abundant that when things get too crowded, you can simply head off in search of another lazing pack.

Alongside its wildlife, the Ngorongoro Conservation Area offers some of the Rift Valley's most spectacular vistas. Lookouts, lodges and camps line the crater rim, surveying the crater floor spread out some 600m below. The view that emerges through the thick rainforest at Heroes' Point is unsurpassed.

The conservation area also holds natural history on a human scale. Some of the world's oldest human remains have been found in the Olduvai Gorge, part of the wider Ngorongoro Conservation Area, and the discovery of a 1.75 million year old skull here has shaped our understanding of human evolution.
Our top Tanzania Vacation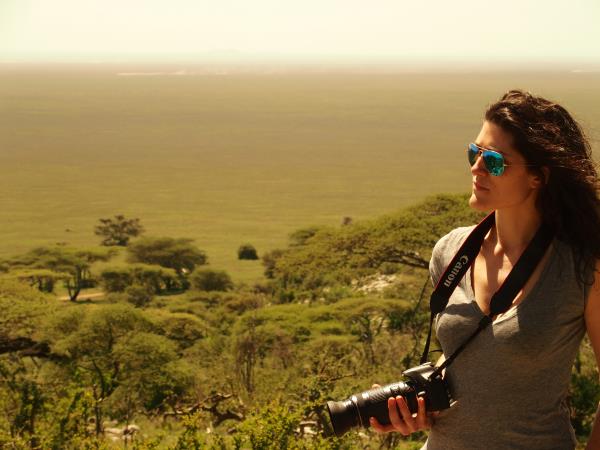 Your tailor-made Tanzania Safari & Zanzibar Beach vacation!
From
£

4400
13 days
ex flights
Tailor made:
This trip can be tailor made throughout the year to suit your requirements
If you'd like to chat about Tanzania or need help finding a vacation to suit you we're very happy to help.

Things to do in the wider
Ngorongoro Conservation Area
On your way to or from the Ngorongoro Crater you will likely stop in the Olduvai Gorge – the 'Cradle of mankind' to discover its fascinating paleoanthropological significance.

Walking safaris with local Maasai guides are possible in the greater Ngorongoro Conservation Area (not inside the crater itself) and are often included in tours here. Take a two- to three-hour walk along the crater rim and not only will you escape the crowds at popular viewpoints but you are likely to come across tiny Maasai settlements and local nomadic herders. Longer walks take you into the Olmoti Crater, with excellent birdwatching or to the shores of Empakaai Crater's flamingo-filled soda lake.
Many tours will also include visits to one of the several Maasai villages dotting the area around the crater, where you have the chance to experience traditional tribal life, dancing and crafts. However due to the number of tourists that pass through the Ngorongoro area, these villages may not offer the most authentic insight into Maasai culture. Choose a responsible tour operator and ask questions about how you will be genuinely supporting local Maasai communities before you visit.
While northern Tanzania's tourist infrastructure is good, ensuring you have the correct permits in place to enter the various reserves and national parks can be tricky. We recommend using a small group or tailor made tour operator to arrange all the details for you and seamlessly combine your Ngorongoro adventure with northern Tanzania's other safari highlights. Additionally, most of the campsites lining the crater rim are designated for the sole use of safari companies, making it difficult to find budget accommodation as an individual.

Families will enjoy the Ngorongoro; the abundance of wildlife will keep little eyes sparked full of wonder, and the short driving times between northern Tanzania's safari highlights mean little minds won't get bored by long journeys. There is no age limit for safaris here, and many lodges are child-friendly; however, our family vacation specialists suggest older children aged at least seven or eight will get the most out of this kind of trip.

As an added bonus, Tanzania's spectacular Indian Ocean beaches are only a short flight away from the crater.
Best time to visit the
Ngorongoro Crater
With its own self-contained ecosystem, wildlife viewing in the Ngorongoro is less governed by the seasons and widescale migration patterns than in Tanzania's other parks, making it an excellent option for year-round safaris.

June to October is the dry season, where shrinking waterholes attract high concentrations of big game. In June and July you'll be able to combine safaris in the Ngorongoro with a chance to see the vast herds of wildebeest congregating on the Serengeti Plains as the Great Migration prepares to cross the Grumeti and Mara Rivers to head north into Kenya. This is peak safari time in Tanzania, attracting peak rates and peak crowds.

Just outside high season, November to December can be a lovely time to visit the Ngorongoro Crater. The short rains have just ended and leave behind a lush, newly-green landscape – enjoyed by wildlife and fewer safari trucks.

Late January to February brings baby animals to the crater. The wildebeest and zebra herds welcome their calves and subsequently predators are on the prowl. While this is the rainy season, the real downpours don't usually happen until March and April.