Standing guard over the plains of the Serengeti, Mount Kilimanjaro is visible for miles, a permanently snow-capped backdrop to the Big Five. One of the best places to admire it from is Amboseli National Park, home to huge herds of elephants that, if you're lucky, will trudge in front at just the right moment to snap the iconic East Africa photo!

Mount Kilimanjaro, or 'Kili' as it's frequently called, is the highest mountain in Africa, a dormant volcano standing at a (literally) breathtaking 5,895m. There's no mountain range flanking it; it stands proudly bang in the middle of the Great Rift Valley, having erupted from the flat plains that surround it a million-odd years ago. As well as looking majestic from a distance, it's thrilling up close, too, and thousands attempt to reach its summit each year. There are six official routes up, crossing chilly barren slopes up to the ice fields and three volcanic cones at the top, Kibu, Mawenzi, and Shira, finally reaching its highest point, Uhuru on Kibu Peak.
Trekking up Mount Kilimanjaro
Some 23,000 people set out to summit Mount Kilimanjaro each year, and due to its popularity, many assume that the route is merely a long hike. In fact, climbing Kili is a formidable and physically demanding challenge. It may not be a technical "climb", but that doesn't mean it's easy. You'll need a good level of fitness and a big dose of determination, too.
Not all trekkers actually make it to Uhuru, the highest point, and success often rests on the time taken to get there. This is not a climb to be rushed. Mount Kilimanjaro is nearly 6,000m high and altitude sickness can kick in at less than half that height. You're more likely to make it to the peak if you take your time and opt for one of the longer routes. Less than half of those who attempt the trek on the short, five-day route make it to the top, for example; while there is around a 95 percent success rate on eight-day routes.

Altitude sickness can affect anyone, and if you experience any of its symptoms, the best cure is to descend – even a couple of hundred metres can make a difference. Younger, fitter travelers are not immune to altitude sickness either – it doesn't respect age or fitness. In fact, they can actually be more at risk, due to their ability to ascend rapidly.

Staying hydrated is important, and many routes offer the chance to 'walk high, sleep low', descending a little each day to camp, which puts a lot less strain on the body. If you do feel unwell, let your guide know. Many trips are equipped with emergency oxygen and the chief guide may even have an oximeter, which clips onto a finger to measure blood oxygen levels – a useful way of establishing if you are acclimatising.
Choosing a route
Each route to the top has pros and cons, so do your research carefully to find the one that best suits your abilities, budget and head for heights. As well as varying in distance and duration, routes vary in difficulty, steepness and scenery. Some feature physically demanding sections that might not suit those with vertigo, while others include places where you have to scramble across scree. Other routes are quieter or particularly scenic, but have off-the-beaten-track starting points that involve a full day of traveling to reach, and push up the trip price.

You have to be accompanied by a Kilimanjaro National Park qualified guide to trek on Kilimanjaro and for the best chance of reaching the summit, choose a reputable tour with experienced guides, who understand the risks the mountain poses and will control the pace of ascent. A well organised expedition will also keep you going by providing fantastic porters who will carry your pack and prepare hearty food – stews, potatoes and rice – while looking out for everyone's safety.
Conditions & accommodation
Don't expect hotels or any level of comfort on your trek up Kilimanjaro. Accommodation on the mountain is generally in tents in official campsites, but the Marangu Route is the only one on the mountain offering accommodation in A-frame huts. Make sure you've experienced sleeping on an inflatable mattress in a tent before you go, but be prepared for some altitude-induced insomnia. And abandon all hope of showers – they are not on offer on the mountain! Any water used is carried up by porters. Hot water is available for washing, so bring a few flannels, and pack wet wipes, too. Be prepared for long nights of darkness, cold, storms and a large amount of dust all over the routes.
Our top Tanzania Vacation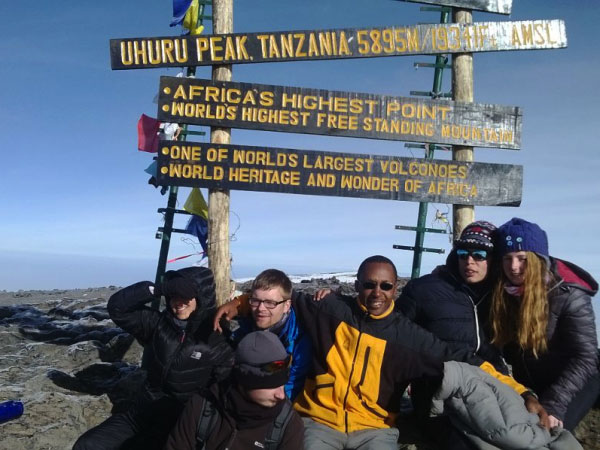 A child friendly Lemosho route Kilimanjaro trek
From
US $

2450

to

US $

2900
10 days
ex flights
Tailor made:
This trip can be tailor made throughout the year to suit your requirements
If you'd like to chat about Tanzania or need help finding a vacation to suit you we're very happy to help.

Best time to climb
Mount Kilimanjaro
Generally, there is only one period to avoid – the rainy months of March, April and May. This is when climbing is at its most dangerous due to slippery conditions and poor visibility. Tours still run, but you're best attempting one of the longer, less strenuous routes and bear in mind you'll be at the mercy of the weather. Waterproof packs are essential.
Kili is chilly year-round, but in June to August it's at its most freezing. Pack appropriately and don't underestimate the cold up high; remember you'll be camping. September and October are the best months to climb Kilimanjaro, thanks to moderate temperatures, lower rainfall and less cloud cover, but these good conditions mean the mountain can get crowded, particularly in September. Book your trip well in advance, and remember, rain can fall at any time and it's always icy cold at the top.

A beautiful way to experience Kilimanjaro's summit is during a full moon. As well as lighting your way in the dark African night, the moon reflects off the glaciers, which is especially beautiful. These conditions attract more climbers, though – you won't get to enjoy this sight alone!
Tips on how to climb Kili – Successfully
Andrew Appleyard, from our supplier Exodus, on being prepared for the mountain:
"I've seen plenty of tears before bedtime on the mountain. Sometimes the person who you don't think is going to make it to the top walks up there with the greatest of ease, and sometimes the fittest person is the one who's struggling. Altitude sickness is a complete unknown. But if you do a longer route and have longer to acclimatise, your success rates are higher. My top tip is that if you're going to do it, do not scrimp on cost. Don't try and carry tons of your own gear so that you can cut down on porters; it's just not worth it. There were 11 in our group; I took 10 of those to the summit. The other group on the mountain had 19 people and only three made it. They told us they came up too quickly, they had altitude sickness, they didn't eat enough food, ran out of water… a whole load of things."