Walking vacations in Tasmania
---
Our guide to walking in Tasmania - with suggested routes
Our eclectic array of walking vacations in Tasmania make the most of hundreds of way-marked trails through mountains or rainforest, along capes and cliffs or across unheard of and totally underrated islands. You can walk in Tasmania at any time of year, with guided and self-guided routes that are ideal for anyone in decent fitness.

So it surely canít be a coincidence that some of the best hiking boots originate from Tasmania. Blundstones, or 'Blunnies', were the creation of settles arriving from England in the mid-19th century, and are still renowned today for their quality. Pair them with a set of the islandís famous merino wool hiking socks, and youíre made. Whatever your choice of footwear though, it will get a good workout here.
Australiaís only island state is Tardis-like in its wilderness status. You can be driving down a highway one minute, pull into a car park and, within a 10-minute walk, be overlooking one of those OMG sort of views, such as at Leven Canyon Ė where the Leven River has created 300m canyon walls in the Loongana Range, all the way to the Bass Strait.
Leven Canyon is just one of 60 Great Short Walks in Tasmania, so named by the
Parks and Wildlife Service of Tasmania
and, rather brilliantly, all available on an app. But with over 19 parks and reserves, this island state fairly packs a punch when it comes to protected landscapes, and ones that are easily accessible by foot.
The jewel in the crown for long distance hiking is the 65km Overland Trek in Cradle Mountain-Lake St. Clare National Park. One of the most iconic walking vacations in Tasmania. Taking on average six days, many tourists choose to do this as a guided tour, leaving them worry free to take in the ever changing environs that segue from alpine at Mt Ossa Tasmaniaís highest peak (1,617m) to rainforest to eucalypt forest to glacial valleys and lakes. Culminating in the peaceful waters of Lake St Clair, at the southern end of the Trail. In peak season, you have to book this trek with the national parks and trek in a north-south direction. Not just a walk in the park, you need to be fully equipped for this trek. There are lodges along the way, some private and some run by the national park, but no shops and no electricity in the latter option, when you also need to carry a tent in case the lodges are full. So taking the private option is a great way to go if you have travelled halfway across the world to do this trek which is, undoubtedly, worth the journey.
For serious saunters with exquisite sea views, there are many walking vacations in Tasmania on offer, but Freycinet Peninsula and the Bay of Fires Walk will both set your hiking heart on fire. The former, also a national park, is one of those peninsular idylls where you can seek solace and solitude, sublime beaches and hikes that lead from one blissful cove to another. The pink granite from the Hazard Mountains flanking the coast is scattered sporadically along the bays, creating rose coloured boulders set against gleaming white sandy beaches. The three-day Freycinet Peninsula Circuit is a favourite here with a beach waiting to soothe those muscles, and soul, at the end of the day. There is beautiful eco accommodation and your bags are transported for you, if you book through a specialist vacation company who knows exactly how to help you walk in style. There are similar set ups along the Bay of Fires, where you can trek between Binalong Bay and Eddystone Point, with eco lodges and glamping en route for three to four days.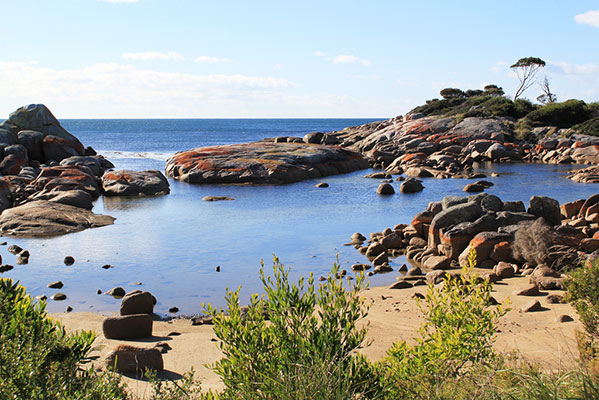 The latest shining example of Tasmaniaís spectacular waymarked routes is the Three Capes Track, down on the southern Tasman Peninsula. Just 75km from Hobart, and definitely one of Tasmania's jewels in the crown, itís a spectacular landscape of cliffs, coves, sea stacks and shimmering shorelines. And this new 46km trail that takes you through Capes Pillar, Hauy and Raoul is definitely the way to go.
For anyone who likes hopping as well as walking, there are islands scattered along Tasmaniaís entire coast. Take on the four-day Maria Island Walk, which you can do guided and backpack free, staying in top notch wilderness camps. And leaving you time to enjoy the islandís pretty package of flora and fauna, from wallabies to wombats, possums to endangered parrots. As well as its heart-stoppingly beautiful Painted or Fossil Cliffs, glowing with myriad colours in the sunlight. In fact, this island is one big shining beacon of rambling, responsible tourism.
Bruny Island is another glowing example, but this one combines gourmet gorgeousness with its great walks. With a clever package called The Bruny Island Long Weekend, you can experience three days in an eco chic forest camp, heading off on coastal walks, wine tours and foodie fests, as this is an island that knows all about celebrating its local produce. For a slightly wilder experience Flinders Island is always a treat, a northern landscape that is protected by the Strzelecki National Park and where hiking up to its peak at 756m gives you one of the best final lookouts you could hope for over what Tasmania is all about. Ocean, wilderness and an island ethos that is not only about striding out, but also standing out from the rest of Australia. Something we, at Responsible Travel also want to shout about.