Tasmania map & highlights
---
MAKE THE MOST OF YOUR TIME
Tasmania is often compared to Ireland. Similar in size but with a tiny population of just over half a million, it also has its fair share of rain. Aboriginal Tasmanians have a very strong sense of pride of place too. Their ancestors suffered dreadfully at the hands of colonists but fought to protect Tasmania's glories. And what a list of glories it is: 19 national parks, many of which are so precious they've been bundled into one big UNESCO nomenclature called the Tasmanian Wilderness World Heritage Area. Discover temperate rainforest such as the Tarkine, alpine beauty in the Central Highlands, or the endless white sandy coves of the Freycinet Peninsula. And like Ireland, they even have their own whiskies. But a heck of a lot more wilderness to drink it in.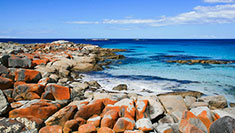 Bay of Fires
50km of sand in your toes, rock rambling and all round seashore solace, this is a stunning four-day guided trek between Binalong Bay and Eddystone Point, with eco lodges and glamping en route. Don't miss the chance to kayak along the Ansons River which leads into the eponymous bay.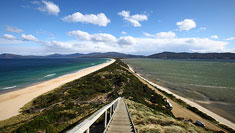 Bruny Island
Made up of two islands, North and South Bruny, joined by an isthmus, two tiny settlements have taken bits of the island's Aboriginal name, Lunawanna and Alonnah. Much of South Bruny is national park, with 300m cliffs and an Important Bird Area, particularly for forty-spotted pardalote. The isthmus is home to fairy penguins, visible from dunes. Another great lookout is the lighthouse, this time for whales.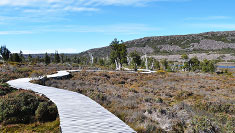 Central Highlands & Lake Country
With over 3000 glacial lakes, conifer forests, alpine plateaux and rugged peaks, this region is often overlooked by tourists, who traverse the traditional arteries but miss the heart. Although Cradle Mountain NP is part of it, it extends way beyond to Walls of Jerusalem NP and Central Plateau. A hive of Highland history too, from indigenous people to hydroelectric workers' communities.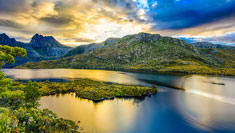 Cradle Mt-Lake St Clair National Park
With Cradle Mountain in the north and Lake St. Clair in the south, this magnificent alpine region is outward bounding paradise. It's brilliantly set up in terms of waymarked routes, the most famous being the 65km Overland Track. it takes six days to cover its ancient temperate rainforest, eucalypt groves, beech forests, glacial lakes and mountain peaks, including Mt. Ossa, Tasmania's highest at 1,617m.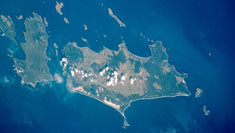 Flinders Island
The largest in the Furneaux Islands, it has a fascinating, painful history as the place where Tasmanian Aboriginal communities were exiled in 1800s, the majority of whom perished. Over 16 percent are still Aboriginal on Flinders, where the beaches and hiking in Strzelecki National Park, including up to its eponymous 756m peak are definitely highlights. When you get here, you won't want to leave. Flinders keepers.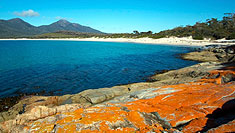 Freycinet National Park
This peninsular idyll is a place to seek solitude and serenity. From hiking in the pink granite Hazard Mountains which protect white quartz sandy coasts, to snorkelling around Schouten Island, it covers all natural extremes. Walking trails vary from a few hours to a few days, such as the hike up to Mount Amos, or the three-day Freycinet Peninsula Circuit. All with a beach at the end.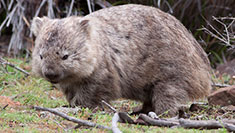 Maria Island
Almost hourglass in shape and a natural beauty, Maria has a fascinating history of both Aboriginal communities and convict ones, plus a wealth of natural heritage. Car and amenity free, it is protected by a national park where wildlife thrives from Tasmanian devils and wallabies to wombats, possums, endangered parrots and Cape Barren geese. The four day guided walk, sleeping in beach camps, is superb.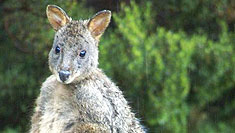 Narawntapu National Park
Right up on the north coast this is a place to combine bush walking with beach combing. Wombats and wallabies abound on the grasslands, as do kangaroos and possum. In fact, this land of inlets and lagoons is wildlife wonderland. Take superb coastal walks, with headland after headland such as West Head and Badger Head beckoning keen hikers, with a fleet of seabirds following you along the trails.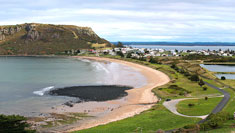 Stanley & NW Peninsula
So often left out by tourists heading straight to Strahan, don't miss it. This corner is Tas-tastic. It has a truly wild feel to it, the Southern Ocean pounding on its shores, and Stanley, one of its hub towns famous for its landmark 'Nut', a volcanic plug or mound at the end of the bay, and worthwhile hike. Also home to the Tarkine Rainforest. Another world of hiking, river cruises and mountain biking.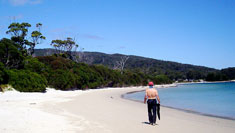 Southwest NP
The largest park in Tasmania, yet undiscovered by visitors because it is pretty wild. Less wine trail, more wilderness sort of vibe. Take scenic flights over jagged peaks or hit the mountains by foot on a ten-day hike. Head to the Far South and you'll hit coastal spots such as Cockle Creek, the island's last stop before Antarctica. The park segues seamlessly into Hartz Mountains NP. More mountain magnificence.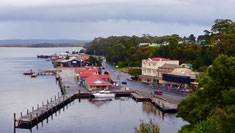 Strahan & the west coast
Stories of strife and survival emanate from every twist and turn of this stunning coastline. From the harsh convict settlement on Sarah Island, to the successful environmental struggles to stop the building of the Franklin River dam, this region kicks ass. With Strahan as hub, take a seaplane over rainforest, walk in the canopy of ancient pines or take a boat trip to see fairy penguins on Bonnet Island.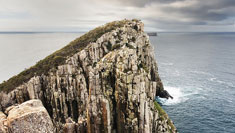 Tasman Peninsula
It's just 75km from Hobart to this haven of hiking and kayaking. Protected by Tasman National Park and boasting 300m cliffs, sea stacks and dramatic beaches, the best way to go is by hiking the Three Capes Track, a 46km waymarked route taking in Capes Pillar, Hauy and Raoul. Staying in public huts, most people do it in four days. Although you lose all track of time here.
Sample travel times
---
Melbourne – Devonport: 9-11 hrs by ferry

Launceston - Hobart: 2 hrs 20 mins by car

Launceston – Strahan (via Cradle Mountain): 4 hrs by car

Sydney – Hobart: 2 hrs by air

Kettering – Maria Island: 20 mins by car ferry

Cradle Mountain Overland Track: 6 days on foot

Hobart – Bruny Island: 40 mins by car plus 20 mins by ferry