BEST TIME TO VISIT THE STANS

There's no large body of water buffering Central Asia, so temperature fluctuations are severe, with a dry climate that dishes up roasting summers and freezing winters.

Since so much of southern
Kazakhstan
,
Tajikistan
and
Kyrgyzstan
are above 3,000m you can get huge fluctuations within a single country, with highs of 40°C in the cities, but bitter cold in the mountains. In the winter, snow falls and blocks roads any time from Nov through to Mar. The best time to visit multiple Stans is late Apr to May, and late Aug to Sep, when it's cool in the mountains but not too hot for sightseeing at lower elevations. Tours run in the Stans in Jun-Jul, too, but
Uzbekistan
and
Turkmenistan
can feel uncomfortably hot then.
WHEN TO VISIT THE STANS, MONTH BY MONTH
January and February are cold throughout the Stans. Even in the deserts of Uzbekistan and Turkmenistan, temperatures can dip to just below zero, although rarely in Tashkent. In the mountains of Tajikistan and Kyrgyzstan, snow can make roads impassable. In southern Kazakhstan, the part of this country that most Stans tours take in, it drops well below freezing, too. November, December and March are cold in Tajikistan, Kyrgyzstan and Kazakhstan, especially in the mountains. It can also be surprisingly cold in the arid deserts of Turkmenistan and Uzbekistan, but the key cultural sights will be devoid of tourists, plus skies can be clear and flights cheaper in the winter. That said, tours that take in three or more Stans don't typically run during the winter months. Late April, May and June are good times to visit the Stans. The high mountains are still cold but bursting into life and temperatures are comfortable for touring cultural sights and cities throughout the region. July and August can be extremely hot. In Turkmenistan and Uzbekistan temperatures can soar above 40°C. This is a good time to head into the mountains of Tajikistan and Kyrgyzstan to escape the heat, although above 3,000m it can turn bitter and snow, even in high summer. Average lowland temperatures in Tajikistan range between 23°C and 30°C, but drop to a refreshing 5°C to 10°C up in the Pamirs. September and October are great times to visit the Stans, with temperatures comfortable for sightseeing and exploring throughout the region and markets full of harvest produce. In Almaty, expect the low 20°Cs and high teens, in Tashkent and Ashgabat, temperatures hover in the mid 20°Cs. In Tajikistan and Kyrgyzstan, where most of the attractions are high altitude and rural, summer is the best time to visit. The beach-like shores of Issyk-Kul lake may be busy with Russian and Kazakh vacation makers, but the temperatures are pleasant and roads open. From October to May, much rural accommodation in Kyrgyzstan and Tajikistan closes down and the yurts that pepper the alpine vistas in summer are stored away; think twice about a winter visit.
Samarkand, Uzbekistan Weather Chart
Our top trip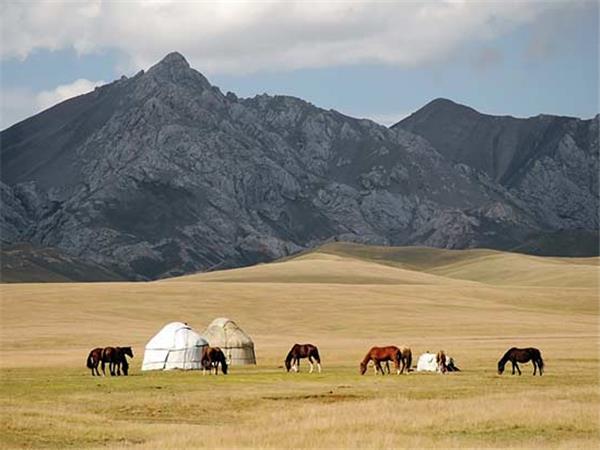 Discover the Silk Road in Uzbekistan, Kyrgyzstan and China
From US $4200 to US $5100 14 days ex flights
Small group travel:
2024: 9 Apr, 23 Apr, 30 Apr, 14 May, 21 May, 28 May, 11 Jun, 19 Jun, 26 Jun, 17 Jul, 7 Aug, 21 Aug, 28 Aug, 4 Sep, 18 Sep, 25 Sep, 2 Oct, 9 Oct, 16 Oct
2025: 9 Apr, 23 Apr, 14 May, 21 May, 4 Jun, 11 Jun, 18 Jun, 25 Jun, 16 Jul, 6 Aug, 13 Aug, 20 Aug, 27 Aug, 3 Sep, 10 Sep, 17 Sep, 24 Sep, 8 Oct, 15 Oct
If you'd like to chat about The Stans or need help finding a vacation to suit you we're very happy to help.

RESPONSIBLE TRAVEL RECOMMENDS
Andrew Appleyard, from our supplier Exodus:

"May is my favourite time of year in Uzbekistan, or late September. Later than that, it does get really cold down near the Afghan border, but it is warmer further north. There is a huge amount of different temperate zones throughout the country; you find massive variants. We went to bed some nights with all our clothes on, because some of the places we stayed didn't have heating. But I do love it there!"
Jim O'Brien from our supplier Native Eye:

"We generally only travel to the Stans in spring and autumn, although we do run a few trips in the summer to Tajikistan and Kyrgyzstan, when the passes are clear and travel is less disrupted. For the others, spring and autumn is the best time to go. The weather is decent; it's not fiercely hot, it's not freezing cold."
FESTIVALS & EVENTS IN THE STANS
The World Nomad Games showcases nomadic sports, culture and lifestyle and takes place every two years in
Kyrgyzstan
, usually in September. It's a unique chance to see traditional wrestling, eagle hunting, headless goat polo (kok buru) and board games which make chess or mahjong look simple. Far from being touristy, it's a glorious celebration that attracts people from all the Stans and further afield. Some arrive on horseback, pitch yurts and settle in to enjoy the competitions, food and fun.