Taking time for tigers
Belinda Wright, OBE, Executive Director, Wildlife Protection Society of India (WPSI):
"India is about the only place in the world where you are likely to see tigers in the wild, and only in a few tiger reserves where these secretive big cats are now fairly used to tourists in vehicles. Some of the tigers have become surprisingly bold and these reserves are now popular destinations for huge numbers of tourists both from within India and abroad. Despite this, you must always remember that these are wild predators and that it is an extraordinary privilege to see these glorious and extremely rare big cats in the wild. Allow at least three or four days to increase your chances."
Managing expectations
Guy Marks, co-director at award-winning responsible tourism supplier, Tribes Travel gives advice for tiger safaris:
"Don't expect this to be like an African safari experience. The way the parks are run, the quality of guiding and the seeming lack of a need to be silent, all have a very unique Indian style".
Keep your eye on the tiger
Keep your eye on the tiger
Paul Goldstein , top tiger safari guide and expert at one of our leading suppliers, Exodus:
"Much like mountain gorillas, you have to be aware that this is a desperately endangered species, so please try and look beyond your camera. I have led countless tiger safaris in India, but probably only have half a dozen really good photos. So, particularly when you see your first one, put the camera away because, firstly, you might not see another one and also, it is a deeply emotive moment. The photo will probably be rubbish anyway as you will be sobbing or shaking, as you should be."
Looking beyond the tiger
Sophie Hartman, owner of our supplier Chinkara Journeys, specialising in central India:
"I think that name 'tiger watching' should be banned. Don't go with tigers as your sole focus, there is so much to see in India's national parks and spending the whole of your safari charging around the park on a hunt for a tiger is such a wasted opportunity. Ask your guide and driver to stop for ten minutes by a lake or stream, listen to the sounds of the jungle, watch the birds, enjoy the beauty of the light coming through the forest. SO much more fun than just thumping along in a jeep."
Health & safety on tiger safaris
HEALTH
Do not go on a tiger safari with children at the hottest times of year, March - June. This is tough even on the most acclimatised adult.
Bring plenty of sun protection and water, although you need to protect yourself from the cold on early morning tiger safaris, too.
For any medical emergencies in India and Nepal, call 102, in Bangladesh 999 and Bhutan 110.
With kids, in particular, use hand sanitiser when you can.
Malaria is a risk in India, although there are few cases. Take sensible precautions, covering up in the evenings, using repellents and sleeping under a mosquito net.
Dengue fever is also a feature, particularly during monsoon season, so good precautions such as strong repellants and nets are vital.
Recommended vaccinations for general travel to India are Hepatitis A, Tetanus and Typhoid. See NHS site Fit for Travel for more details.
To cut down on plastic waste, we recommend using a LifeStraw that can purify tap water. Otherwise, stick with bottled water. Well-known brands are safest but if it tastes odd, just leave it. Similarly, avoid ice if you are not sure.
Altitude sickness can occur in certain regions, so let your body adjust to the elevation slowly, and keep hydrated.
Always travel with a basic medical kit, including Imodium for stomach upsets. Ensure to bring your own prescription medicines along with a copy of your prescription. If you do get dehydrated through illness or heat, the 1 tsp salt/8 tsp sugar/1 litre of water ratio combo works a treat.
Parasites are a common cause of diarrhea. It may not get better without treatment so if it goes on for more than two days, seek medical help.
There are venomous snakes in India, so look out for markings if you are bitten, seek help urgently and report which snake bit you.
Do what your guide says - it goes without saying really, as these are wild animals, and not to be cuddled or cooed over. We are no longer in the world of Shere Khan or Disney.
Always keep noise to a minimum when on a tiger safari. Disturbed wildlife may attack your vehicle if unduly startled.
Safety in India is not as bad as you might be led to believe, and issues vary per region. Petty theft is the most common issue, so you need to protect yourself from that. Padlock your luggage and keep valuables next to the skin.
The best bet is always to check with the Foreign and Commonwealth Office (FCO) for updated, regional issues regarding safety.
In general, women are advised to keep the body covered as much as possible, no matter where you are traveling in India.
If traveling overnight on trains, do not accept food from strangers due to episodes of drugging tourists and robbing them.
Our top trip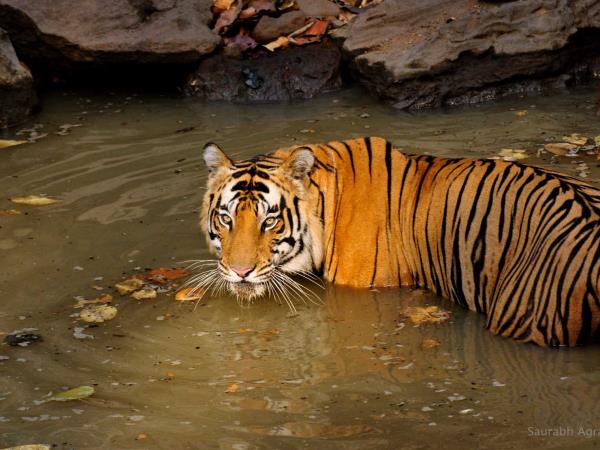 Best of Indian wildlife with tiger, leopard and sloth bear
From
Rupee

248000

to

Rupee

272000
12 days
ex flights
Small group travel:
2023: 10 Dec, 31 Dec
2024: 7 Jan, 4 Feb, 15 Feb, 5 Mar, 7 Apr, 21 Apr
If you'd like to chat about Tiger safari or need help finding a vacation to suit you we're very happy to help.

Vacation reviews from our travelers
At Responsible Travel, we think the best people to advise our travelers are often... other travelers. They always return from our tours with packing tips, weather reports, ideas about what to do - and opinions about what not to.
We have selected some of the most useful tiger safari travel tips that our guests have provided over the years to help you make the very most of your vacation - and the space inside your suitcase.

Enjoy the scenery, the wildlife and the atmosphere.

"Take all your camping gear! Including trekking towels and loo rolls. These do not exist anywhere. Do your homework before. Good, stout foot wear and a trekking pole for gradients and loose rocks. Torchs, headlamps and candles are a very good idea. It gets cold at night and very hot during the day. There are no shops, no doctors etc... for miles around so once on the eastern side you are out on a limb. If you wish for a conventional vacation do not embark on this trip!!!" - Beatrice Claire Potter

"Manage your expectations. Tigers bears and leopards are very hard to spot and very elusive. Go into the park looking to enjoy the scenery, the wildlife and the atmosphere." – Rosy Everitt

"We would advise that travelers ensure that they book a jeep safari at Ranthambhor and not the 20 seater canters. We were advised that we would be able to change our booking for at least one of our 12 safaris for a jeep when we got there but we were informed by the hotel/reserve that the jeeps are booked out many months in advance. The jeeps are more expensive but if you want to see a tiger they give you the best chance. Although we saw a tiger at Ranthambhor from a canter we were extremely fortunate since the canters are too noisy full of very excited local people!" - Julia Gallagher

Dust can be an issue for camera equipment especially digital SLR's

"Be prepared for early rises, cold drives to park in open vehicle, stamina is required." - Susan Groves

"Dust can be an issue for camera equipment especially digital SLR's so make sure you take something to cover your camera and cleaning materials." - Stuart Holt

"Take plenty of small change. It is the custom to tip virtually everyone and it can get expensive. A universal sink plug is useful as hotels do not use them. Indian traffic doesn't seem to have any rules and the roads have cows and dogs wandering about in between rickshaws trucks, pedestrians and potholes- but all very amicable. Just a bit scary." - Gillian Ash
More Tiger safari articles