Best time to see tigers in India

Tigers are there all the time. It is just us mere mortals who can't cope with the climate and have to stay clear.

The climate usually dictates when to go on a tiger safari, although nothing dictates when you can see the tiger more than the tiger itself, of course. No one tells them what to do or when to do it. That's jungle royalty for you. Nature helps protect them from the paparazzi though, by closing all access during the monsoon season, July until start of October. November until March is great, but be prepared for cold mornings in winter, with temperatures going up to mid-twenties in the afternoon. Temperatures start to soar from March until monsoon.
November until March is great, but be prepared for cold mornings in winter, December, January and February in particular, you will have cold starts. So bring your Christmas gloves, scarves, hipflask and hot water bottle. The afternoons are transformed to suitably sultry, however. Most national parks in India are closed during the monsoon season, during July, August and September, so check with your tour operator. March to June in most tiger watching regions are extremely hot. Although this is a good time for viewings as wildlife comes out of the forests to find water. But with temperatures in the mid 40s centigrade, you need to be well prepared. April and May are less hot in Nepal, further north, however. And the landscape turns luscious too. So a win win. In Siberia, when tracking tigers, winter is best, as a lot of other wildlife has gone quiet, and so the tracks stand out. Late winter and, in particular, February is the best time, as tigers are at their most active in looking for food. December to February are winter months in Bhutan, but sightings are magnificent in the snow, and also the monsoon season has ended. The majority of people on tiger safaris in India, by far, are Indians themselves. So, Indian public vacations and festivals are times to avoid, as they book up far in advance or the park may even be closed. Big ones include 26 January for Republic Day and Diwali which falls October or November. Just after the monsoon in October the vegetation is still quite high, making sightings more difficult but the parks are definitely prettier and less burned out than in the hot safari season.
Ranthambore Weather Chart
Our top trip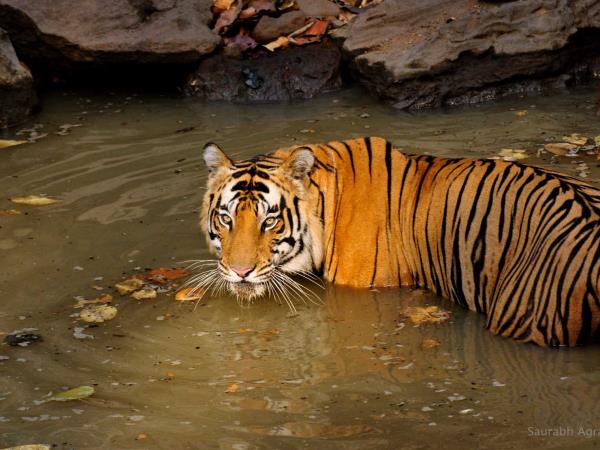 Best of Indian wildlife with tiger, leopard and sloth bear
From Rupee 248000 to Rupee 272000 12 days ex flights
Small group travel:
2023: 10 Dec, 31 Dec
2024: 7 Jan, 4 Feb, 15 Feb, 5 Mar, 7 Apr, 21 Apr
If you'd like to chat about Tiger safari or need help finding a vacation to suit you we're very happy to help.

Belinda Wright, OBE, Executive Director, Wildlife Protection Society of India (WPSI):
"The winters are cold and misty and the hot summer months arrive in April. It can be scorching hot, but because water is scarce tigers and other wildlife sightings are at their best. Personally I prefer the months of February and March and early April, when you get the best of both worlds."
Guy Marks, co-director at award-winning responsible tourism supplier, Tribes Travel:
"Go as late in the dry season as you can, depending on your tolerance to the heat. So, it's good from Feb/March, but better in early April, usually unbearably hot by 15th April though!"
More Tiger safari articles