Ranthambore tiger safaris
Home to a growing population of tigers living within a fairly small area, Ranthambore National Park is a great place to spot these big cats. It was once the hunting ground of the Maharaja of Jaipur, but now provides sanctuary for tigers and a host of other wildlife, making it the best place to see tigers in Rajasthan. At last
count
, in early 2018, there were 67 tigers living here, a number up hugely on the original 14-18 that were in Ranthambore when it became part of Project Tiger in 1973.
Ranthambore sits at the junction of the Aravalis and Vindhya ranges and is a captivating mix of rocky crags, rolling hills, meadows, waterfalls and forests where dhok, fig and banyan trees grow. The landscape has plenty of good, open areas, and a relatively high density of tigers, which all increases the chances of sightings. In fact, tigers have even been known to hunt in full view of human visitors, although thatís a rare and unusual treat; they are certainly unperturbed by jeeps and people, though. A good guide will know the best places to see them, but you should also listen out for the alarm call of the chital Ė there might just be a tiger in the undergrowth.
The park is home to the sambar and chital that tigers prey on, plus plenty of langur monkeys, macaques and mongoose. Leopards prowl through the undergrowth, and sloth bears, striped hyena, jackals and jungle cats are also resident. The elusive Indian wolf has been spotted here occasionally. Youíll find plenty of birdlife, too, including purple herons, vultures, serpent eagles, kingfishers, cormorants, parakeets and partridges.
At the heart of the park lies the atmospheric 10th century Ranthambore Fort, now a UNESCO World Heritage Site populated only by monkeys and sheltering a jumble of ruined temples, creeper-covered hunting pavilions and croc filled lakes. There are excellent views over the national park from here and the fort is also a great place for bird watching.
Visiting Ranthambore National Park
While many of Indiaís tiger reserves sit bang in the center of the country, Ranthambore belongs in the state of Rajasthan, to the northwest, close enough to the Golden Triangle Ė Delhi, Agra and Jaipur Ė to be included in a cultural sightseeing break. That said, it does deserve lingering over rather than simply tagging on, and if youíre serious about seeing tigers, itís best to allow time for three or four game drives.
By road, Ranthambore National Park is around five hours drive from Jaipur and around six from Agra. The abandoned royal city of Fatehpur Sikri, the Mughal capital from 1571 to 1585, lies en route between the park and Agra and is a fascinating place to stop off. By train, itís a six hour ride from Delhi to Sawai Madhopur, gateway to the park. Itís then a further 14km from Sawai Madhopur to the main gate and Ranthambore Fort.
There are two safari slots each day, with morning game drives leaving between 6am and 7am, and afternoon ones between 2pm and 3pm. Each usually lasts for either three or three and a half hours, depending on the season. Game drives take place on six-seater jeeps and on larger open buses called canters, which seat up to 20 people.
Both tailor made and small group vacations take in Ranthambore, but wildlife watching is rarely the sole focus of the itinerary. Thatís due to geography. Dedicated tiger spotting vacations run in Madhya Pradesh, where there are numerous national parks and tiger reserves. In Rajasthan, Ranthambore is the only major tiger reserve which means itís often included for a few nights as part of a cultural vacation, rather than the sole destination on a wildlife trip.
Itís always easiest to visit Ranthambore on an organised vacation. The tour company can secure those gold-dust park permits and will arrange accommodation, too. You will still need to book your trip well in advance, though. Park bureaucracy and the sheer weight of demand means only the early bird catches the Ranthambore worm Ė and spots a tiger, too.
Our top trip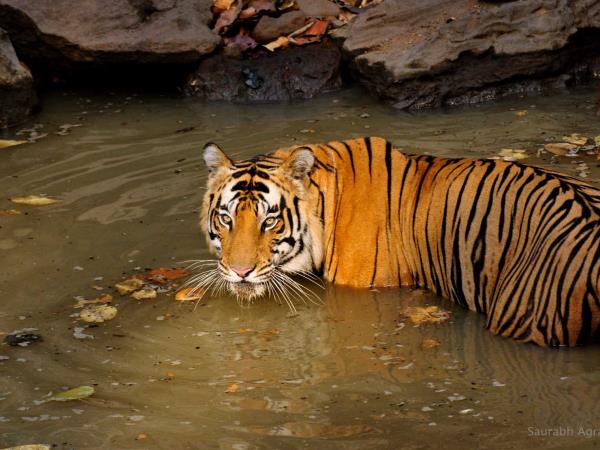 Best of Indian wildlife with tiger, leopard and sloth bear
From
Rupee

248000

to

Rupee

272000
12 days
ex flights
Small group travel:
2023: 31 Dec
2024: 7 Jan, 4 Feb, 15 Feb, 5 Mar, 7 Apr, 21 Apr
If you'd like to chat about Tiger safari or need help finding a vacation to suit you we're very happy to help.

Best time to see tigers in Ranthambore
The weather in Ranthambore varies dramatically throughout the year. Winters are cold, hovering around zero at night. Morning drives often feel freezing, so youíll need lots of layers and gloves. Summers are relentlessly hot, with temperatures between 35įC and 47įC degrees and no let up in the furnace-like conditions. The best time to visit Ranthambore is in November, December, January and February, when the weather is pleasant and the wildlife is easy to spot. Expect lows of 4įC and maximum temperatures in the mid to high 20įCs. Temperatures start climbing in March and itís officially summer from April to June when conditions start to sizzle 24/7. This is a great time to see wildlife, since itís all forced to visit the same waterholes as the park dries up, but you will have to cope with the heat. Bring light clothes, a hat and sunglasses and be sure to stay well hydrated. The park is closed during July, August and September for the monsoon. Due to its proximity to Delhi and the Golden Triangle, Ranthambore is Indiaís most popular and highest earning wildlife park, so it does get really busy, especially during the winter and New Year. If you can stand the heat, youíll find fewer visitors from April to June.
More Tiger safari articles