Bandhavgarh tiger safaris
If seeing a tiger is at the very top of your bucket list, make your way to Bandhavgarh in India. There are between 60 and 70 Bengal tigers living here, and while they're not contractually obliged to appear for every visitor who passes through the park gates, their high density means you have a great chance of spotting one. In fact, it's often said that you're lucky if you spot a tiger in India's other national parks, and really unlucky if you don't spot a tiger in Bandhavgarh.
Bandhavgarh National Park lies within the Vindhyachal Ranges of Madhya Pradesh in central India and is one of the country's smallest parks. The great majority of its tigers live in the relatively compact territory of Bandhavgarh National Park, which forms the core of the larger Bandhavgarh Tiger Reserve. Tigers are undoubtedly the superstars here – park signs read 'Welcome to the Land of Tigers' – and good sighting rates mean this little park has become the go-to destination for anyone hell-bent on seeing a tiger. Don't ignore the park's other offerings though – Bandhavgarh is a superb all-round wildlife destination, home to numerous deer species, macaques and langurs as well as more unusual creatures, including sloth bears, Indian foxes, jackals and wolves.
Diverse landscapes and manmade sites also add big personality to this small park. There are sal forests, stretches of bamboo and grasslands punctuated by 32 wooded hills, with the 2,000 year old Bandhavgarh Fort rising 300m above it all, and crowning the park's highest point. The fort was deserted in 1935, and entry isn't permitted, but vultures nest here and the views over neighbouring hills and the Chakradhara meadow are superb. Around the fort are 39 manmade caves, with the oldest dating from the 1st century. The caves at Three Cave Point are now used by tigers, sloth bears and leopards.
Ian Harrison travelled to India with Responsible Travel on a vacation that included Bandhavgarh, Kanha and Pench National Parks, and has this advice: "Enjoy everything about the trip, don't be hooked up on seeing tigers, they are there and can be hard to find, and when the moment arrives it is magical!!! Pack less than you think (laundry service available), have old clothes for game drives can be really dusty in hotter months and you do get dust everywhere, have something to do for between game drives / evenings as resorts are quite isolated... Embrace the experience, the locals, the wildlife, the sights and the train, you may be surprised!!!"
Visiting Bandhavgarh National Park
Visiting Bandhavgarh on a tailor made or small group organised tour is the easiest option, with a tour operator arranging accommodation and park permits for you. Trips often start in Delhi and then use the sleeper train to Umaria, 40km from the national park. Access to Bandhavgarh is tightly regulated. The park permits game drives between set hours in the morning and the evening, starting at different times throughout the year, with each lasting three and a half hours. There are three zones – Tala, Magdhi and Khitauli – with jeep numbers restricted for each. Recent updates to game drive regulations and high demand mean it's important to book a wildlife safari in Bandhavgarh well in advance. For the best chance of a tiger sighting, allow at least two days in Bandhavgarh and don't expect to see a tiger on your first game drive. It's possible to take two drives a day, so a two-day stay will allow you to enjoy four, which takes your chances of seeing a tiger from possible to probable.
Vacations focused on wildlife and tiger spotting often include time at the larger Kanha National Park, a six hour drive away, and Pench National Park, a further four hours away. Visiting more than one park provides a broad taste of Indian wilderness and wildlife. Kanha is a vast landscape of grasslands, plateaus and dramatic rocky escarpments while Pench is less famed for its tigers, but is home to leopards and large herds of gaur (Indian bison), chital, sambar, nilgai and wild dog. The feel of the game drives alters, too, with huge Kanha allowing you to disappear into the forests away from other vehicles for an immersive Jungle Book experience.
Even the most committed wildlife watcher should consider bolting on some cultural highlights to a trip to see tigers. Spend a day or two exploring the capital, Delhi, where most trips to Bandhavgarh begin, and consider extending your trip to include Agra, home to the Taj Mahal, or the temples at Khajuraho.
Our top trip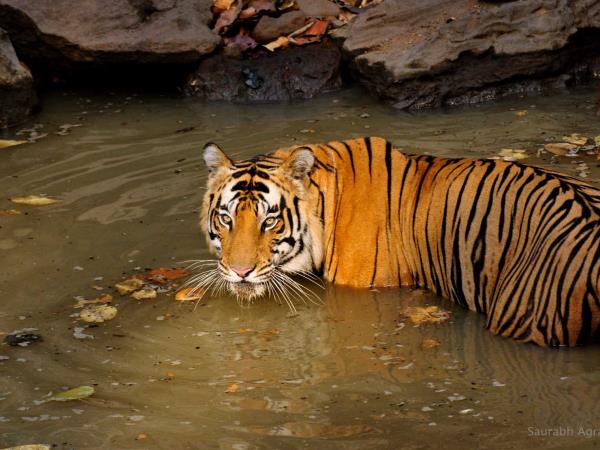 Best of Indian wildlife with tiger, leopard and sloth bear
From
Rupee

248000

to

Rupee

272000
12 days
ex flights
Small group travel:
2023: 10 Dec, 31 Dec
2024: 7 Jan, 4 Feb, 15 Feb, 5 Mar, 7 Apr, 21 Apr
If you'd like to chat about Tiger safari or need help finding a vacation to suit you we're very happy to help.

Best time to see tigers in Bandhavgarh
The best time to see tigers in Bandhavgarh National Park – April and May – also coincides with scorching temperatures. During this time, vegetation is dry and sparse and wildlife comes to the few remaining waterholes to drink, but be prepared for the extreme heat – expect mid 40°Cs – and think carefully before traveling with children at this time. Gopalpur Pond in the Tala Zone is a great place to spot all kinds of wildlife during this hot and dry period before the monsoon. Predators, including tigers, and prey flock here to drink, thrown together by thirst. To avoid those super hot months, most visitors come November to March, when the landscape is green after the monsoon, the birdlife amazing and temperatures in the mid 20°Cs. Be prepared for cold mornings in December and January, especially when out on game drives in an open sided jeep. In common with most national parks in India, Bandhavgarh is closed during the monsoon season from the start of July until the end of September.
More Tiger safari articles